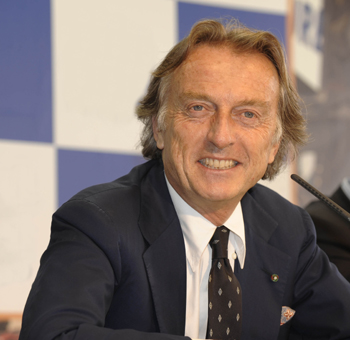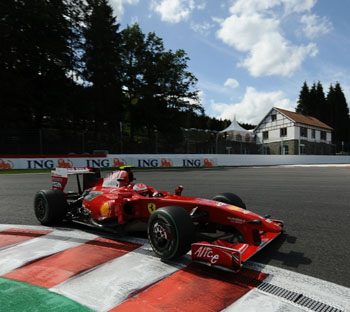 Ferrari Chairman Luca di Montezemolo (top) as well as partially assuming the departing Brand and Commercial chief Dany Bahar's responsibilities', was also celebrating his birthday yesterday with his cherished "present" being the trophy Kimi Raikkonen and the Scuderia collected on Sunday afternoon in Spa (bottom).
Ferrari has announced a senior management reshuffle with former Whirlpool executive Sebastiano Rio coming into replace Andrea Bozzoli as Industrial Director while Commercial and Brand chief Dany Bahar departs after just two years at Maranello.
A brief statement issued in Maranello late yesterday afternoon confirmed Rio's appointment: "Sebastiano Rio is Ferrari's new Industrial Director and will have responsibility for all production and purchasing activities. Having previously worked for several years with Whirlpool, Rio replaces Andrea Bozzoli who, after 10 years with Ferrari, has decided to take his career in a new entrepreneurial direction."
The press release also briefly mentioned the unexpected departure of Bahar. "There are changes too in the Commercial and Brand Department," read the statement, "Dany Bahar has left his position and his responsibilities will be taken over temporarily by the Chairman and CEO." Bahar arrived in Maranello two years ago after a tenure heading up Red Bull's marketing operation that had seen him as the driving force in the purchase of the up-for-sale Jaguar F1 team and soon afterwards the Italian Minardi outfit, which were swiftly rebranded as Red Bull Racing and Scuderia Toro Rosso respectively, as well as pushing forward Toyota's entry into NASCAR and a string of non-automotive projects such as the purchase of a professional football team. At Ferrari the Turk was responsible for overseeing the ramping up of the Prancing Horse's merchandising activities as well as guiding the ambitious Ferrari World project, which is set to be the world's largest indoor theme park when it opens next year, in Abu Dhabi.
Meanwhile the Ferrari Chairman Luca di Montezemolo, as well as partially assuming the departing Bahar's responsibilities, was also celebrating his birthday yesterday. The "present" has been prepared on Sunday afternoon at the Spa circuit by Kimi Raikkonen and the Scuderia and it was handed over yesterday symbolically at the traditional work meeting, which is usually held at the GeS logistics hangar after a win. "We didn't have a meeting like this for too long and now we can finally hoist the colours of the Prancing Horse on the roof of the entrance to the Scuderia," Team Principal Stefano Domenicali said, underlining another tradition, which usually is kept up after wins on the track by Ferrari. "Yesterday's victory was the result of the work by the whole team and we want to dedicate it to our Chairman, who is celebrating his birthday today."
Montezemolo thanked everybody with the words: "I have to say three times thank you - thank you for this wonderful birthday present, thank you for what you have done and thank you for what you are doing." The success in Spa has to be an injection of faith for everybody at Ferrari and a spur to keep the concentration level high, giving always the best and even more: "Just like we ask the drivers to gain that fraction of a second, which can determine victory, every single one of us has to give this extra bit in his or her work, which can make the difference," Montezemolo said. After the meeting Montezemolo immediately went back to his office where he had some meetings on his agenda on his birthday at work, while Domenicali and the team are already working for the next race, which will be held at Monza.