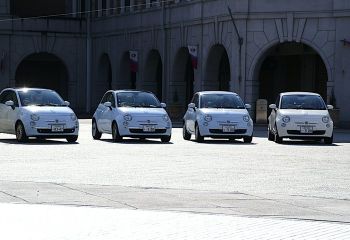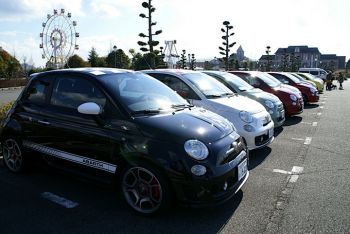 A fully-fledged new owners' club dedicated to the Fiat 500, appropriately called Bambino, has been formed in Japan, and the inaugural meeting took place on January 25th in Kobe, at the Fruit Flower Park.

The Fiat 500 has proved to be a big hit across the world since its dramatic debut a year-and-a-half ago in a glittering extravaganza in Turin, and nowhere has received the tiny car more enthusiastically than Japan where the original is very fondly remembered and cherished by its owners. Now its spiritual successor, the exciting Car of the Year 2008 award winner, has sprung into the equation.
To provide an outlet for the enthusiasm of the Japanese buyers who have been seduced by the new model's charms, a fully-fledged new owners' club, appropriately called Bambino, has been formed, and the inaugural meeting took place on January 25th in Kobe, at the Fruit Flower Park.
This stylish location is situated in the northern part of Kobe, and it was specially constructed to imitate the architectural style of the buildings in Europe, making it a perfect setting for this European icon, and providing the owners with the excellent leisure facilities of the hotel and the amusement park. "We were permitted specially this time and did the photo session in this place," the Bambino club's Ken-ichi Masuo told Italiaspeed. The event drew sixteen gleaming examples of the new 500 model which were perfectly complimented in the huge courtyard by a pristine example of the original motoring icon, first launched half a century ago.
Currently the only examples of the 500 to be officially imported to Japan by Fiat are in right hand drive configuration and are fitted with the roboticised Dualogic gearbox. However there are quite a lot of parallel importers bringing other the members of the range, and on show in Kobe was the specially customised green left hand drive 500 that was shown at the Tokyo Auto Salon 2009 earlier this month by aftermarket Italian car accessory supplier Any's International. Customising the 500 has proved very popular across the markets where the car is sold and this is the case in Japan too where the cars at the meeting sported such accessories as the chequered roof sections, full length stripes, painted calipers and many optional allot wheels.
Two of the sporty Abarth versions of the 500 also turned up, these cars imported well ahead of the Scorpion brand's launch in Japan which takes place on the 14th of next month. The Abarth brand, which will initially start with the Grande Punto Abarth, will add the 500 version to its Japanese range in the Spring. Abarth will initially have four special dealerships.
Proving already to be hit with urban Japanese car buyers, sales of the diminutive 500 are currently running at around two hundred units per month. "However there are a lot of devoted fans in Japan," says Masuo. "We Bambino are aiming at 500 members. For more information on Bambino please visit: http://www.club-bambino.net/