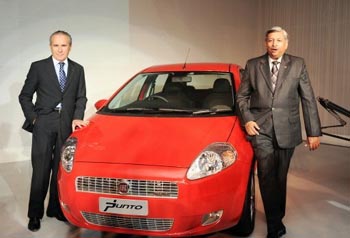 Fiat India launched the Grande Punto onto the local market yesterday adding it to the Palio and Linea in a growing range and with ambitions to sell 2,500 units a month and begin exports of the Indian-built car to several countries.
Fiat India launched the Grande Punto onto the local market yesterday adding it to the Palio and Linea in a growing range and with ambitions to sell 2,500 units a month and begin exports of the Indian-built car to several countries.
The Grande Punto, which was first introduced in Europe in the autumn of 2005, has proved a real hit with car buyers the world over and with a competitive pricing structure Fiat India is optimistic it can repeat that sales success and capture around an 11-12 percent stake of the 'premium hatchback' (B-Plus) segment.
It will be firmly positioned in the premium hatchback segment where it will go head-to-head with Maruti Suzuki's Ritz, Hyundai's i20, Skoda's Fabia and Honda's just-launched Jazz. The Grande Punto, which will come with full Euro-V compliance, will be available with the 1.2 FIRE (Petrol) engine: 68.2 PS @ 6000 rpm and 95.75 Nm @ 2500 rpm; 1.4 FIRE (Petrol) engine: 90 PS @ 6000 rpm and 115 Nm @ 4500 rpm; and the 1.3 Multijet (Diesel) engine: 76 PS @ 4000 rpm and 197 Nm @ 1750 rpm, and will have a component localisation target of 85 percent by the end of the year.
The range will kick off with the entry level 1.2-litre FIRE petrol Active variant competitively priced at Rs. 3.99 lakh (ex-showroom, Delhi). The 1.2 petrol engine option with its safety features and aggressive price will form an attractive option for buyers who are potential small hatch back buyers. The India media has been quickly impressed by its pricing as it had been expecting Fiat to fall into its constantly repeated mistake of overpricing new models. The entry-level version should take sales in particular off Tata Motors' Indica Vista 1.2 which starts at Rs 3.39 lakh, Chevrolet's U-VA, from Rs 3.87 lakh and Hyundai's i20 which kicks off at Rs 4.79 lakh. The three other petrol specifications will all feature the 1.4-litre FIRE engine and will be priced: Rs. 4.66 lakh (Dynamic), Rs. 5.06 (Emotion) and Rs. 5.61 lakh (Emotion Pack) and they will be pitched at Suzuki's 1.3-litre Swift which starts at Rs. 3.99 lakh. The 1.3-litre Multijet 16v turbodiesel engined version will come in four specification levels with its pricing starting at Rs. 4.85 lakh (Active), through the Dynamic) and Emotion options before rising to a range-topping Rs. 6.11 lakh (Emotion Pack). Additionally, Fiat India will offer a two year unlimited mileage warranty on the Grande Punto which is one of the best in the segment.
The state-of-the-art Ranjangaon factory at Pune, which already builds the Palio and Linea, thus becomes the third global manufacturing facility for the Grande Punto. Production kicked off four years ago at the Melfi plant in Italy and the one millionth example rolled of the production lines there last November. It is also built at the Betim factory in Brazil (in 5-door guise only) at the rate of several thousand a month. Fiat India plans to start exporting the Grande Punto, as well as the Linea from the end of this month, starting with South Africa, Pakistan and Sri Lanka.
Speaking on the occasion of the launch yesterday Mr. Rajeev Kapoor, the CEO of Fiat India Automobiles Ltd said, "The launch of the Grande Punto marks a new milestone for Fiat in India as we bring the quintessentially Italian design to Indian shores. Our previous launch the C plus sedan, Linea, has met with tremendous response and we are confident that our latest premium hatchback offering will also excite our customers. The Grande Punto is unique and is designed to be the new benchmark in terms of style. We believe that the B plus segment in India has been under tapped and consumers are increasingly looking forward to driving world renowned, international brands on Indian roads. The Grande Punto will offer safety and quality standards that are particularly high for its segment at a very competitive price. The car will tempt its prospective customers with one of the most pleasurable drives in the segment and will also be an exciting proposition for its customers with its great price/content ratio. Grande Punto is for demanding customers who love hatchbacks and yet want the luxury of a sedan. The high level of localisation which will increase to 85 percent by December 2009 has helped us aggressively price the Punto. "
The Tata-Fiat dealer network will ensure easy availability of the car and prompt after-sales service for its owners. The Grande Punto will be retailed through the Tata-Fiat dealer network. The company has over 100 points of sales & service outlets allowing a much wider base of customers to experience the Grande Punto. To further enhance customer experience and strengthen after sales support for Grande Punto, a series of initiatives have been undertaken and over 800 dealer sales & service staff have undergone extensive training. New dealer identity norms have been introduced at showrooms and workshops which meet international standards.
The Grande Punto comes loaded with features and will be available in three versions: Active, Dynamic & Emotion for both the petrol and diesel variants. Additionally a fully loaded Emotion Option Pack will also be available. At the time of launch, consumers can choose from a range of six colours: Bossa Nova White, Hip Hop Black, Minimal Grey, Medium Grey, Exotica Red and Electric Blue.
Equipment includes: Electrically adjustable outside rear view mirror; Automatic Climate Control; Blue&Me, the unique technology developed jointly by Microsoft and Fiat to connect and sync mobile via blue tooth and voice dial/read SMS; Customised instrument display setting with My Car; Remote foldable key; Intelligent rear de-fogger switches off after 20 minutes to prevent damage to the glass; Convenient driver facing key slot; and - Intelligent Ignition prevents turning the key when the engine is running. Safety features include: ABS with EBD; Dual stage front driver & passenger airbags unique system deploys the air-bags depending on the severity of the impact; Fire prevention system: cuts off fuel in case of an impact to reduce chances of fire; Fiat Code System, Immobiliser with rolling code; and - Load limiters and pre-tensioners.