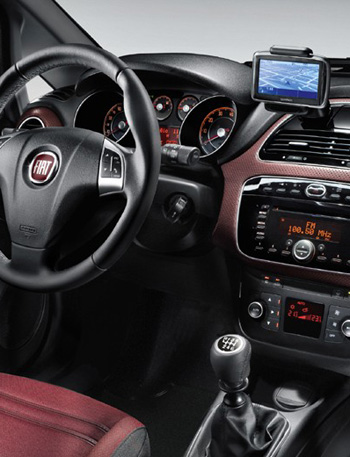 Fiat Group Automobiles and TomTom have announced that they have jointly developed a new integrated portable navigation solution, Blue&Me TomTom, which will be showcased when the Fiat Punto Evo makes its debut in Frankfurt.
Fiat Group Automobiles and TomTom have announced that the two companies have jointly developed an integrated portable navigation solution: Blue&Me – TomTom. This solution, which is the result of a partnership between the two companies, will be showcased for the first time in the new Fiat Punto Evo at the upcoming IAA Motorshow in Frankfurt, Germany. The Blue&Me – TomTom will deliver Fiat drivers the latest, award winning TomTom portable navigation technology by integrating it into multiple car models of Fiat Group Automobiles.
The partnership has resulted in the tightest integration between a portable navigation device and a car the industry has ever seen and is offering the most optimal driving experience by providing cutting-edge technologies to the market. With Blue&Me – TomTom, Fiat is answering customer demand for flexible and user-friendly navigation solutions thanks to TomTom's expertise in products that are easy to use and updateable.
Blue&Me - TomTom will offer the latest features available on TomTom devices, such as IQ RoutesTM for the fastest route and accurate arrival times. The new system also incorporates Fiat's "eco:Drive Info" for real time information on driving style and useful suggestions for reducing environmental impact and optimising consumption by changing gear and using the accelerator to suit the nature of the route.
Lorenzo Sistino, CEO of Fiat Automobiles, said, "Blue&Me–TomTom is a fully integrated infotainment system that lets you manage telephone, navigation and driving information on an easy to use colour touch-screen."
"We are thrilled to work with such a leading car manufacturer and we look forward to see our partnership grow in the future," said Harold Goddijn, CEO of TomTom. "This deal marks another important step in our automotive strategy and is incomparable in the automotive industry. For the first time ever a new car will offer the latest navigation innovations available."
TomTom
TomTom NV is the world's leading provider of navigation solutions and digital maps. TomTom NV has over 3,300 employees working in four business units – TomTom, Tele Atlas, AUTO and WORK. TomTom's products are developed with an emphasis on innovation, quality, ease of use, safety and value. TomTom's products include all-in-one navigation devices which enable customers to navigate right out of the box; these are the award-winning TomTom GO family, the TomTom XL and TomTom ONE ranges and the TomTom RIDER. Additionally, independent research proves that TomTom products have a significant positive effect on driving and road safety. Tele Atlas delivers the digital maps and dynamic content that power some of the world's most essential navigation and location-based services (LBS). Through a combination of its own products and partnerships, Tele Atlas offers digital map coverage of more than 200 countries and territories worldwide. The AUTO business unit develops and sells navigation systems and services to car manufacturers and OEMs. WORK combines industry leading communication and smart navigation technology with leading edge tracking and tracing expertise. TomTom NV was founded in 1991 in Amsterdam and has offices in Europe, North America, Middle East, Africa and Asia Pacific. TomTom is listed at Euronext Amsterdam in The Netherlands.