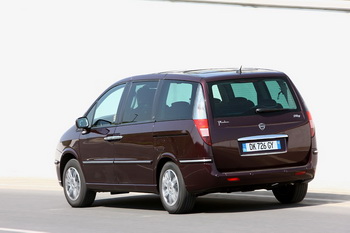 The current-generation Fiat Ulysse (top) and Lancia Phedra (bottom) MPVs have seen their sales fade away in recent years as European customers downsize and these two models are now set to be phased out.
Fiat has revealed this week that it will exit the joint minivan project it has undertaken with PSA Peugeot- CitroŽn since 1994, discontinuing production of the Fiat Ulysse and its rebadged and more upmarket targeted sister, the Lancia Phedra. Sales of these two models have gradually slowed down in Italy and are almost non-existent now elsewhere, and coupled to the trend of European car buyers downsizing the vehicles they purchase plus the recent acquisition of a stake in the Chrysler Group which is already strong positioned with technology in this market segment, it has made the project redundant.
The Sevel joint venture between Fiat and PSA sees a mix of cars and light commercial vehicles built for the Fiat and Lancia brand on the one hand and PSAs Peugeot and CitroŽn on the other at factories in Italy and France. The MPVs that Fiat is now discontinuing are built at the Sevel Nord plant near Lille and use mostly PSA underpinnings and engines.
The project kicked off in 1994 when the Fiat Ulysse and Lancia Zeta entered production, along with two similarly-styled MPVs branded by Peugeot and CitroŽn. They were initially powered by a range of PSA engines, two 8V 1998cc petrol units (normally aspirated with 121bhp and turbocharged with 147 bhp) a 1905cc diesel (92 bhp) and a 2088cc diesel (109 bhp, later with 12 valves). The latter two engines were later replaced by a 1997cc JTD diesel with common rail and producing 109 bhp, whilst a 1998cc 16V unit was also added. The Ulysse and Zeta were built in France at the factory operated by Sevel, the company jointly established by Fiat and PSA.
A relatively boxy design, the Ulysse and Zeta were aerodynamically optimised to reduce the internal wind noise, whilst having a light interior due to the large glass area. The dashboard was also an interesting design for the time and included a high mounted gearstick. The MPVs would seat either five, seven or eight people depending on the specified option, whilst the two rearmost rows of seats could be removed to give a flat floor area for carrying bulky loads. There was also an option for swivelling front seats which, together with the table formed by the folding centre rear seat, meant a comfortable 'room' could be created. A large sliding door was provided on each side of the rear which greatly eased entry to the rear seat rows, whilst passage from the front to the rear was also possible without opening the doors thanks to the dash mounted gearshift.
Air conditioning (or optional climate control) included outlets in the rear compartment via underfloor ducts, and a double sunroof could also be specified. Mechanically the Ulysse and Zeta were quite conventional, with McPherson struts at the front and a trailing beam at the rear. Other features included ABS (standard on some models), power steering, twin airbags, side impact bars and a host of other details designed for both safety and comfort. The Zeta was Lanciaís first ever people carrier (or MPV) and this version was aimed at a more luxurious market than the Ulysse as befitted the Lancia name. A high level of trim and equipment was standard, including ABS, and electric everything.
All new, second generation Ulysse and Zeta models (with the Lancia now being called the Phedra) were released at the 2002 Geneva Motor Show. These models were again the result of a joint venture with PSA but they had grown in size from the earlier version while also gaining new features. The two rear doors were available with electric opening if required while advances in interior design saw various storage options including 3 closed and 1 open compartments, 11 glass/can holders, 4 bottle holders, a centre console coolbox, 4 compartments for maps/magazines, 2 under-seat drawers, a rubbish bin and an umbrella holder. A bizone climate control system also offered separate vents for the rear passengers (with their own controls in some versions), whilst an active carbon filter tried to keep out most of the pollution in the atmosphere.
The engines for the new models comprised of two petrol units, a 2.0-litre 16V (136 bhp) and a 3.0-litre V6 (204 bhp) and two JTD diesels, a 2.0-litre 16V (109 bhp) and a 2.2-litre 16V (128 bhp), both with turbocharging and common rail direct injection. All the engines bar the 2.2 JTD were available with a four-speed automatic gearbox, whilst only the V6 could not be purchased with a five-speed manual. The suspension continued the layout of the earlier model, with MacPherson struts at the front and a torsion beam at the rear. Safety featured highly on the new generation model vehicle, with six airbags, ABS with EBD (Electronic Brakeforce Distribution), ASR (wheelspin control) and ESP (Electronic stability control). Xenon headlights provided for safer night-time driving, Isofix attachments allowed for child-seat fixing, and electric safety locks were provided on all doors.