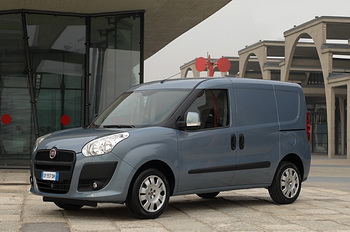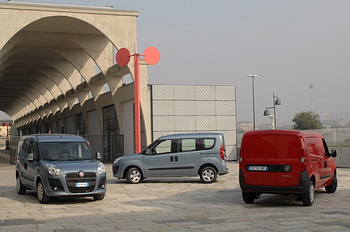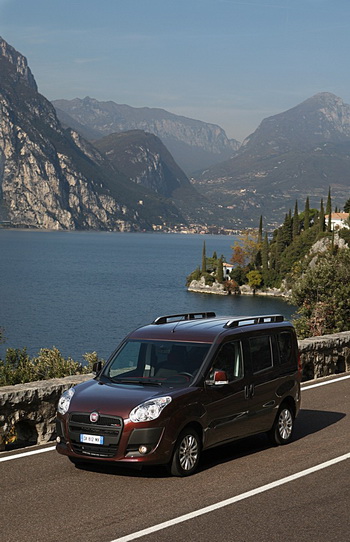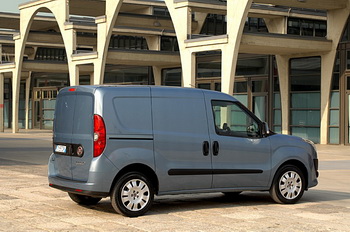 Heir to a model that has sold almost one million units the new Doblò, once again built in Turkey, sits on a new platform and has been revamped throughout with a new style, new engines and new technical features.
| | |
| --- | --- |
| Nuova Fiat Doblò | |
| Nuova Fiat Doblò Cargo | |
Heir to a model that has sold almost one million units during a decade in production, the new Doblò, once again built by Fiat's joint venture partner Tofaş in Turkey, sits on a new platform and has been revamped throughout with a new style, new engines and new technical features. It comes in two version, the Cargo van range will be sold through the Fiat Professional (LCV) division while a versatile and competitively-priced passenger car variant joins the Fiat Automobiles model portfolio.
The passenger car version was designed to introduce some practicality and comfort to the Doblò' LCV basis and make the best of space on board and accommodate up to seven occupants. The result is an authentic "family space" vehicle that can rely on top-class safety, cost-effective running and environment-friendliness. The new Doblò is also the best-in-class in terms of emission reduction. These results have been achieved by a new platform that is based around the Fiat Grande Punto's underpinnings and in turn evolve the architecture used by its smaller LCV sister the Fiorino, more room for passengers (with a wheelbase of 2755 mm, it is the longest in its segment), a roomy 790 litre boot (3200 litres with the seats folded down), lower CO2 emissions (129 g/km with the 1.3 Multijet 90 HP engine, the lowest in its category), an innovative Bi-link suspension layout for extra comfort, standard safety equipment and highly modular interiors with folding, reclining seats.
The new Doblò Cargo version is top-in-class in terms of performance and functional features, load capacity and productivity, low fuel consumption and cost-effective running. It is ideal for professionals who spend many hours of the day riding in the vehicle: in city traffic and for frequent stopping-and-going for loading and unloading cargo but also for quick, long-distance transfers. The new Doblò Cargo was created for these people with roominess, cost-effective running, loading and driving ease, combined with safety and comfort, in mind.
RECORD BREAKING FEATURES OF THE NEW DOBLÒ
A top-in-class, capacious, functional, and accessible loading compartment

The loading compartment of the new Doblò Cargo is roomy, square, regular and fully exploitable with new volumes that put it at the top of the segment: 3.4 cubic metres for the Cargo short wheelbase version, 4 cubic metres for the short wheelbase high top version and 4.2 cubic meters for the Maxi long wheelbase version. With generously-sized inner dimensions, the loading compartment is either 182 cm (short wheelbase versions) or 217 cm (long wheelbase versions) long, 171 cm wide and 130 cm high (155 cm in high top versions). With 3 centimetres of extra length between wheel arches with respect to the previous model, the new models are now 123 cm wide which means that up to 2 europallets can be conveniently fitted into the loading compartment. A rotating partition may be fitted in combination with a folding passenger seat to further increase the volume by approximately 0.40 cubic metres and obtain a 305 cm (short wheelbase) or 340 cm (long wheelbase) long resting surface.

As the previous model, various types of partitions separating the cab from the loading compartment are available: panelled, glazed, tubular and ladder. Six hooks are arranged on the loading compartment floor for safely securing and fixing loads. One or two lights according to the version guarantee adequate lighting. A handy, removable flashlight is available. A new optional fitting is a pair of cross bars which may be mounted on the upper part of the loading compartment for accommodating long items, such as ladders, packages or tubes, and make the most of an area which is not always exploited. This solution means that no external loading systems are needed and at the same time the bottom of the loading compartment can be exploited to the maximum. The bars are shaped for easy, safe access both from the rear door and from the right-hand side door. They are fitted with mobile hooks for easily fixing the transported items with straps.

The loading compartment is accessed through two large, asymmetric rear swing doors (each swing door is 123 cm wide), precisely flushed with the wheel arch width, and either 125 cm (standard versions) or 146 cm (high top versions) high. Furthermore, one or two generously sized sliding side door (70 cm wide and 117 cm high) are available (optional or standard according to versions). The doors are remarkably light to open and close for easily loading and unloading operations. Particular care was devoted to designing the handles: they can all be operated with either the right or left hand and are sized for use with gloves. Specially, the rear door handle can be opened with one finger, great when carrying large packages. A smart-looking, handy up-and-over tailgate is available for all versions (except for high top).

The interiors of the passenger car version have also been designed with functionality in mind to create appealing, welcoming environments with different combination of colours, materials and trims. The new Doblò offers many smart solutions for making the best use of on-board space, such as an array of storage compartments and flexible interiors, with up to seven seats, to satisfy the needs of those who wants to enjoy their Doblò with family and friends. Also the dashboard and the handy roof shelf are designed to ensure top level ergonomics and driving comfort. Finally, the boot is the largest in its class (from 790 to 3200 litres with the seats folded) and, according to version, may be equipped with a parcel shelf adjustable to two heights to configure the boot as needed. Specifically, up to 70 kg can be loaded on the parcel shelf set to the lower position.

Best-in-class capacity with Bi-link rear suspension

The new Doblò fits a compact Bi-link independent wheel rear suspension, unprecedented in its segment, for optimising comfort and handling while considerably increasing load capacity. With modular components (springs, shock absorbers, cushion pads, stabilisers, etc.), the Bi-link suspension can be specifically calibrated to the vehicle's features and mission: Cargo 750 kg: version without anti-roll bar. Optimal performance-weight trade-off with excellent dynamic behaviour and comfort; Cargo 1000 kg: optimised capacity (top in its class) with anti-roll bar, the suspension allows up to 1450 kg of admitted load on rear axle (300 kg more than the previous Doblò Cargo generation) and Combi: version with anti-roll bar. Optimised for comfort and great handling at the same time.

For the first time ever, drop-frame versions for new missions

The Doblò Cargo portfolio includes brand-new drop-frame versions (short and long wheelbase). This means that Fiat Professional can offer accessibly priced major transformations which only apparently appear to belong to the van segment for specific trades (refrigerated vans, fixed and tilting flatbed trucks). The maximum admitted weight for the new Doblò Cargo versions is close to that of the previous Scudo generation: a great advantage for customers who are looking for a reliable, cost-effective, compact-sized vehicle. Given a theoretical capacity in excess of 1100 kg, the maximum admitted loads on the front and rear axles are actually 1090 kg and 1450 kg - unique values in the segment.
The maximum fittable length is 225 cm for short wheelbase versions and 280 cm for long wheelbase versions; the maximum outfitting width is 187 cm for both versions: this values vary according to outfit type and weight distribution. The New Doblò drop-frame versions are ideal platforms for outfitting also because of a number of devices for outfitters to easily adapt their structures to the body. Specific electrical system interfaces may be ordered (this feature was highly appreciated on Ducato model in the past).

A distinctive style with functional, flexible interiors

Designed by Centro Stile Fiat, the innovative style of the Doblò puts the accent on the peculiarities of a practical, robust and functional commercial vehicle on the outside while the passenger compartment is as comfortable and bright as can be expected in a multi-purpose vehicle. Outer dimensions are larger than the previous model: 439 cm long, 183 cm wide, 185 high (210 cm with high top) and a wheelbase of 276 cm. Doblò Maxi (long wheelbase 311 cm) has an outer length of 474 cm, a height of 188 cm and the same width as the short wheelbase. The load threshold (54.5 cm from the ground) is virtually as high as the previous model.
The front end expresses a strong, clear-cut personality and is well balanced with the total dimensions of the vehicle: prominent features are the big headlights and a large, rounded hood. The bumpers - available painted in the same colour as the body and with a large "mouth" and Fiat badge in the middle - pick up on the style of the previous model. The front end is complemented by a large windscreen that makes the passenger compartment brighter and improves visibility. The side view of the Doblò is typified by essential, clean-cut lines which make the vehicle look dynamic and streamline. The elements which contribute to the vehicle's personality are the large wing mirrors with built-in side indicators and shiny black rear door pillars. The sliding side doors are perfectly integrated into the side while the stylistic solution of the sliding guide - recessed and integrated in the vehicle body - is reminiscent of that adopted on many known MPVs. The rear end immediately suggests the large loading volume and capacious available space. Two types of rear doors are offered: asymmetric swing doors, panelled or glazed or glazed up-and-over tailgate. The first two types have a characteristic central element which aligns and encloses the number plate, the door handle and the Fiat badge in an innovative, distinctive manner. The up-and-over tailgate is most certainly a distinctive element of the new Doblò Cargo: its shape, large glazed surfaces and characteristic elements - such as the "set" code and badge - make its design truly exclusive.
Roominess and brightness are the first things noted aboard the Doblò Cargo. The interiors include a roof shelf, larger and more functional than the one featured in the previous model, in addition to many open and closed compartments. For example, the side door holders may hold two half litre bottles of water and an A4 sized folder, while the large glove box with lock and key can accommodate a 14" laptop computer. An open compartment is arranged on top and many other handy compartments for holding small and large objects, such as mobile phones, pens and coins, are found throughout. An optional compartment cleverly fitted inside the passengers seat cushion is available for some versions. Another highly appreciated optional is the document holder clip that turns the dashboard into a small folding desk for jotting down notes or holding papers. Upholstery and seats of the new vehicle come in a wide range of colour and material combinations. Specially, the seats are wrapping, comfortable and practical to satisfy the needs of professional customers. A rigid parcel shelf on short wheelbase Combi versions may be set to two levels and hold up to 70 kg in the lower position to configure the boot as needed. Combi versions have a boot capacity of 790 and 1050 litres (short and long wheelbase, respectively).
RELIABLE, ENVIRONMENT-FRIENDLY ENGINES
The Doblò comes with a range of petrol or diesel engines (Natural Power 1.4 16v T-JET 115 HP versions will be available after launch), all made by FPT – Fiat Powertrain Technologies. According to the power levels, the engines are combined with mechanical 5 or 6 speed gearboxes (a new 1.6 version with robotised gearbox will be making its debut next year). The following engines are available at launch: 1.3 MultiJet II 16v - 90 HP (Euro 5) with Start&Stop and DPF; 1.3 Multijet 16v - 90 HP (Euro 4); 1.6 MultiAir 16v - 105 HP (Euro 5) with Start&Stop and DPF; 1.6 Multijet 16v - 105 HP (Euro 4); 2.0 MultiJet 16v - 135 HP (Euro 5) with Start&Stop and DPF; 1.4 16v - 95 HP (Euro 5) with Start&Stop; and 1.4 16v - 95 HP (Euro4). All Euro 5 engines are provided with standard Start&Stop system for stopping the engine momentarily when standing and restarting it, to cut consumption and increase quietness in the passenger compartment. The scheduled service frequency has been decreased with respect to the previous model. For the main coupon, the Doblò has gone from 20,000 km of the previous 1.3 Multijet engine to 35,000 km of the new 1.3 Multijet engine (Euro 5). This means a 34% saving on schedule servicing costs on a distance of 120,000 km.

1.3 Multijet - 90 HP Euro 4 / 1.3 Multijet II Euro 5 (with DPF and Start&Stop)

Developed and made by FPT - Fiat Powertrain Technologies, the 1.3 Multijet II Euro 5 - 90 HP belongs to the second generation of Multijet engines. These engines incorporate new Common Rail injectors with a balanced hydraulic servo-valve to control the quantity of fuel injected into the combustion chamber with improved precision, and in a faster and more flexible sequence than in the past. In particular, the increased number of injections (up to 8) in the same cycle optimises the introduction of fuel ensuring a more gradual combustion with beneficial effects in terms of consumptions, emissions, quietness and handling. Consequently, with respect to the previous generation, the new Common Rail injectors ensure reduced consumptions and CO2 levels, in addition to considerably abating polluting emissions.
Multijet engines are the most modern evolution of the Common Rail technology. After the JTD (1997) and first generation Multijet (2003) engines, the Multijet II secures yet another engineering record for Fiat Group Automobiles staying ahead of future and even stricter standards on emissions. The new Multijet II engines can implement increasingly more advanced strategies for optimising combustion: for example, Injection Rate Shaping mode (two consecutive injections with no hydraulic lag) reduce noise, fuel consumption and - in Euro 6 perspective - even harmful emissions (-30% of nitrogen oxide potential).
The new 1.3 Multijet II Euro 5 90 HP fitted on the Doblò Cargo has a variable geometry turbocharger for optimised supercharging throughout the range: with respect to today's 1.3 Multijet 75 HP, the power is increased by 15 HP (+ 20%) and the maximum torque of 200 Nm (+ 5%) is delivered at only 1500 rpm to ensure rapid pickup. The Euro 5 variant with anti-particulate filter and standard Start&Stop cuts consumption by approximately 8% with respect to the previous 75 HP (combined cycle). Merit of these results goes to the Start&Stop system which momentarily stops the engine and then starts it up again to reduce consumption and increase quietness in the passenger compartment. Another important environment-friendly features is combined to the system: a Gear Shift Indicator which suggests when to shift up or down in order to optimise fuel consumption. The result is top-in-class fuel saving: only 4.8 litres for 100 km in combined cycle (that is 1250 km of range) and a CO2 emission level of only 126 g/km. At the same time, the performance of the new Fiat Doblò Cargo engine is excellent: 158 km/h of top speed.

1.6 Multijet 105 HP Euro 4 / Euro 5 (with DPF and Start&Stop)

The 1.6 Multijet family is a major evolution with respect to the known, appreciated 1.9 Multijet 105 HP improving on performance, conform, emissions and running costs. Equipped with an electronically controlled fixed geometry turbocharger, the 1.6 Multijet delivers a remarkable torque already at low engine speeds. This is even more surprising considering the small displacement: 290 Nm with respect to 200 Nm of the previous 1.9 Multijet (+45%). A torque of 300 Nm delivered at only 1500 rpm makes this engine a leader amongst engines with capacities of less than or equal to 1.8 litres. If we then consider specific torque (i.e. divided by the cubic capacity) the 1.6 is the highest performing engine in the category - nothing short of a revolution in today's diesel engines. With this equipment, the new Fiat Doblò Cargo reaches a top speed of 164 km/h; a combined cycle consumption of 5.2 l/100 km (which is approximately 10% less than the 5.8 l/100 km of the previous 1.9 105 HP) and a level of CO2 emissions equal to 136 g/km. The 1.6 Multijet service operations are spaced further apart in running cost reduction perspective. As a result of the high quality level and the efforts spent on each component to further improve ruggedness and efficiency, the 1.6 Multijet only needs one coupon every 35,000 km. The results in terms of running cost reductions are evident: for example, on a distance of 120,000 km/year scheduled servicing costs are cut by 40% with respect to the 1.9 Multijet 105 HP of the previous Doblò generation. With regards to environment-friendliness, 1.6 Multijet 105 HP implements state-of-the-art exhaust gas treatment technologies, such as a Close Coupled Diesel Particulate Filter and a built-in EGR (Exhaust Gas Recirculation) system to improve control of gas temperature and flow while guaranteeing lower emissions and reduced fuel consumption at the same time. The 1.3 Multijet - like the 1.6 Multijet - is available in two versions: Euro 4 and Euro 5, the latter fitted with standard DPF and Start&Stop.

2.0 Multijet 135 HP Euro 5 with DPF and Start&Stop

The 2.0 Multijet - 135 HP Euro 5 is the natural evolution of the tried and tested 1.9 Multijet - 120 HP from the point of view of performance (power +12% and torque +60%) and polluting emission reduction (Euro 5 directive compliant). These engine features translate into outstanding driving experience and excellent performance: with a top speed of 179 km/h, a combined cycle consumption of 5.6 l/100 km, equal to a decrease of 9% with respect to 5.9 l/100 km of the previous 1.9 - 120 HP and a CO2 emission level equal to 148 g/km. Various technical interventions were implemented on 2 litre engine to increase performance and reduce noise and vibrations: supercharging is obtained by an electronic controlled fixed geometry turbocharger which improves power and delivers high torque already at low engine speeds (320 Nm at 1500 rpm). An electrically activated EGR valve, managed directly by the engine control system, a recirculated exhaust gas cooling system and a close coupled catalyser have all been introduced to reduce exhaust emissions. Furthermore, the 135 HP engines fits a standard anti-particulate filter. The remarkable reliability is the result of many specific tests carried out on the engine and on the single components during the entire development process.

1.4 16v petrol - 95 HP Euro 4/Euro 5

Euro 4 and Euro 5 compliant with low fuel consumption, the 1.4 16v - 95 HP engine is the ideal solution for use in cities. The torque curve is very gradual from 1500 to 4000 rpm making it extremely elastic for smooth running and low fuel consumption: 7 l/100 km in the mixed cycle (Euro 5 configuration) obtained also because the engine is very light in weight (only 100 kg). The top speed is 161 km/h and CO2 emissions are equal to 163 g/km.

Start&Stop and Gear Shift Indicator

The new model fits the Start&Stop system with environment-friendliness and fuel economy in mind. Standard on all new Euro 5 engines, this device temporarily switches off the engine and restarts it to reduce fuel consumption and noise levels. In these situations, which are typical of heavy traffic in urban areas and when standing at traffic lights, when the control strategy permits, the system automatically cuts out the engine in order to reduce fuel consumption and emissions by up to 15% on city missions and by 3.5-4% over an NEDC-type cycle. The Gear Shift Indicator (GSI) combined with the Start&Stop system is a co-driver that discreetly suggests when to change gear, leading to more efficient use of the engine in terms of fuel consumption. For example, the GSI may suggest to shift up, by means of a signal on the instrument panel or on the Blue&Me-TomTom screen, to make the engine burn a leaner mixture or shift down to make best use of the available torque.
SAFETY
The Doblò is designed and built to achieve the highest levels of safety. It is the result of the many devices offered (standard or optional according to market or outfit) starting from those devoted to passive safety which equip the entire range: front airbags and next-generation side bags, which are larger in size with respect to traditional side bags for protecting both the head and the chest. The road holding of the new Fiat Doblò is constant and predictable through the adoption of electronic dynamic control systems for braking and steering. There is the ABS system with EBD (Electronic Brake force Distribution) and, above all, ESP (Electronic Stability Program) with Hill Holder to assist starting uphill (this is the only vehicle in its segment to have this function available across all engines). Additionally, the new model has all the dynamic and comfort features that allow users to embark comfortably and safely on any journey. There is a powerful and effective braking system, tyres designed specifically for maximum comfort and safety, and the innovative suspension structure: independent-wheel McPherson type at the front and independent-wheel Bi-link with anti-roll bar at the rear. These are a state-of-the-art solution for improving comfort, road-holding and driveability, increasing roominess and on board space and lowering the loading threshold.
Furthermore, the Fiat Doblò is leader in insurance crash test ratings, which measure the extent of potential damage to a vehicle consequent to low speed collisions. In many European markets (first and foremost Germany and the UK), insurance premiums vary according to the rating attributed to the vehicle by insurance associations. The evaluation is based on the average costs for repairs and on the statistic frequency of accidents. This is an obvious advantage even when this does not mean paying smaller insurance premiums: anywhere in the world and for all customers, a lower damage potential means cheaper repair costs and is the result of clever design implemented to reduce wrecking and improving part disassembly and reassembly of parts.
The Fiat Doblò surrounds driver and passengers with technology that increases comfort and help keep the driver to focus on the road: this includes an automatic climate control system with distribution to rear seats, an MP3 stereo with controls on the steering wheel, cruise control, parking sensors, a built-in Blue&Me hands-free system and a "Blue&Me-TomTom" navigation system. The latter is a fully integrated infotainment system whose practical colour touch-screen allows you to manage phone calls, satellite navigation and all the driving information you need. The device is the result of a partnership between Fiat Group Automobiles and TomTom, the European leader in portable navigation systems, and integrates with the vehicle using the Blue&Me system developed with Magneti Marelli.
Blue&Me–TomTom is fixed in an easily accessible and safe position, from where it can still be removed for other purposes. The system is operated from controls on the steering wheel and by voice commands. An exclusive "Car Menu" displays information on the car and all connected devices: all trip information on a single screen: distance travelled, consumption and range; fuel reserve warning and directions to the nearest filling station; places of interest, Fiat Group service centres and methane LPG filling stations; management of the mobile phone connected to Blue&Me: calls, information, contacts and call log; "eco:Drive Info": real-time information on your driving style and suggestions for reducing environmental impact and optimising consumption by changing gear and using the accelerator to suit the nature of the route.

Finally, the new Fiat will be available with Blue&Me, including hands-free with Bluetooth® interface and next-gen voice recognition, USB port, MP3 player, SMS interpreter. The innovative Blue&Me system has won prestigious international awards and been a real commercial success. Sales are fast approaching one million units, installed on various Fiat Group Automobiles models.
RANGE (ITALIAN MARKET)
Doblò Cargo
The range is organised around 7 different body types: short and long wheelbase van, high top van, short and long wheelbase 5-seater combi. Particularly interesting are the brand-new short and long wheelbase drop-frame versions, which can be easily and cheaply converted for specific trades (refrigerated vans, fixed and tilting flatbed trucks). Two outfits of the new commercial vehicle are available (standard and SX) for each of the two versions: Cargo and Combi. This means a total of approximately 400 possible solutions by selecting all the possible body, side door, rear door and engine options. Doblò Cargo has 11 paintwork colours (3 pastel and 8 metallised) with a long list of optional devices for specific customisations. Lineaaccessori has developed a specific range of accessories for the new Doblò Cargo to satisfy the needs of professional customers included targeted solutions for roof racks, platform and wall covers and tow hitches. More in detail, roof racks are designed as an integrated system for satisfying the needs of professional users. In addition to cross bars on longitudinal roof bars and baskets with loading roller and integrated spoilers, the range includes roof bars with double duct so that the items such as a ladder loader, extension bars with roller and side tarp can be fitted on the side duct. All components are functional and very easy to use. They are made of smart-looking, reliable materials.
Doblò (passenger car)
In Italy, the new Fiat Doblò range features three versions (Active, Dynamic and Emotion) and four engines (1.4 petrol - 95 HP, 1.3 Multijet - 90 HP, 1.6 Multijet - 105 HP and 2.0 Multijet - 135 HP), all Euro 5 (except for the 1.3 Multijet) and equipped with standard Start&Stop, ESP with hill holder and DPF (diesel engines). All versions in the range have five seats and a version with seven seats in only 4.39 metres of length is optionally available: two seats on the front row, three seats in the middle row and two seats in the back row. In detail, standard equipment of the Active version includes: ABS, ESP, front and side airbags (head - chest), rear head restraints, Start&Stop, Bi-link rear suspension, hydraulic power steering, second sliding side door, 60/40 rear seat (folding and reclining). The Dynamic version adds a manual climate control, electric rear windows, electric wing mirrors, boot curtain and bumpers in body colour. The Emotion version is designed for the most demanding customer. In addition to the Doblò Dynamic version, it is fitted with tinted rear windows, fog lights, 16" alloy rims, automatic climate control system, adjustable rigid parcel shelf, sound system with CD and MP3 player, external temperature sensor, electric wing mirrors painted in same colour as the body and height-adjustable driver's seat with lumbar adjustment and headrest. Finally, the new Doblò has 11 paintwork colours (3 pastel and 8 metallic) for enhancing its new, lively, highly distinctive design.
FGA Capital

Finally, FGA Capital has two alternative solutions (leasing and long-term rental) specifically targeted to customers who use the new Doblò Cargo for work. More in detail, leasing offers considerable tax benefits and is the ideal solution for small businesses and companies that do not want to tie up capital. The vehicle can be redeemed at the end of the contract at advantageous conditions. This solution may be combined with instalment plan services: credit protection, road insurance, theft/fire insurance and full coverage. Other packages designed to meet the specific requirements of business customers include integrated scheduled servicing and repairs and warranty extension. Long-term rental on the other hand is the most suitable, effective answer for business customers. It is ideal for customers who use the vehicle for work and offers an array of great economic benefits in addition to being able to rely on a constantly new, efficient fleet, consequently cutting paperwork and running costs.
Standard & Optional Equipment (Italian market)
Interior/Exterior Colours (Italian market)