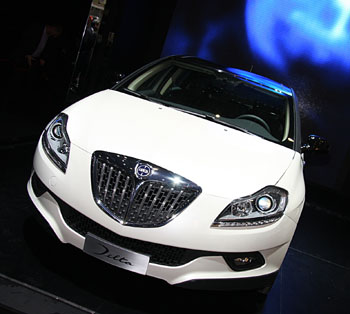 Today Reuters quotes sources on the Opel supervisory board as saying that Marchionne is planning to close down GM's threatened Swedish Saab brand, as well as Fiat's own Lancia brand, over the longer term. Photo: Lancia's new Delta model on the occasion of its world première at last year's Geneva Motor Show.
Media reports today citing a secret internal Fiat document claim that the consequences of a merger between Fiat and Opel will be 18,000 job losses, the closure of ten factories, at least two of them in Italy, and the discontinuation of the 103-year-old Lancia brand.
This morning's edition of national German daily newspaper Frankfurter Allgemeine Zeitung quotes from a top secret 103-page internal Fiat document called "Project Football" which reveals that a merged Fiat-Opel entity will preserve the bulk of the jobs in Germany with the brunt of the cuts coming in Italy, Belgium and the UK.
A German economy ministry spokesman, Steffen Moritz, while not denying the existence of the Fiat report, stated that it wasn't up-to-date anymore, saying: "The model which has been reported is from the beginning of April and is therefore no longer up to date or at least not the model which has been part of the last talks."
Fiat was also very quick to deny the report, issuing a very brief statement of 'clarification' this afternoon in Turin that read: "With reference to the Reuters report which cites the Frankfurter Allgemeine Zeitung on the Fiat-Opel plan, the Fiat Group clearly states that it is not information generated by Fiat and does not form part of any plan prepared by Fiat."
The report, which Frankfurter Allgemeine Zeitung says is titled 'Operation Football', foresees around 18,000 jobs being shed and ten factories closed if the Fiat-Opel merger goes ahead. As has been promised this wek by Fiat CEO Sergio Marchionne none of Opel's vehicle manufacturing factories in Germany will be closed, although several component sites as well as engine and transmission production facilities at the Kaiserslautern, Rüsselsheim and Bochum plants would be shut down. It would instead be factories located outside Germany that would bear the brunt of the production trimming. In Italy the Termini Imerese factory on Sicily which builds the Lancia Ypsilon, and Alfa Romeo's key Pomigliano d'Arco plant near Naples that builds the Alfa 147, 159, 159 Sportwagon and GT Coupé would both close down. These two factories have both recently been threatened with closure although Termini Imerese has just received 46 million euros of grants from the European Union to help with the cost of developing of the next-generation Ypsilon. Frankfurter Allgemeine Zeitung said that other plants on the "Project Football" hit list include Opel's plant at Aspern in Austria and at Antwerp in Belgium as well as its sister brand Vauxhall's two UK plants at Ellesmere Port and Luton.
Frankfurter Allgemeine Zeitung said that shutting 10 plants from 2011-2015 would free up 4.3 billion euros in cash by 2015. Shutting down the five carmaking sites would cost 1 billion euros upfront but the benefits would amount to 282 million euros a year in cost savings. The closure of the five component factories would add a further 200 million euros of savings a year.
It is reported that Marchionne wants to gain access to Opel's C- and D-segment platforms that underpin its Astra and Insignia models respectively. Opel and Fiat already share platforms in B-segment (the Fiat Grande Punto and Opel Corsa) the legacy of a now defunct partnership with GM. Another key aspect of the merger would involve Fiat gaining control of GM's manufacturing operations in Latin America.
Also today the Reuters news agency quotes sources on the Opel supervisory board as saying that Marchionne is planning to close down GM's threatened Swedish Saab brand, as well as Fiat's own Lancia brand, over the longer term. Lancia has been threatened with closure many times in recently years and the previous Fiat Auto CEO Herbert Demel had a strategy to shut Lancia down and it was only with his dismissal and Marchionne's tenure in his seat that confirmed the famous brand's future.