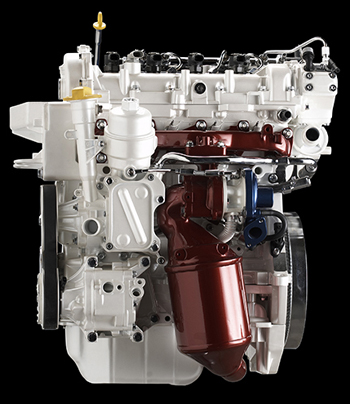 BorgWarner's new factory will supply Fiat Powertrain with turbochargers for the 1.3-litre Multijet diesel engine (bottom) that is used in various models including the Fiat Panda, 500 (top), Fiorino, DoblÚ, Grande Punto.
Automotive components manufacturer BorgWarner has just opened a new state-of-the-art production facility in Rzeszow, Poland, southeast of Krakow. The nearly 60,000-square-foot (5,500-square-metre) operation has the capacity to produce up to 500,000 diesel and gasoline turbochargers a year for carmakers in Europe. The new location allows BorgWarner to optimally supply the Fiat Powertrain Technologies' Polska factory in southwest Poland with turbochargers for the 1.3-litre Multijet diesel engine that is used in various Fiat Group Automobiles' models including Fiat's Panda, 500, Fiorino, DoblÚ, Grande Punto and Lancia's Ypsilon and Musa.
"Due to the high proportion of diesel engines, Europe is already a key turbocharger market," said Roger Wood, BorgWarner Engine Group President. "Because increasing numbers of European carmakers are using downsized, turbocharged gasoline engines, we expect the percentage of vehicles with intelligent turbocharging concepts will increase."
BorgWarner delivered its first turbochargers less than one year after breaking ground for the facility in March 2008. The new facility is BorgWarner's twenty fourth production plant in Europe. It has been designed as a "green" building, the facility features sensor-controlled lighting to ensure that lights are switched on only when people are in the room as well as special materials in the roof and walls to significantly reduce energy consumption.
BorgWarner Turbo & Emissions Systems is a leading global producer of turbochargers, exhaust gas recirculation valves and other engine air management systems for passenger cars, light trucks and commercial vehicles. These systems are designed to improve fuel economy, reduce emissions and enhance vehicle performance.
Auburn Hills, Michigan, U.S.A.-based BorgWarner Inc. is a product leader in highly engineered components and systems for vehicle powertrain applications worldwide. The FORTUNE 500-listed company operates manufacturing and technical facilities in 60 locations in 18 countries. As well as Fiat Powertrain Technologies, BorgWarner's current customers include VW/Audi, Ford, Toyota, Renault/Nissan, General Motors, Hyundai/Kia, Daimler, Chrysler, BMW, Honda, John Deere, PSA, and MAN.