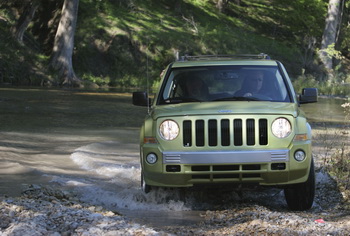 Jeep (top, Patriot 2010) is the only one of the three Chrysler Group brands set to retain a global presence, according to media reports, while the departure of the Chrysler brand from outside North America is likely to stabilise Lancia (bottom, Delta).
With Fiat set to unveil its eagerly-anticipated five-year plan for Chrysler Group in less than 24 hours, unattributed briefings are starting to build a picture of what the report contains – and the chief headline is that Chrysler and Dodge will be cut back to retain only a North American presence, leaving Jeep as Chrysler Group's sole representative overseas. The news comes from Automotive News, which quotes "people with direct knowledge of the plan."
The five-year plan is a key milestone in Fiat's plans for the future of the Chrysler Group, which it took control of following a Chapter 11 bankruptcy process in the early summer. It comes after Fiat's top management, headed by CEO Sergio Marchionne, spent months reviewing the failed North American carmaker's operations. The presentation to analysts, media and representatives of the US Government is expected to last for five hours. As well as Marchionne, Chrysler Chairman Bob Kidder will also be present.
According to AN, the strategy outlined tomorrow will include hard-hitting changes. In a report, it quotes sources close to the talks as saying, "elements of the Fiat plans for Chrysler will reflect a recognition that the automaker cannot be made viable with only minor changes to its past strategy for its three brands." The paper added that, "as part of the wholesale shake-up under Fiat, Jeep will remain an international brand because of the strong name recognition it commands". Fiat reportedly plans to develop the Jeep brand and increase marketing for its SUVs in emerging markets such as Brazil.
Sales of the Pentastar's brands have collapsed at a shocking rate over the last year in major global markets such as Europe, to the point where all three division combined recently barely mustered 10,000 monthly sales worldwide. While Jeep has a strong reputation across the world as a genuine off road nameplate, both Chrysler and Dodge brands have very little inherent value anywhere.
The most significant aspect of this decision would be its effect on Fiat Group Automobiles' Alfa Romeo and Lancia brands. As part of its strategy, Fiat plans to tie Alfa Romeo to the Dodge brand, focused on sporty/driver-orientated cars, while Chrysler will tie up with Lancia to focus on upmarket/luxury products. Removing clashing Dodge and Chrysler brand products in worldwide markets would strengthen Alfa Romeo and Lancia's respective positions. For Lancia in particular this would be significant, as the brand could have the first signs of a solid future after being threatened with extinction a number of times over the past decade. Most recently this summer, Fiat's failed offer for GM's Opel division called for a Chrysler-Opel luxury focus, with Fiat executives briefing at the time that Lancia would be abandoned if the bid was successful. So far Fiat has not offered any long-term future strategy for Lancia, and the unfolding of the five-year plan for Chrysler could now prove a stabilising force.