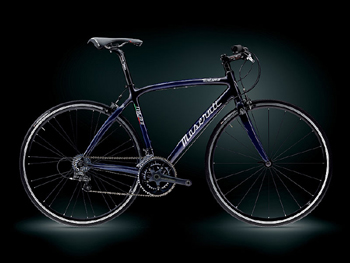 Both the Milani for Maserati bicycles exhibit the famous Trident insignia: the "Veloce" (top) racing bike has a carbon fibre frame while for more leisurely pedalling, the "Turismo" (bottom) is ideal.
Produced by the famous Milani Cycles, the new Milani for Maserati bicycles are designed for those who enjoy a more stylish two-wheeler and following a preview at the 79th Geneva Motor Show two months ago these machines are on sale.
The two famous 'Made in Italy' marques have teamed up to launch this product, one that combines Maserati's traditional style and elegance with Milani's advanced technology. The collaboration, which follows a pattern that has seen many carmakers lending their brand name to adorn bicycles, has led in the case of Milani Cycles and Maserati to the production of two models: a road bike and a city bike. Other Italian brands to see the marketing and revenue-generating potential of such branding exercises in recent years includes Maserati's sister marques: Alfa Romeo, Ferrari and Lancia.
Both the Milani for Maserati bicycles exhibit the famous Trident insignia: the "Veloce" racing bike has the same frame as the firm's N107E, the carbon-fibre gem from the 2009 Milani Cycles range designed for those who take their cycling seriously. For more leisurely pedalling, the "Turismo" is ideal and takes its cue from Milani's Vlaanderen model.
"This project is aimed at those who adore cycling," reflected company president Celeste Milani. "We are proud to have the backing of such a prestigious marque. We are also pleased to work alongside a historic Italian brand like Maserati. Tradition, style, elegance and technology are the values that connect Milani to Maserati. For us, as for Maserati, passion has to lead to excellence."
The Milani Cycles factory was established in 1927 and came from Natale Milani's genius and love of cycling. Having retired from competing, Milani founded the company in Gallarate. The company's birthplace is homage to the craftsman's art and traditional working methods have stayed with Milani down the years. Today, the company employs the latest know-how but has not forgotten its roots as tradition and technology co-exist. The result is a carefully crafted, limited edition product.