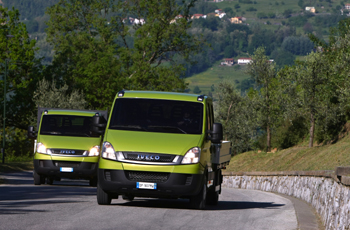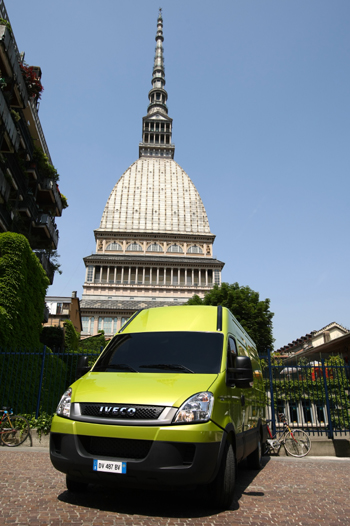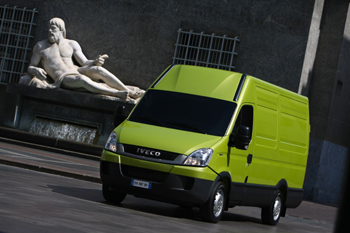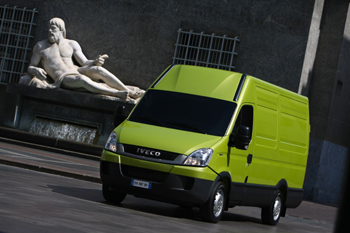 In order to respond to the up-to-date needs of both urban and extra-urban goods transport, Iveco presents the new ECODAILY, the latest step in the continuous renewal of its product range, with confirming itself to be the ideal partner for all transport professionals.
In order to respond to the up-to-date needs of both urban and extra-urban goods transport, Iveco presents the new ECODAILY, the latest step in the continuous renewal of its product range, which confirms itself to be the ideal partner for all transport professionals.
Resulting from the wealth of experience gained from vehicles in the field and from continuous research and development, Iveco's light commercial vehicle range, European leader, responds to customers' competitive and innovative needs with state of the art solutions. The applied technology is at the complete service of the professionals who will verify for themselves, as well as the strength and durability but also the intelligence of this commercial vehicle. But not only: with ECODAILY from today, the range is even fuller with the addition of new versions that add to its legendary robustness with an even more marked respect for the environment. ECODAILY is, in fact, a vehicle showing innovation to the full and extreme respect for ecology without compromise to its performance, durability or reliability.
Daily, since its birth in 1978, has chalked up a string of positive acclaims for its innovative design evolution, where aesthetics and functionality are integrated with equilibrium and style. Already, over 30 years ago, Daily served as the perfect portable 'container' of goods or passengers but, at the same time, distinguished itself for its modern and original style that, in its world of transport professionals, pushed itself to the fore to become the icon that it is today. From the start, Daily was and remains a great working 'colleague' with an outstanding personality.
Today, these characteristics are even more accentuated. Daily is designed and produced keeping in mind the users' mobility needs and necessities with a redesigned front end, integrating the upper and lower grille areas, so giving Daily immediate recognition. Inside the driver's cab, born for and around the driver as an ideal place to live and work, travel safely and comfortably and providing personal well-being. Daily almost 'welcomes' the driver and passengers on board with a sensible choice of materials and colours creating an ideal atmosphere for the day ahead. This aspect of Daily's style serves as a 'visiting card' with which the company values and philosophy are transmitted but this is only a brief introduction to the point of strength of Daily.
Daily has always been considered 'traction champion' in its class, thanks to rear wheel drive and high performance engines. The first ensures the maximum traction under all load conditions and road surfaces while the second provides power and torque at the height of its product category.
An extended range of FPT (Fiat Powertrain Technologies) engines providing improved performance coupled with the best in class respect for the environment. As a result in changes to the way in which light commercial vehicles are homologated for engine emissions, Iveco has responded with an even wider choice of engine ratings, providing customers with a full range of both homologation regimes. 2.3 litre engine versions are all certified the Euro 4 standard, according to the light duty regime and bring new power ratings of 106cv and 126cv with exceptional engine torque ratings of 270Nm and 290Nm respectively, in addition to the previously available ratings of 96cv, 116cv and 136cv. Also certified to the Euro 4 standard according to the light duty regime is the 3.0 litre engine at ratings of 146cv and 176cv. All these engine ratings are met using proven Exhaust Gas Recirculation (EGR) technology.
Homologated according to the heavy duty regime are completely new versions of the 3.0 litre engine. Diesel engine versions at 170cv, available immediately and 140cv, available from the second quarter of 2010, are certified to the EEV (Environmentally Friendly Enhanced Vehicle) standard. This is a more severe standard than the European minimum legal requirement of Euro V, demonstrating Iveco's commitment to environmental care and to professional vehicle operators in demonstrating their corporate responsibility by operating vehicles meeting environmental standards that go beyond the minimum. This is achieved by the use of sophisticated two-stage turbo-charging engine technology in combination with EGR and a Diesel Particulate Filter (DPF) with filter regeneration managed by the engine management system.
The Daily CNG version at 136cv is also homologated according to the heavy duty regime, again to the EEV standard and now also available is a Natural Power version. The super ecological CNG versions incorporate the advanced OBD (On Board Diagnostics) and, for the Natural Power version, a 14 litre petrol tank capacity is included as an emergency fuel reserve. The successful CNG engine technology of stoichiometric combustion and three-way catalyst is carried over from the current version and brings the same very low tail pipe emissions; virtually where Euro VI will be in years to come.
The 6 speed automated transmission, AGile, is available on all engine variants and benefits from enhanced management software improving starting from rest and allowing manual 'down-shift' gear changing to be made while remaining in the automatic mode.
Also deserving of the ECODAILY badge is the zero emission Daily Electric. As an industry forerunner of pure electric vehicles, Daily Electric dates back to 1986 but, able to exploit state of the art power electronics systems, in-vehicle control using CAN networking electronics and advanced Sodium-Nickel-Chloride batteries, ECODAILY Electric promises high levels of reliability with peace of mind built in.
A further value of the Iveco brand is safety and to this end, Daily brings Electronic Stability Control (ESP) as standard equipment across the range. It doesn't end here though; the ESP package includes also Hydraulic Brake Assist, providing increased braking according to detected 'panic' braking in emergency conditions and Hill Holder, assisting the driver in avoiding roll-back when starting from rest on an incline, Adaptive Load Control (LAC) able to optimise the ESP function according to axle load distribution, as well as the all important ABS.
The Blue&Me hands-free system resulting from an important collaboration between Fiat and Microsoft, optionally available with Daily, uses exclusive universal voice-recognition technology: regardless of who is speaking, the system does not need time to learn the voice. This solution is further developed onto a mobile communications platform offered to create Blue & Me Fleet, the fleet management package. The telematics solution is developed on the Fiat Group Automobiles hardware platform, Blue & Me, and delivered via Qualcomm's FleetVisor™ Mobile Communications Platform to provide a sophisticated internet based management system, including remote digital tachograph down loading in order to improve vehicle and back-office productivity.
An absolute novelty in its category is the new van and chassis cab version at 7t gvm, available from Q2, 2010, the optimum solution for medium range fast freight transport. This new version allows improved application for mini-bus use and provides a payload otherwise applicable to larger medium range vehicles
Natural evolution
Emblem of structural strength, carrying capability, performance and reliability, all characteristics that make up its DNA, ECODAILY is the result of a natural evolution that combines the mix of technology, strength and quality that has decreed its success with transport professionals, to the modern characteristics of a robust and reliable working vehicle, but also intelligent and sensitive to the ever more demanding needs of sustainable transport. Since its initial launch in 1978, Daily has led the way with product evolution, paving the way for its competitors to follow. A notable first was its turbocharged engine bringing fuel efficiency with car like performance, then with an intercooler and then common rail fuel injection, natural gas versions, van with 17 m3 volume and 210 cm internal height, 6 speed transmission: always anticipating the market, leading the way for the competition. Iveco Daily maintains these characteristics also in 2009, evolving yet remaining true to itself and offering once more, solid solutions to the new and ever present needs of transport professionals, with innovations to ensure it remains the light truck of choice in the market place.
Daily has been designed from the start with the professional user in mind. With its separate chassis, Daily is extremely rugged, responding with ease to users demands. With rear wheel drive, excellent traction is guaranteed as is outstanding manoeuvrability by virtue of front wheel steering angles that cannot be achieved with front wheel drive configurations. With its longitudinal engine layout, a car like driving position provides stress free comfort for the driver and passengers.
A variant for every mission with a wide range of van configurations – up to 17 m3 of loading volume. Chassis cabs and cowls with a truck like chassis making body mounting a simple yet flexible operation resulting in reduced body builder costs and reliable in everyday operation. Comprising van, chassis cab and minibus versions Daily is confirmed the commercial vehicle of most adaptable to every operational need, for every mission and body building application. Even down to the stripped chassis cowl, providing the base for every body building need, Daily provides the excellent starting point to achieve a personalised vehicle specification, at a sensible finished cost. These are the principal aspects that make Daily the vehicle of choice for professional transport operators.
Natural strength
Economy and Ecology are the key words for ECODAILY that becomes part of Iveco's product range to help to overcome the challenges faced by all businesses with ideal solutions by nature. Champion of force and elasticity (with a constant maximum torque from very low engine speeds), ECODAILY is a concrete response to industry's needs, using technological innovation in its quest for sustainable mobility without renouncing its performance reliability and its strength. These are the values that Daily confirms in the shape of its natural strength of which its provides at the disposal of the driver in its daily work and its respect for the environment, really like a reliable colleague with whom one shares the working day. All this with Daily which is now launched to the market, adding value, confirming its aptitude in its design and to the continuous research essential to keep Daily at the peak of modernity, highly evolved and intelligent.
The Daily brand, epitomised by its rugged construction, its carrying capacity, its performance and reliability all add up to its DNA, inherited from birth. An industry 'Popeye the sailor', associated with his green spinach and the strength of 10 men. This is the Daily version for 2009, the result of a natural evolution to bring a modern design with natural intelligence to confront extraordinary work duty-cycles with a positive edge. With its range of versions, unequalled in its category, Daily offers, besides the maximum in productivity and versatility with specific preparations for every transport need (van, chassis cab, double cab, minibus, semi-windowed van), with gross masses from 2.8t to 7.0t, van load capacities from 7 to 17 , a vast range of engine power ratings, wheelbase, overall length, internal height and axle ratios.
Respect: ecology and value of the brand
Beyond its clear strength, making Daily a robust vehicle, the characteristic at the soul of the vehicle is it's respect: respect for the driver and for the transport operator, that is providing reliability and productivity but, above all, respect for the environment, to be more precise, a vehicle that has a strong ecological vocation. Productivity comes from a power-train of excellence; Daily retains its inner strength and values that belong to its actual tradition, offering a still more robust aspect belonging to lager trucks in a way to offer the maximum flexibility and versatility in urban applications, state of the art technology and innovative design initiatives, made without compromise. Low operating costs, ruggedness and reliability therefore make Daily a vehicle absolutely respectful to all professionals in the sector.
The front wheels carry load and steer, giving Daily a best in class turning circle, essential for manoeuvrability, an important aspect for productivity. The rear wheels carry load and provide traction giving Daily excellent traction under all conditions, especially starting from rest in hilly country. With its truck style ladder frame, reliability is ensured. Body mounting on chassis cab or chassis cowl models is made very simple because the entire chassis is capable of bearing imposed loads, whether for goods or passenger transport. Such is the reliability of the chassis design that Daily 2009 sees its maximum permitted mass increased to an unequalled 7.0 tonnes – an example of Daily's natural strength.
But, a fundamental aspect of Daily is respect for the driver. Daily's normal control driver's cab gives a car like driving environment which, for professional or regular drivers, is recognised in providing outstanding comfort to the driver and passengers. Relaxed, stress-free drivers are safe drivers.
Respect for the environment is a byword for Daily. Engines from FPT always going one step beyond. TurboDaily sporting the first 'mini' direct injection turbocharged Diesel engine getting large engine performance from a small capacity engine. In addition, providing excess air to the engine aids combustion to reduce tail-pipe emissions, a benefit first employed by Daily. Natural gas engines using a stoichiometric combustion technology with a three way catalyst to achieve tail-pipe exhaust emissions way below any European regulation; FPT was the first manufacturer to homologate its natural gas engines to the EEV standard even though the emission levels are nearer to the future Euro VI levels than any existing standard.
This trend is continued with ECODAILY; applying to the new two-stage turbo-charged FPT 3.0 litre Diesel engine to achieve EEV compliance as standard and the CNG versions, including the new Natural Power version. So the environmentally enhanced Daily becomes ECODAILY, truly vaunting its credentials. Furthermore, end of life recycling is a legal requirement for cars and light commercial vehicles up to 3.5t with current regulations requiring a minimum of 85% of its mass recyclable. Daily is already certified to be over 90% recyclable, well in preparation for the new requirement which will enter into force during 2015.
Euro 4 and Euro V/EEV Engines
Changes in European tail-pipe exhaust emissions regulations affect the classification of light and heavy duty engine certification around the 3.5t limit legally defining light duty vehicles (i.e. up to 3.5t maximum permitted mass) and heavy duty vehicles (i.e. more than 3.5t maximum permitted mass). A concept known as reference mass (the mass of the vehicle in running order minus the driver, 75kg, with an added mass of 100kg) allows vehicles with a reference mass up to 2610kg (extendable on manufacturer request up to 2840kg) to be homologated according to the light duty regime and those vehicles with a reference mass exceeding 2610kg (reducible, under certain conditions to 2380kg) to the heavy duty regime. The light duty regime uses a chassis dynamometer emission test and the current standard is Euro 4 while the heavy duty regime uses an engine dynamometer test and the relevant standard is Euro V from October 2009.
Daily confronts these changes by offering to the customer a choice of the two strategies, by providing customers with a range of engines homologated to each regime: 1) Light duty models use the FPT 2.3 litre Diesel engine with new power ratings of 106cv and 126cv introduced. In addition, the FPT 3.0 litre Diesel engine rated at 146cv and 176cv is used, all engines using proven EGR technology. 2) Heavy duty models use the FPT 3.0 litre two stage turbo-charged EGR Diesel engine with new power ratings of 140cv and 170cv with DPF. In addition the CNG versions rated at 136cv are homologated according to this regime. Even though the minimum legislative requirement is Euro V, Daily goes one step beyond and all heavy duty versions are homologated to the EEV standard bringing further environmental benefits, so justifying the name ECODAILY.
The homologation situation is given in the following chart.
Homologation

N1

≤ 3.5t

N2

> 3.5t

M1

≤ 9 pass

M2

≤ 5t

M3

> 5t

Light Duty

Euro 4

70/220/EC

29L

Cab/Van

.10

40C

Cab/Van

.11

29L

Combi

.14

.12

.13

.14

.15

35S

Cab/Van

.11

.18

.13

50C

Cab/Van

.15

35S

Combi

.14

.14

.18

.18

65C

Cab/Van

.15

35C

Cab/Van

.11

.18

.13

70C*

Cab/Van

.15

.18

.15

.18

Heavy Duty

EEV

2005/55/EC

35S

Cab/Van

.14G**

40C

Cab/Van

.14G

40C

Minibus

16+1

.14G

50C

Minibus

>19+1

.14G

.14

.14

.17

.14

50C

Cab/Van

.14G

.17

.14

.14

.17

.17

35C

Cab/Van

.14G**

65C

Cab/Van

.14G

65C/70

Minibus

>19+1

.14G

.14

.14

.17

.17

.14

70C*

Cab/Van

.14G

.17

.14

.17

.17
* available from Q2 2010 ** .14G indicates both CNG engine types
The Engines
The following chart gives the engine details with new configurations in bold text:
Engine

Max Power

Cv (kW)

Engine speed

Rev/min

Max Torque

Nm

Engine speed

Rev/min

Homologation

FPT

2.3 litre

96 (71)

2700 – 3900

240

1800 - 2800

LD Euro 4

106 (78)

2750 – 3800

270

1750 – 2750

LD Euro 4

116 (85)

3200 – 3900

270

1800 – 2800

LD Euro 4

126 (93)

3050 – 3700

290

1600 – 3050

LD Euro 4

136 (100)

3000 – 3900

320

1700 - 3000

LD Euro 4

FPT

3.0 litre

146 (107)

3000 – 3500

350

1400 – 2800

LD Euro 4

176 (130)

3200 – 3500

400

1250 – 3000

LD Euro 4

140 (103) **

2990 – 3500

350

1250 – 3000

HD EEV

170 (125)

2990 – 3500

400

1250 – 3000

HD EEV

FPT

3.0 litre CNG

136 (100) CNG

2730 – 3500

350

1500 - 2730

HD EEV

82 (60) Petrol *

2500

230

2500
* Recovery mode for Natural Power versions ** Available from Q2 2010
ECODAILY Electric, the most respectful of all
ECODAILY Electric is a vehicle with pure electric traction using advanced NaNiCl2 battery technology. The asynchronous three-phase traction motor controlled by means of the DC/AC inverter serves to provide effortless driving and range extending regenerative braking. Motor power is 30kW continuous (60kW peak) for 35S models and 40kW continuous (80kW peak) for 50C models. Testament to Daily's rugged chassis construction, all drive components and batteries are housed either in the engine compartment or within the chassis side rails, there is absolutely no compromise in load space. This is possible because ECODAILY Electric is designed by Iveco, constructed by Iveco and sold by Iveco bringing further advantages regarding both planned and unplanned service – there is one supplier, one invoice, one warranty account should the need arise. At the end of the vehicle's life, recycling is not compromised; the Zebra batteries are completely recyclable – zero emissions with positive recycling credentials.
The electrical architecture and control incorporating a dedicated electronic controller with in vehicle communication using the CAN network has been totally developed within Iveco and is serviced directly with the Iveco network. A CAN display installed in dashboard provides the driver with relevant information concerning the correct management of the vehicle such as battery state of charge, system voltage, temperature, traction current and diagnostic information in the event of a system malfunction. Power supply is by Zebra Z5 traction batteries using the proven Na/NiCl2 technology which are fully sealed and do not produce gaseous emissions, do not require maintenance and I are totally recyclable. On board battery charging is provided by means of a standard three-phase 380V/32A supply and requires 8 hours to fully charge the traction batteries. This provides a useful vehicle range of between 90km and 130km, depending on the number of batteries specified and the vehicle mission. These are actual distances established during evaluation trials and are repeatable. The vehicle is driven exactly like a conventional vehicle fitted with an automatic transmission, that is with only accelerator and brake pedals and a transmission lever indicating forward, neutral and reverse. Vehicle control is managed by the traction inverter based on brake and accelerator pedal sensors indicating the driver's needs. The electric Daily has a laden gradeability of 18% and its maximum road speed is electronically limited 70 km/h. This maximum speed can be calibrated at a lower level to even further improve the vehicle's useful range. The vehicle is perfectly specified for urban missions such as door to door collection and deliveries and for passenger transportation. ECODAILY 35S Electric models have two batteries with a third optionally available on long wheelbase models and 50C models have three batteries with a fourth optionally available, again depending on wheelbase.
Comfort and safety
The heart of ECODAILY are its values such as design, modernity, evolution and intelligence that translate to a project that, since its birth, reflect optimum safety, handling and quality of life on board for transport professionals. The vehicle has been designed and constructed keeping account of the needs and the new necessities relating to transport mobility for transport professionals. For this reason, new 'intelligent' solutions have been adopted that assure an increased 'assistance to the driver, satisfying a new dimension for commercial vehicles, adding up to the pleasure to 'be' on-board in its broadest sense. One important solution in this category is the automated mechanical transmission, AGile, allowing fully automated or driver controlled gear shifting. New control software further improves this already appreciated facility; starting from rest and also allows driver initiated down-shifting for maximising engine brake performance and anticipating traffic conditions without exiting from fully automatic mode.
Entering the driver's cab, the material choice and colour of the interior is almost welcoming the driver and passengers to work. The dashboard finished in dark grey with a central silver area and the light grey roof trim, which is replicated in two tone light and dark grey seat covering material, gives ECODAILY an extremely refreshing internal appearance. Comfort and convenience for the driver is a byword with seating arrangements for the driver and passenger(s), including a choice of seat belt configuration for passengers with the dual passenger seat. Comfort and functionality characterise the new instrument cluster provided which includes economic engine speed green-band marking on the rev counter and a new fuel gauge for Natural Power versions of ECODAILY. Natural gas content in the CNG tanks is reported on the normal analogue display with capacity of the 14 litre petrol tank reported by a digital light arrangement included in the gauge which provides petrol tank contents every time the engine is started. New car like steering column controls with improved visibility feature a separate cruise control switch. All important document and object storage within the cab is exceptional. The optionally available storage box with a very useful 6 litre capacity positioned beneath the dual passenger seat adding large capacity door and dashboard compartments and the overhead storage compartment.
ECODAILY is a vehicle that guarantees complete control under all road conditions, an amplified driving facility and the maximum adhesion between the tyres and the road. As a whole, the solutions adopted, summing to more than the individual components, characterise Daily as one of the safest commercial vehicles in its class. Safety is immediately felt by the high level of innovative technological applications present by which accident avoidance provides for the safety of those on-board by class leading control of the vehicle's dynamic stability.
Societal responsibility is key with Daily 2009, not only in terms of its ecological qualities but also in terms of road safety and hence respect for other road users. Daily 2009 brings ESP to the market as standard equipment on all models. This state of the art safety package ensures stability on the road, keeping Daily and its cargo, whether goods or passengers, on the right line. The ESP package starts from ABS, ensuring directional stability under braking, ASR (anti slip regulation), an important feature especially when reversing up a loading ramp in wet conditions, HBA (Hydraulic Brake Assist) ensuring optimised braking under emergency conditions and Hill Holder, providing assistance to the driver in starting from rest up an incline without rolling back. The value-added function LAC (Load Adaptive Control) identifies changes in the vehicle mass and centre of gravity along the longitudinal axis of the vehicle and adapts the interventions of the safety systems ABS, TCS and ESP to the vehicle load. In this way, LAC optimizes braking effectiveness, traction and stability. In addition, it reduces the risk of roll over via the improved utilization of Roll Over Mitigation and minimizes brake-pad wear by optimizing the distribution of braking forces.
Versatility and strength on tap
Building on its natural strength, reliability and durability coming from its chassis frame, Daily 2009 will be available with a maximum permitted mass of a full 7.0 tonnes from the second quarter of 2010, providing an increase in payload of 470kg compared to the 6.5t versions, providing over 4700kg of body and payload capacity for chassis cab variants, more than many medium range trucks, a further demonstration of Daily's truck style heritage.
Operational efficiency with van versions is enhanced by optional rear door hinge arrangements that are designed to allow operators to select the arrangement according to the vehicle's mission. With the standard 180° arrangement including 90° checked opening, carried over from current Daily, Daily 2009 offers in addition a new 270° door opening option with automatic door stops at 90°, 180° and 270° without checks straps making the doors exceedingly user friendly. Body mounting is further enhanced with the inclusion of the optional electronic expansion module that provides the essential interface with the vehicle's CAN interface. Out-put includes power take off control, light switching, engine starting isolation and anti-theft alarm. In addition, drive-away factory fitted open top body options are available with Daily 2009 chassis cab variants. Platform widths of 2140mm for 29L to 50C models and 2300mm for 65C and 70C ECODAILY models are available and the bodies include folding steps to assist access to the body, ergonomic vertical side and tail board opening handles and load securing fixings.
With the natural operating barrier for 'B' category driving licence holders, payload can be all important and to this end the spare wheel and spare wheel carrier are no longer offered as standard equipment with Daily 2009 models up to 3.5t. In its place is the tyre repair kit comprising a tyre inflation compressor, powered by the vehicle's battery, and a sealing solution able to repair punctures permanently up to 6mm in size without further damage to the tyre. The repair kit is housed in a purpose designed case securely mounted on the cab floor adjacent to the driver's seat. The spare wheel and carrier are optionally available for these models according to specific customer needs. For models above 3.5t, the spare wheel with carrier remains as standard equipment with the tyre repair kit optionally available.
ECODAILY Minibus version
Building on its renowned quality, Irisbus, the Iveco business unit dedicated to passenger transport, offers ECODAILY in different minibus versions. This range combines the traditional characteristics of the Daily (reliablility, comfort, environmentally-friendly performance and manoeuvrability) with the advantages of top-level passenger features inside a light commercial vehicle. The ECODAILY minibus,ideally completes the Irisbus range for an even more sustainable passenger transport and makes 'wellbeing on board' a point of excellence. The large glass area ensures an internal brightness and provides outstanding outside visibility permitting passengers to be part of the surrounding environment. Internal appointment, such as functional and comfortable seats, luggage racks, air-conditioning are available providing contentment on board. Last but not least, the ample head room enables passengers to move easier in the vehicle when standing.
ECODAILY demonstrates itself to be a versatile and flexible basis for dedicated passenger transport applications. The range offers four versions, all equipped with FPT 3 l engines omologated to EEV emission level: Citis for urban applications, Recreo for school transportation, Way for intercity services and Tourys for tourism applications. As an option, all versions are accessible to passengers of reduced mobility thanks to a lifting platform for wheelchair users and dedicated space. The minibus range is available in different body lengths up to 8.50 m, with four wheelbases and offering passenger capacities from 16 to 28 seats.
Blue&Me, the intelligence of ECODAILY
The Blue&Me hands-free system resulting from an important collaboration between Fiat and Microsoft, optionally available with Daily 2009, uses exclusive universal voice-recognition technology: regardless of who is speaking, the system does not need time to learn the voice. After pairing a Bluetooth mobile phone with the system, which only needs to done once, and by downloading the mobile 'phone's phonebook, phone calls can be made and received simply by speaking: all the commands can be given without taking hands off the wheel or eyes off the road.
Up to 5 different mobile phones can be paired with the system making Blue & Me ideal for business use. A number can be dialled by dictating the number, digit by digit, or simply by saying the name of the person to call, provided they are in the phone's phonebook. Alternatively, the steering wheel controls can be used to scroll through the phone book on the display on the instrument panel.
Blue & Me Fleet, Iveco's fleet management telematics package realised in partnership with Qualcomm Enterprise Services, a leader in integrated wireless systems and services . Integration with the vehicles CAN-BUS network and the precise GPS (Global Positioning System) provides highly accurate information to be accessed by the operator using Qualcomm's internet based FleetVisor™ web portal. Real-time information on fuel consumption, distance travelled, road speed, engine usage and driver identity data are available as is the highly praised feature allowing remote downloading of the digital tachograph data, obviating the need for the vehicle to be physically available for this legally required procedure. Once more a safety and environmental care feature.
Services made to measure for ECODAILY
Versatility and strength are elements that differentiate not only new vehicles but also the services offered by Iveco Customer Service. Whoever travels on roads professionally knows very well and recognises how indispensable it is to be able to count on the speed of response and competence of a network of trained technicians. For this, Iveco promises the best in roadside assistance, 24 hours in 24, 365 days of the year with a single toll-free telephone number (0080048326000), available throughout Europe. Iveco makes available its network of support and intervention of technicians and professionals from more than 2300 dealers and official service centres, technically competent and able to give the maximum for every situation and occasion. Also, thanks to 100% genuine spare parts, Iveco is able to maintain the performance and reliability of ECODAILY at its peak, ensuring always the correct part without compromise, ensuring the professional vehicle always meets the needs of the transport professional. In addition, ECODAILY benefits from the benefits of the Daily Chrono Service, an opportunity to have a 'fast track' access to service and essential maintenance without appointment. In only one hour, normal maintenance services will be carried out with the guarantee always of the use of 10% genuine Iveco spare parts.
These design and innovative technological characteristics, comfort and safety integrate perfectly with the new accessories, available through the Iveco Shop, developed specifically for ECODAILY. A product line at the height of vehicle performance under all aspects of use, satisfying both visual and practical needs, of safety and technology.
For ECODAILY, the Iveco shop proposes two packages of products focussed on safety and comfort. 1) Comfort pack: ECOPURE: cab air filter using activated carbon to provide for pure, clean air in the driver's cab and AVIC-F900BT: Pioneer multi-media (navigator and radio) state of the art design and compatible with all portable devices, from cell 'phones to the iPod or DEH-2100UB: engaging radio design compatible with USB data store, enabling constant supply of personalised music, always and everywhere. 2) Safety Pack: DIABLOCK: innovative secure locking device for van doors eliminating the use of unsightly and ineffective pad locks. FLATE BLADE: window cleaner Flate Blade, able to combine innovation with style and advanced technology. SALVADAILY: parking sensors integrated aesthetically into the vehicle design allowing parking into the smallest of spaces without vehicle damage.
ECODAILY on the Internet
Iveco brings innovation also to the internet with a renewed web-site in content and functionality. The new site, www.ecodaily.iveco.com where Popeye brings the story to communication; using games and interactivity. This is translated into many new pages dedicated to the new product, other than just the normal descriptive pages, the site features interactive animations that accompany the user in discovering the new Daily product range. Also on the web site, the customer is, as is usual for Iveco, the centre of attention: one can even contact the company directly from the site in order to organise a visit to a local dealer. It will also be possible to share every single hypertext message with the major social world media in order to maximise the diffusion of the message. Gaining strength from the experience with rugbyradio, launched more than one year ago, Iveco know presents DailyRadio, that may be listened to directly on-line on www.dailyradio.iveco.com. Like other web radio stations it is reached either from the web site or by means of a special reader that can be down loaded onto a pc. Music, sport, news, useful to whoever travels, a web radio therefore focussed on professional transport people, at work at the wheel.
The best choice
The world of light commercial transport changes rapidly and the demands from the customer become ever more exacting. To the many questions come the answers proposed by Daily, rich in its long experience of over 30 years, always in continuous evolution, as demonstrated now at the launch of the Daily for 2009. The offer to customers represented by Daily is the most complete in the industry, so many variations enable a very personalised specification to be supplied, meeting every operational need, from urban parcels distribution to international light haulage, from foodstuffs to building materials, from a school bus to fare stage passenger transport, from luxury touring to hotel shuttle to camper van – all in Daily's stride. Already sold and operated throughout the world, both sophisticated to emerging markets. Daily has stood the test of time, proof of the design concept, listening to customers and evolving to meet their needs.
In conclusion ECODAILY offers value and ecology to the client that wishes to acquire a commercial vehicle. It does so with a broad and articulate range comprising the 3 classes (L, S and C); with single or twin driving wheels according to the operating mass (from 2.8 to 7.0 tonnes)and the mission. For chassis cab models, wheelbases are from 3000 a 4750 mm with body lengths from 2520 mm to 6200 mm. For van models, the wheelbases are from 3000 to 3950 mm, with loading volume from 7 to 17 m3 and with 3 internal heights: 1545, 1900 and 2100 mm. In addition, customers may choose manual or fully automated mechanical transmissions, capable of either full automatic or manual gear selection, for maximum driving comfort. The product range that boasts an already environmental range of engines and also with the market leading super-ecological CNG versions, now also in a Natural Power version with the peace of mind of a get-you-home emergency petrol facility for those who need it.
All in all, Daily 2009 brings to the market new features on a broad model range that allows the vehicle operator to tailor the product to the precise mission requirements. With Daily 2009, compromise is not included in the offer.