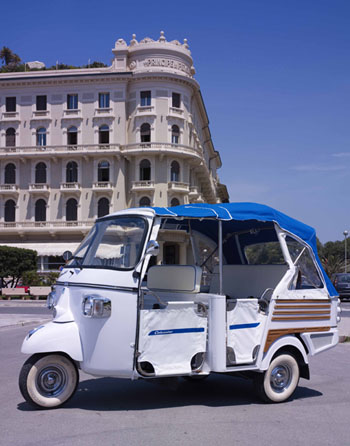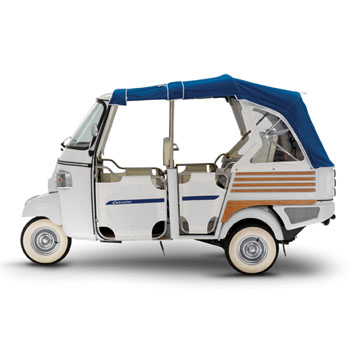 The birth of the Ape Calessino two years ago added new impetus to the passenger transport ambitions of this famous three wheeler and now this quirky vehicle gets refreshed with new colours and trims and a zero-emission version.
For over sixty years Ape has been an icon, a vehicle without rivals that never fails to astonish. It is an original vehicle that stands out from the crowd with its unique personality. Over two million examples sold in five continents are a testimony to the success of the three wheeler that has made versatility its greatest strength.
Conceived in the harsh yet exciting years of the Italian post-war reconstruction specifically for small businesses and perfect for transporting goods even in the narrowest city streets, Ape later also became an alternative choice for personal mobility. More recent proof of this is the success of versions such as Ape Cross and Ape Web, which are used as a slightly quirky form of personal mobility.
Ape Calessino 2009: New colours and a new trim level renew the legend
The birth - or rather, rebirth - of the Ape Calessino in 2007 added new impetus to the passenger transport vocation of the world's most famous three wheeler. Inspired directly by the Ape Calessino which earned legendary status in the 1950s by ferrying around Hollywood stars visiting Italy's islands and some of the most beautiful places in the Mediterranean, and initially conceived as a limited edition of just 999 examples, Ape Calessino has gone on to become an astonishing success, not only because of its cheeky character, but also because of its truly extraordinary versatility.
Spurred by the success of its launch, Ape Calessino now gains an elegant new colour scheme and new trim features. The bodywork is in elegant, brilliant "Arctic White". The four doors and the roof are made from canvas and coloured an elegant Bordeaux. The waterproof, washable canvas is mounted on frames in polished stainless steel tubing. The cheeky vintage looks are emphasised by whitewall tyres mounted on chromed wheels, inserts in tropical wood and elegant yachting style trim details. The comfortable seats in cream-coloured upholstery with Bordeaux piping and featuring lap seat belts offer space for the three passengers and the driver in an ambience evocative of the tranquillity of a sun-drenched holiday. Powered by a 422 cc direct injection Diesel engine, Ape Calessino is on sale with the new trim level, on the Italian market, at 9,150 euros (VAT not included).
Ape Calessino Electric Lithium: The completely ecological Ape Calessino is now here
Values of environmental awareness and respect, which are key in the strategy of the Piaggio Group and in its research and development activities, have now led to the creation of a new zero environmental impact version of the Ape Calessino. The idea of being in touch with nature and with the surrounding environment inspired an evolution in the concept of mobility embodied by Ape Calessino better than any other vehicle. Introducing the electric Ape Calessino Electric Lithium.
Ape Calessino Electric Lithium offers the same features and elegance as the conventional engine version. The electric version gains its own unique livery, with an elegant blue and white two-tone colour scheme for the bodywork and canvas elements. The same two-tone scheme is echoed in the interior, with cream coloured upholstery trimmed with blue piping.
Since its launch, Ape Calessino has been met with a genuine fondness and a reputation as a mobility solution that breaks free of the frenetic rhythms of modern life to rediscover values of friendship and conviviality. Exclusive and elegant, yet practical and sturdy just like every other Ape, the bodywork of the new Ape Calessino Electric Lithium is given a double cataphoresis painting treatment, making it even more resistant to the corrosive action typical of the humid, saline conditions of a seaside environment.
Ape Calessino Electric Lithium is the perfect vehicle for anyone who wants to stand out from the crowd with original elegance and in complete harmony with the surrounding environment. The new electric Ape Calessino combines the practicality, elegance and agility that have made the Ape Calessino such a hit with capability of accessing zones usually prohibited to vehicles with conventional internal combustion engines, such as areas of particular natural and environmental importance, historical town centres and restricted traffic areas.
This makes Ape Calessino Electric Lithium an indispensable tool, for instance, for resorts, hotels and tourism operators intending to offer their guests a fun and distinctive shuttle service that can reach the centre of a cultural city, fend for itself in the hustle and bustle of a medieval town centre or wind its way along the panoramic routes of a beautiful Mediterranean island with equal ease. With a range of 75 Km, all of these destinations and more are easily within reach of the Ape Calessino Electric Lithium, in total respect for the environment and cocooned in silence: electric drive means that Ape Calessino is not just a zero emissions vehicle, it is also completely silent, so that its occupants can enjoy the beauty of a nature to the full or travel through densely populated centres without causing even the slightest disturbance.
At the heart of the "green revolution" of the Ape Calessino is an electric motor powered by the innovative Aenerbox system with latest generation Lithium ion batteries. This new technology overcomes the limitations of previous solutions with Lead Gel or Sodium Nickel batteries in terms of range, weight, dimensions and charge times. The Aenerbox accumulator system offers substantially more performance, with a power to battery weight ratio greater than 500 W/Kg (more than double that of previous systems), which equates to sparkling performance and significantly reduced weight and dimensions: for any given power output, the new Lithium ion batteries weigh over 2/3 less than a Lead Gel battery. Charging times have also been cut by more than half. Ape Calessino Electric Lithium can be fully charged in less than 4 hours directly from a normal 220V household mains socket.
The Aenerbox system also offers another advantage: the battery does not discharge while the vehicle is not in use, even if left for prolonged periods. This is a significant benefit, especially considering the typically seasonal nature of the tourism industry, for example, and goes hand in hand with remarkable longevity. The life cycle of these batteries is an incredible 15 years (or more than 800 recharge cycles for a total of approximately 60,000 Km), compared with the 7-10 years of a conventional battery system.
Ape Calessino Electric Lithium can be driven at sixteen years of age with category A license. Drivers must be above 18 years of age and in possession of a category B license to carry passengers. Built in a series of just 100 examples, the most exclusive Ape of all time is destined for a design-conscious clientele that appreciates Italian style. But this is not just an extremely functional vehicle, it is also a true collector's piece, as highlighted by the numbered plate making it even more exclusive. Ape Calessino Electric Lithium is on sale, on Italian market, at 19,900 euros (VAT not included).