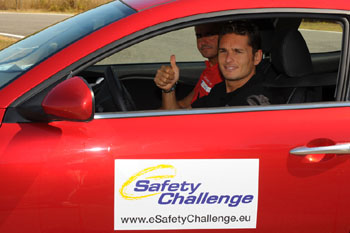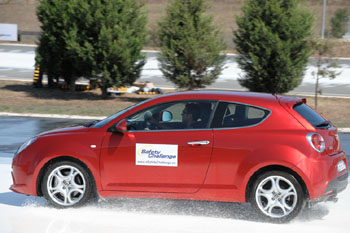 Giancarlo Fisichella made his first appearance as a Ferrari driver when he got behind the wheel of an Alfa MiTo during eSafety Challenge 2009 at the Vallelunga track an event which promotes road safety, founded by the FIA and hosted by ACI.

Giancarlo Fisichella made his first appearance as a Ferrari driver yesterday when he was a guest of the eSafety Challenge 2009 at the Vallelunga race track near Rome, an event which promotes road safety and that was co-founded by the FIA and this year hosted by ACI.
The experienced Italian grand prix pilot drove some laps of the Autodromo Piero Taruffi behind the wheel of an Alfa Romeo Mito fitted with ESC (Electronic Stability Control), demonstrating the importance of this electronic control system as far as road safety is concerned.
The 2009 edition of the eSafety Challenge kicked off at the Vallelunga yesterday bringing together the motoring world's leading personalities to discuss and demonstrate the latest developments in automotive safety technology. The eSafety Challenge event this year is being hosted by Automobile Club díItalia (ACI). The event is co-funded by the European Commission, the FIA Foundation and eSafetyAware and supported by Euro NCAP. The eSafety Challenge was opened by the European Commission Vice President Antonio Tajani and included participation of eSafetyAware president, Jean Todt; UK Minister for Transport Paul Clark and seven-time Formula One Champion Michael Schumacher.
The opening day of eSafety Challenge 2009 featured live demonstrations of some of the latest and most important eSafety technologies currently available such Electronic Stability Control, Warning and Emergency Braking Systems, and Lane Support Systems. The pilots chosen to demonstrate these advanced safety technologies were selected from amongst the very best drivers in the world and, as well as Ferrari's new signing Fisichella, their number included a further three Formula One stars: Timo Glock (Toyota), Heikki Kovalainen (McLaren) and Robert Kubica (BMW Sauber), alongside Tom Kristensen, an eight-time 24 Hour Le Mans winner, and Susie Stoddart from the German Touring Car series. Each driver took it in turn to demonstrate the effectiveness of the selected system
At the end of a meeting, along with the other protagonists of the campaign, Fisichella spoke to the press about the important issue of road safety: "Iím honoured that I can contribute to promoting road safety, which is a really important issue for me, who risks a lot on the track, but tries to be as safe as possible when driving on normal roads." Fisichella added that he was "very happy to be officially present as a Ferrarista."
The eSafety Challenge focuses on innovative vehicle safety technologies and the potential lives to be saved on the roads through increased deployment of these technologies. An important obstacle for deployment is the lack of awareness among both policy makers and end users, which is affecting the policy support, user expectations and readiness for change.
ItaliaspeedTV: Italian Grand Prix Preview: Giancarlo Fisichella (Italian version) / Electronic Stability Control (ESC)