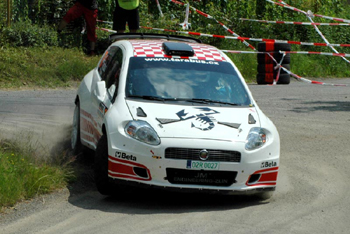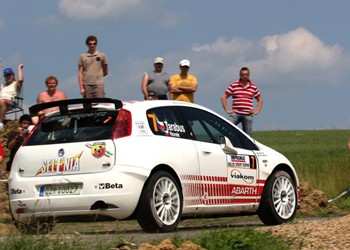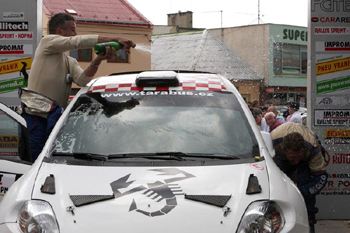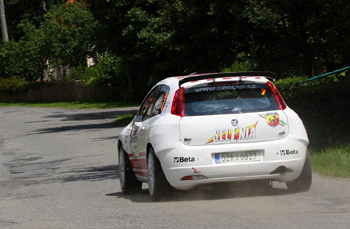 The MT3 Project team has been established with the target of repeating previous successes and Tarabus has got off to a flying start and warming up for the Barum Czech Rally Zlín by winning the hotly-fought Rallysprint Kopná.
Rapid Czech driver Jaromir Tarabus is to get factory Abarth support on the next round of the Intercontinental Rally Challenge, the 39th Barum Czech Rally Zlín, which takes place later this month, as the Scorpion brand seeks to continue its newly-found winning momentum. His Super 2000 Grande Punto Abarth will be run by the recently formed MT3 Project team, and Tarabus will become the first non-factory driver to receive FPT Racing's new evolution engine that has very quickly demonstrated its winning potential on the recent IRC rounds in Russia and Madeira.
These changes have though brought the end of a highly successful partnership with the much-respected JM Engineering team, which has achieved top results in both the Czech Rally Championship and also in the P-WRC, including Tarabus' strong fifth place on the Wales Rally GB at the tail end of last season, as well as outings on this year's P-WRC rounds held in Norway and Portugal. The JM Engineering operation also ran the Czech driver on last year's edition of the Barum Czech Rally Zlín although he retired early on during SS2 with an engine problem.
The MT3 Project team has been established with the target of repeating these previous successes and Tarabus has got off to a flying start as well as warming up for the Barum Rally Zlín, which takes place from August 21-23, by winning the hotly-fought Slušovicích-based 17th Impromat Rally Sprint Kopná last month. The new outfit was set up following negotiations with the Abarth factory and FPT Racing representatives in Italy with the result that Tarabus and co-driver Daniel Trunkat will be supported for the forthcoming Barum Czech Rally Zlín.
The team's head negotiator Marek Fuks describes the particular areas of cooperation: "After several days of negotiating with Abarth Spa and FPT Racing top management an agreement was made to provide full service support of MT3 team, which was divided in two sections, team preparation and competition itself. As for the team preparation we have agreed on technical innovation support, in cooperation with MT3 team technicians, which covered the car adjustment to 2009-specification. We also received an offer to use X-track transmissions under the agreement. However, this offer had to be rejected for time pressure and impossibility of quality testing of the system. So we decided to use verified transmissions Sadev. Although the factory team fully uses X-trac, Abarth have decided to provide a technician and full support of using spare parts by Sadev. A part of the support is the presence of Abarth junior engineer in the 'T&T' crew as well as a support truck with spare parts for MT3 team.
"Especially for Barum Rally," Fuks continues, "a deal was made with FPT Racing – exclusive motor provider for Abarth team – to lend a motor of the latest specification E3, which has been used only by factory pilots so far. We are convinced that the results, which Basso and Rossetti have achieved in Russia and Madeira, give evidence of Abarth's progressive rise back to the top. We also believe that the new motor will help the local pilot to achieve great results. Thanks for help in negotiating motor usage also go to K2 Engineering representatives, the Czech partner of FPT Racing."
The Barum Czech Rally Zlín is noted for being very tough on gearboxes, and on last year's event transmission problems ended the Abarth team's challenge for honours although Giandomenico Basso was able to post times comfortably within the top-five to demonstrate that the Grande Punto Abarth is will suited to this event. However using last year's Sadev transmission instead of the X-trac unit that the Italian factory cars have swapped to this year is a very big risk to take. "We are fully concentrated on providing Jaromir with optimum conditions," says Trunkat. "Although the negotiations of becoming a third factory crew have failed, it is a commitment as well as a great honour to be a part of the 'Scorpion team' to battle for team points to count towards an overall position in the IRC championship."