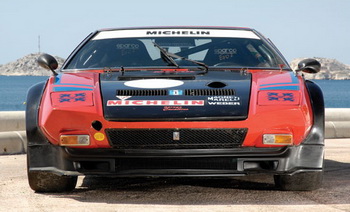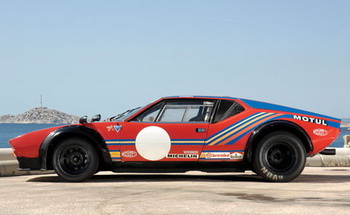 Certainly the most muscular and aggressive car set to go under the hammer this evening during RM Auction's sale in London this evening will be a perfect condition example of the wild Gp4 De Tomaso Pantera Competition Coupe.
Certainly the most muscular and aggressive car set to go under the hammer this evening during RM Auction's sale in London this evening will be a perfect condition example of the wild Gp4 De Tomaso Pantera Competition Coupe.
Alejandro de Tomaso is remembered as a carmaker and entrepreneur, but down near his core lived a racing driver. In addition to sports car rides with Maserati and OSCA, his competition resume included two Formula One starts in 1957. But by the time his 30th birthday came along in 1958, it had become clear to the Argentine-born Italian that his future lay somewhere other than the world's racing circuits.

In 1959, he established De Tomaso Automobili, beginning a long and storied career as a creator of racing machines (early clients included Frank Williams) and fast, sexy street cars. A variety of sports and GT cars emerged from de Tomaso's Modena headquarters, but of them all, the Pantera is easily the best known, as well as the most numerous. And of the 7,260 Panteras produced over a 20-year run, Competition Coupés are the rarest examples.

A successor to – and with its monocoque chassis, a substantial improvement on – the earlier Mangusta, the mid-engined Pantera made its world debut in 1970. Rather than unveil the new car at Geneva or Turin, de Tomaso startled the European sports car establishment by choosing the New York auto show for the Pantera's premier. There was a good reason for this. Having negotiated in vain for control of an exotic Italian carmaker, Henry Ford II turned to de Tomaso to create a supercar that could provide a halo for Ford Motor Company products and serve as a traffic-maker in Lincoln-Mercury showrooms, as well as a trump for the Chevrolet Corvette.

In addition to financial considerations, Ford had styling input, via designer Tom Tjaarda, and a partial stake in Carrozzeria Ghia, then a de Tomaso subsidiary. As with the earlier Mangusta, Ford also contributed V8 engine power, the 5.8-litre Cleveland 351 – robust and durable, delivering big thrust at low rpm, making it ideal for the American buyers, which was the core of the concept: an affordable (initially offered at $10,000) Italian supercar for the U.S. market. Ford and de Tomaso envisioned big sales numbers, and by Ferrari or Lamborghini standards, that's what they achieved: 6,091 sales from 1971 through 1974 (the duration of the joint venture) according to Lincoln-Mercury records, although this may have fallen somewhat short of expectations.

While the production Pantera was playing to rave reviews in New York, plans were already underway for a racing version, conceived primarily for FIA Group 4 sports car racing, where it would contend with Ferraris and Porsches, although the factory also developed a car for the less demanding Group 3 specification, which catered to the privateer gentleman drivers.

The competizone edition of the Pantera was introduced late in 1971. In addition to extensive mass-reduction measures to make the FIA Group 4's 2,756-pound minimum weight for the 1972 season, alterations included suspension revisions, with variable ride height and Koni adjustable shock absorbers, plus fibreglass wing flares covering wider cast magnesium rims from Campagnolo (14-inch front, 15-inch rear) and bigger vented disc brakes from Lockheed, with four-piston callipers. The car had a 560 bhp, 5,763 cc overhead valve V8 engine, four Weber carburettors, five-speed manual gearbox, independent front suspension with upper and lower wishbones with coil springs, adjustable shock absorbers and antiroll bar, independent rear suspension with upper and lower wishbones, coil springs, radius rod and antiroll bar, four-wheel vented disc brakes.

Like the production Pantera, power was supplied by Ford's sturdy 5.8-litre Cleveland V8, mated with a five-speed ZF gearbox. However, the engines used for Group 4 propulsion went from Ford's Cleveland foundry to the race shops at Bud Moore Engineering in Spartanburg, South Carolina for a power infusion before going to Modena. Output for the standard Pantera engine was quoted at 310 horsepower. The Bud Moore treatment of 12.0:1 compression ratio, TRW forged pistons, racing cams, heavy duty valve springs, titanium valves, a big four-barrel Holley racing carburettor and larger oil pan raised peak output close to 500 horsepower – enough to propel the Pantera to 180 mph on the Mulsanne Straight at Le Mans.

In all, 14 Competition Coupés were created in the original run of race cars, which lasted about a year from late 1971 into late 1972. Initially built to Group 3 specifications, chassis number 05855 was completed in 1974, then brought back to the factory to be converted to the more aggressive Group 4 level of preparation in 1975. It retains the 5.8-litre Ford V8, but unlike the first series of Group 4 Panteras, it's fed by four Weber 48IDA twin-choke carburettors and fired by a Magnetti Marelli ignition system. So equipped, the engine is rated for 560 horsepower. In a car weighing less than 2,600 pounds, this yields some impressive performance numbers – comparable to, and in some cases exceeding, those of a Ford GT40. This was particularly true in Panteras equipped with the 600-horsepower "sprint" version of the engine, which was part of this car's powertrain inventory during the 1970s, along with the less tightly wound 560-horsepower "endurance" version.

The upgrade from Group 3 to Group 4 specifications was not an exercise in mere showmanship; this car has an extensive competition history. In fact, according to information provided by the Automobile Club de l'Ouest (ACO), organizers of the Le Mans 24-hour race, chassis 5855 was to be entered along with a sister car, 5519, in the famous 24-hour endurance race. For reasons unknown, a second car was not entered and 05855 never went to Le Mans. The car was later acquired by a driver who affected a single name, Kabibo, for competition and was campaigned extensively in Italian National Mountain Championship events from 1977 through 1985. Kabibo entered the Pantera in at least 40 events during a very active career, which included the Trento Bondone Hill Climb three years in a row (1977-1979), the 1979 Coppa Intereuropa, the 1981 and 1983 Coppa Nissena, the XV° Trofeo Valle Camonica in 1981 and the 19th Coppa Paolino Theodori in 1980, to name just a few races. Today the car remains very original and almost exactly as it was as it finished its last race, with the correct period interior and period correct livery.

When Kabibo moved on, the Pantera went to a new owner, in Nice, who suffered an engine failure with the "sprint" version of the engine in a hillclimb event, his only competition outing with the car. The endurance engine was reinstalled, and the Pantera was restored to a state of race-ready perfection—low, lean, potent and suffused with a purposeful sophistication that is still beautiful today.

This De Tomaso Pantera Gr. IV offers its new owner GT40 levels of power for a fraction of the price and a period competition history that renders it eligible for many of the main historic race series and events – from the Le Mans Classic and the Classic Endurance Series to the Tour Auto and Tour Britannia. It can be road registered and in the right hands could be very competitive against the Gr. IV Ferrari 365 GTB/4 Daytonas or the Porsche 911 RSRs. It is tremendously powerful and, as stated by the vendor, "you certainly will not get bored with over 500 bhp under your right foot!" Estimate is £190,000-£240,000.