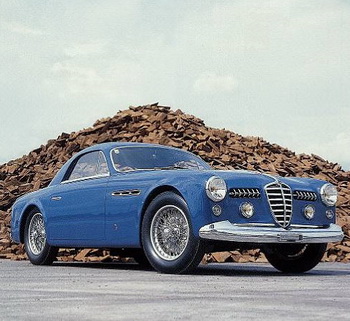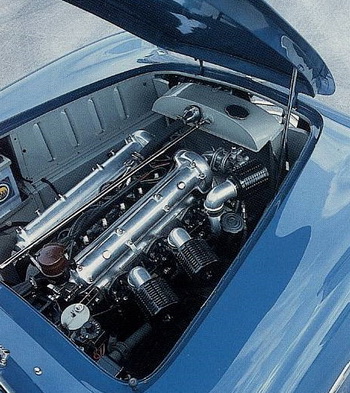 A rare 1950 Alfa Romeo 6C 2500 SS Coupé with bodywork by Ghia and a unique tubular chassis crafted by 'Gilco Milano' will be one of the star lots at Bonhams Automobiles d'Exception á Rétromobile.
A rare 1950 Alfa Romeo 6C 2500 SS Coupé with bodywork by Ghia and a unique tubular chassis crafted by 'Gilco Milano' will be one of the star lots at Bonhams Automobiles d'Exception á Rétromobile, which will take place on 23 January during this year's edition of the Rétromobile Salon at the Porte de Versailles in Paris. Estimates put the price of this distinctive Alfa Romeo at around 250,000-280,000 euros.
Its Portello factory devastated by wartime bombing, Alfa Romeo did not resume car production until 1946 with, inevitably, a pre-war carry-over, the 6C 2500 in a variety of new guises forming the basis of the Milanese marque's post-war recovery. Destined to be the last of the separate-chassis Alfas, the 2500 had debuted in 1939 and was a development of the preceding 2300. Styled in-house, but strongly influenced by Touring, the streamlined five-seater Freccia d'Oro (Golden Arrow) sports saloon was built alongside coupé and cabriolet versions featuring bodies by the likes of Pinin Farina, Touring and Ghia, plus a six/seven-seater berlina on a longer wheelbase.

The engine was, of course, the latest version of Alfa's race-developed double-overhead-camshaft 'six', its 2,443cc displacement having been arrived at by enlarging the bore of the 2300. Introduced in 1934, the latter had been designed by the legendary Vittorio Jano and was later developed by Bruno Treviso, becoming the 2500 in 1939. Maximum power ranged from 90bhp in single-carburettor Sport guise to 105bhp in the triple-carb Super Sport (SS) version.

The Alfa Romeo tradition of building driver's cars par excellence was upheld by the 2500, for although the standard box-section chassis was no longer state-of-the-art, it nevertheless boasted all-independent suspension, generously-sized brakes, fast-geared steering and an unusually slick, column-mounted gearchange.

The latter enabled Alfa Romeo to claim the model was a full five-seater, with three passengers accommodated in the front and two - three at a pinch - in the rear. For all its race-bred charm, the 6C 2500 represented Alfa Romeo's past rather than its future, nevertheless standing the company in good stead until the arrival of the thoroughly modern 1900 model in 1950. Production of it continued through until 1953, by which time a little fewer than 2,200 of these handsome automobiles had been made, with 458 of them to Super Sport specification.

This well-known Alfa Romeo carries exclusivity and exquisite condition to its credit, being a finely restored example of only four 'Supergioiello' or 'jewel' coupes, built by Ghia in 1950. Better still, of the 4 that were built, 3 were constructed on the standard Alfa Romeo chassis, while this was the only constructed on a more advanced and distinctly post-war tubular chassis manufactured by Gilco Milano. Those that are not familiar with this company will no doubt know the name of its proprietor, the company name being an abbreviation of his names – Gilberto Columbo. Columbo would of course go on to be one of the leading figures in designing and building Ferrari and Maserati chassis through the Fifties.

The original 1950 order for the car came from SIRCA, Milan's largest car distributor in those days, who requested that Gilco build chassis 64251 with this special frame to accommodate the 6C running gear with all correct Alfa Romeo 6C 2500SS mechanical components. It has long been suggested that the car was built to be given as a gift to Fangio, but this appears to be hearsay rather something substantiated firmly.

By the late 1950s the car had found its way into England where it was discovered decades later in the early 1990s in unrestored condition. From 1995 to 1998 an exhaustive restoration ensued, some 5,800 hours of work being required to return the car to its former glory and to the magnificent order in which it remains today. That work is charted through documents and photographs.
Presented in blue livery with light grey leather interior, the stunning result has been well appreciated ever since, particularly at concours level. Most notably it recorded a class win, and second prize overall at the Villa d'Este in 2001. It arrived in a private collection of English and Italian Sports Cars in 2006, since when it has been carefully stored, but not actively used. On file are details of the restoration, its former British log book and copy of the original chassis drawing. Certainly one of the most elegant and unique cars of immediate post-war era, this beautiful Ghia Alfa would be at home once again on the concours circuit or could theoretically campaign the Mille Miglia, its model having run in the event in 1949.