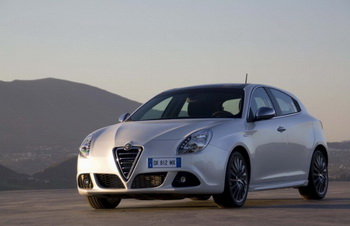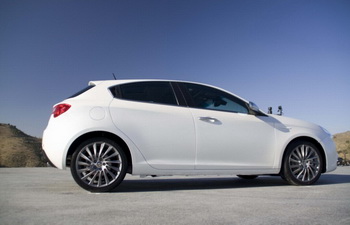 The new Alfa Romeo Giulietta (above), which will replace the Alfa 147 in the range this year, is set to become a crunch model for the sports brand's future.
Alfa Romeo's centenary year has got underway with the famed Italian sports brand's future becoming even more confused although Fiat CEO Sergio Marchionne dismissed at the Detroit Auto Show notions that it could be sold but did admit that it was facing a crunch year.
A battle raged all last year over the future direction of Fiat Group's Alfa Romeo division, whether to chase higher volumes or continue to push into upmarket territory, and it was at the beginning of December that Marchionne brought the boiling situation right out into the public eye by openly questioning its future strategy, with the timing surprising onlookers as his comments came in an interview that overshadowed the official preview of the brand-new Alfa Romeo Giulietta two days later, the brand's most important new model for several years. "We need to work a lot harder on Alfa to make an intelligent decision that effectively preserves the highest possible value to Fiat," Marchionne told Automotive News Europe in an interview.
His comments came in fact during a tumultuous week for Alfa Romeo as it was also embarrassingly forced to drop the name 'Milano' for its new C-segment car just days before its official world preview. Marchionne hinted that after the launch of the Giulietta, the name hastily very chosen for the replacement model for the long running Alfa 147, there could be a product freeze or that Chrysler platforms could underpin future models. "Certainly the availability of D and E segment [platforms] in the United States which are capable of being Alfa Romeo-ised is there," he said. "We need to look at the economics of that opportunity," Marchionne added.
This was borne out somewhat in the pre-Christmas business plan that was presented to the Italian government in Rome when a short-term (2010-2011) product plan contained nothing more than the fig-leaf of a new 'GTA'-branded version of the Alfa 8C Competizione sports car during the centenary year. On the continual repositioning of the brand Marchionne also told ANE: "We need to stop doing it. You cannot be a newborn Christian every four years. It's the same religion, eventually you need to own a religion and carry it to conclusion."
Prior to Christmas the Financial Times, and then last week Milano Finanza, both claimed in reports that Alfa Romeo could be eventually sold to VW Group if the Giulietta is a failure, reviving a story that dates back to a time when the German carmaker was reportedly interested in acquiring the Alfa Romeo name. Rebuffed by Fiat, it settled on trying to turn its aligned Spanish SEAT carmaker into the Group's upscale, sports brand.
These two recent media reports have heighted tensions further over Alfa Romeo's long-term future and yesterday in Detroit Marchionne told reporters emphatically: "It is not for sale," but he admitted that the sports division presented the biggest issues of the three Fiat Group Automobiles' brands. Marchionne added that: "we need to sell cars, not talk about history."
Marchionne said he understood the problems involved that needed to be resolved with the Alfa Romeo division. "We need to be realistic with what Alfa can and should do," he told reporters in Detroit, but added ominously that: "2010 is a make or break it for Alfa." He added: "Alfa plays in a very, very difficult market because strategically it has an ambition to go after higher end German cars; when you look at execution it's been relatively poor."