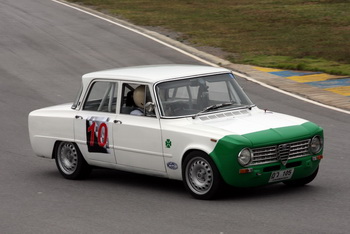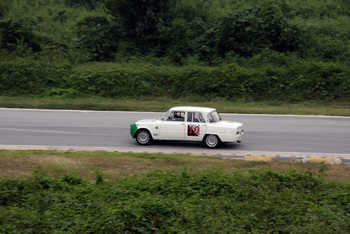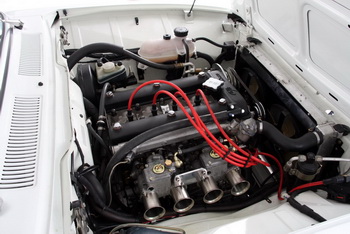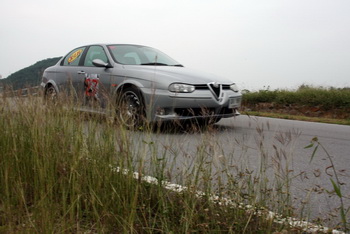 Alfa Romeo enthusiasts in Thailand got together at the weekend for a first track day organised by the recently-formed club, Alfa Romeo Thailand, with a good mix of historic-to-modern road-and-racing cars taking part.

Alfa Romeo enthusiasts in Thailand got together over the weekend for a first track day organised by the recently-formed club, Alfa Romeo Thailand, with a good mix of historic-to-modern road-and-racing cars taking part. The event, which was spearheaded by BK Auto Tech, was held at the new Kaeng Krachan Circuit which is located 200 kms south of the capital, Bangkok.

The rainy season has just ended here and the weather has become slightly cooler in recent days meaning that the climate was pleasant for the day of track actions while ambient temperatures, although nudging up, were almost ideal. Most owners made the trip to Kaeng Krachan Circuit (KKC) from either Bangkok or Pattaya, the new circuit being tucked away in a rural hilly area just past the city of Petchaburi, about 20 km up into the lush green hills away from the main highway south.

The KCC complex is unusual and interesting, and still has that "brand new" feel to it; it is in fact little over a year old. The track is shoehorned into quite a narrow rectangular section of land, a long oval outer of asphalt that sweeps tightly in on itself to make full use of all the available land, winding in a series of sharp curves and several short straight sections. It's situated in a small "valley" that rises equally to either end of the track. From the start-finish line the circuit immediately drops sharply down (including a steep descent for pit-out) before ascending through a left-hand kink and powering back up hill into fast right- and then left-hand kinks and then doubling back down on itself through a constant radius curve and then sweeping round as it hugs the perimeter. That brings it back up to the second straight, parallel to the start-line, via a series of fast flicks climbing to a tight 180-degree hairpin which leads to pit-in and doubles the track back onto the quite-wide start-finish line. The pit lane is a generous width but there are no garages yet, just a full pit road length of covered bays while there is one structure with offices, toilets, viewing platform and control tower. The full-length track is 2.9 km, while there is the option of a medium-length track, which is 2.39 km long, and a short track that comes in at dead on 1 km. The whole scene is quite picturesque: the haphazardly scattered surrounding hills are tightly covered in dense green 'jungle' vegetation, there is plenty of lush undergrowth around the track and the exposed ground is a light dusty-dry brown while a trio of tall palm trees stand to attention in the bowl of the track. As well as becoming a rapid fixture on the track day calendar, KKC this year also hosted two rounds of the Pro Racing Series.
Last weekend saw the gaggle of thoroughbred Alfa Romeos sharing track time with a group of Subaru Impreza owners as well as a smattering of other high-performance machines including a brace of Lotus', one matte-black finished machine driven by famous Thai artist "Kwang", as well as more Italian metal in the shape of a duo from Maserati: a black Ghibli and a maroon second-generation Coupé.

Numerically the Alfa 156 made up most of the numbers of the sporty Italian cars lined up in the sun-shielded pitlane bays. For a couple of years from 2002 onwards the 156 was assembled locally from CKD kits by the Fiat Group's then partner and minority shareholder, General Motors, at its factory in Rayong. The D-segment sedan arrived in first series 2.0 TwinSpark Selespeed format and these cars can be sporadically seen on the streets of Bangkok and other cities. It means that this dynamic sporty sedan is a great choice for track day use and many of the examples in action at Kaeng Krachan sported an array performance and aerodynamic modifications.

Complementing the slippery Giugiaro-penned lines of the numerically-dominant 156s and further down the century-long Alfa Romeo timeline were two of the brand's most noted models, both of which are accomplished and distinctive racers on the Thai historic scene. Leading the line was the pretty Giulia Super 1300 TI of Tenn Xoomsai Na Ayudhya which now boasts a later incarnation of the classic Alfa Romeo 'Twin Cam' in the shape of a 2.0 litre TwinSpark which gleams in an already pristine engine bay. This car, which deliciously features a period "Martini Racing Brabham" decal on the onboard fire extinguisher, is quite capable of holding it's own on the Thai historic racing scene against plenty of tough opposition and at the KKC track day it was placed in the runs for more powerful cars taking to the circuit in the company of representation from the likes of Maserati, Porsche and Lotus.
This particular Giulia Super has recently undergone some upgrades as well as obtaining a 'quadrifoglio verde' coloured front end. "The car has made a huge improvement from last time it was raced as we have reworked the front and suspension," says Tenn after turning in many smooth, consistent laps. "We have spot welded the engine bay and set up the rear to be stiffer. The car now handles much better and is more predictable at the limit." The final item on Tenn's list is to fit a race LSD.

"This season," he says, "I have not raced much as I have had too much work. Historic racing in Thailand still have a long way to go as cars such as the BMW E30 are classified as historic....so they really need to open up an older class to lure in the older cars. The scene is good though, the races are great and it's lots of fun. KKC is a fun and technical track and since we set up the Giulia suspension better, I have a lot more confidence here than before," he adds.

Another familiar machine on the local historic racing calendar is a potent-looking GTAm replica finished in "racing red" and bearing obligatory serpent decals to complement bulging pop-rivet applied wheel arch sections, meaning it looks - and sounds - the part. Owner "Fy" Tangjaitong painstakingly built the racer out of a 1971 GT1300 Junior; it is now fitted with a 2.0-litre engine and many of the mechanical components, including the suspension, have been imported and upgraded.
The third historic runner on track, also immaculately finished, is the sleek white 2000 Berlina of Longlom Bunnag which turns in neat and tidy laps all day. Two more 105 series coupés turned up in the paddock: Ong Chong Soo, a avid collector of a string of Alfa Romeos, drove down from Pattaya in a 1750 GTV along with Japanese enthusiast Mamaru whose 2000 GTV is all set for a body restoration.

Apart from the engine issues for the GTAm the day goes very well, the weather is pleasant and crashes are avoided. Alfa Romeo is very much a niche brand in Thailand but the sporty Italian cars have a very loyal following here and the cars are maintained to the highest standards by caring owners. Half way across the world from Alfa Romeo's home, Italy, and on centenary year, the flame and passion in Thailand burns strongly. The event at KKC was a welcome opportunity for owners to get together in a relaxed environment and use their cars where they were bred to run: on the racetrack.
by Edd Ellison