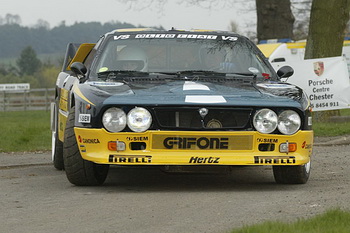 Club LanciaSport will present four significant Lancia rally machines at the Autosport International motor racing show next week. Photos: Lawrence Clift, Michael Ward and Nico Alonzi.
The FIA World Rally Championship is 30 years old this year, and the first place to see this anniversary celebrated in Europe will be at Autosport International being held as usual at the National Exhibition Centre in Birmingham, UK, January 14-17th. The event is the largest motorsport show in Europe and attracts all the brands active in every sector of the industry from all over the world.
Club LanciaSport will be capably holding the fort for Italian rally cars at Autosport International in less than a week's time. Spokesman, J-P Lihou says: "With Lancia being the most successful brand in terms of constructors titles and consecutive wins, no WRC celebration would be complete without a Lancia - or two. How can we pretend to be real Lancisti and miss this one?"
The club stand will feature both a 380 bhp Delta integrale in Repsol colours and an Alitalia Hawk Stratos - fresh from the Top Gear studios. Additionally, the official Autosport display will include an Olio-FIAT 037 Rally and a Gp N Totip-sponsored Delta integrale both on loan from Sweep Motorsport in the West Midlands.
J-P Lihou continues: "It's easy to forget the importance of the Lancia rally programme - especially at traditional car club level - and most people outside of Lancia don't know that the brand celebrated its centenary in 2006 and, sadly, that the works rally cars made only a token appearance. Since its foundation in 2007, Club LanciaSport's fundamental role has been to remind us of the amazing rallying success of the cars - starting when Fiat rescued the company in 1969. Undoubtedly the landmark designs of older Lancias would have been celebrated just as keenly in the 1950s, when Lancia was independent and motorsport centred on the fabulous D24. However, the most enduring memories of Lancia revolve around the Stratos, Delta, 037 Rally, Beta and Fulvia: all unbeatable on the rally tracks, Lancia's motorsport DNA is to be remembered and enjoyed!
"What is most concerning is that this success is in danger of being forgotten in a sea of indifference, and - perhaps - that the brand will disappear altogether, so that's where Club LanciaSport come in," continues J-P Lihou. "Our membership principally own Fulvia, Delta and Stratos cars - original or recreations. We drive them, take them on continental tours, use them in competition and celebrate their 'greatness' as BBC Top Gear presenters Jeremy Clarkson and Richard Hammond so eloquently put in those wonderful test drives of Delta integrale and Fulvia shown last November.
"The club stand is open throughout the trade and public days of the show. It's the fastest growing Lancia club and many personalities from motorsport and fans of the marque will come and visit," adds J-P Lihou. Club LanciaSport are members of the MSA Association of Central and Southern Motor Clubs. The club's 2010 programme sees them kick off at Autosport International, followed by Rally Sunseeker in February and Race Retro at Stoneleigh in March. More information can be found at www.lanciasport.com