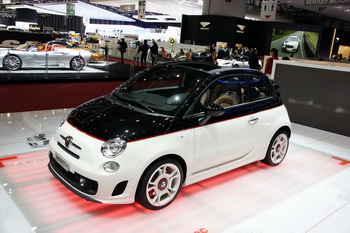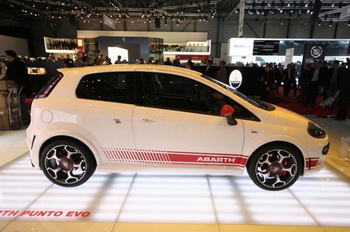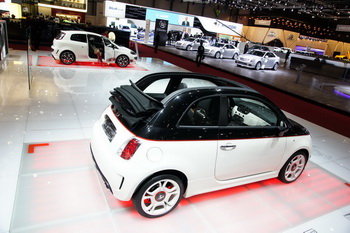 Abarth is in Geneva is showing two new models that refresh and expand its compact Fiat-based sports range: the 500C (top & bottom) joins the model portfolio while the new Punto Evo (middle) now receives the Scorpion makeover to replace the Grande Punto.

Abarth is at the 80th Geneva Motor Show this week presenting two new models for their world premières that refresh and expand its compact range of sports-tuned Fiat models; the 500C joins the model portfolio to bring it up to three, while the new Fiat Punto Evo receives the Scorpion makeover to replace the Abarth Grande Punto which launched the revived brand nearly two years ago.

The Scorpion brand is under the direction of Harald J Wester, who took up the top job at Abarth when Luca De Meo departed for a marketing position at VW. Wester is also the new CEO of Alfa Romeo and holds a similar role at Maserati, and is Chief Technical Officer of the Fiat Group. He introduced the two new Abarth models during a press conference in Geneva on Tuesday.
The Abarth Punto Evo it the stand's headliner in Geneva; it is the sporty, high-tech version of the Punto Evo that Fiat introduced as a mid-life facelift for the Grande Punto last September. Abarth is now aiming, with this new model, to reinforce its standing with young and enthusiastic drivers, a process begun with the Abarth Grande Punto, which has sold best to customers in the 18 to 30 age group.
The Abarth 500C becomes the first convertible to be launched by the renewed Abarth company. This elegant and dynamic car is packed with Abarth racing spirit and the latest performance technology, and in Geneva it iis being shown in a two-tone colour scheme, an effect more usually associated with sister FGA brand Lancia. The Abarth 500C is more than just a developed version of its Fiat counterpart as Abarth it is part of a new strategy to attract female drivers who are seeking not only design and elegance in a car but a good dose of sports performance too.
Both new models will go on sale over the next few months through Abarth's official dealer network in Europe and Japan, closely followed by other markets, and boosting the company's already excellent results for 2009.
Abarth has also revealled that since its launch in 2008 it has sold 8,400 Abarth 500s and 2,700 Abarth Grande Puntos as well as 3,300 performance kits. As well as consolidating its existing markets, Abarth is also extending its network in strategic European towns and cities like Amsterdam and Paris, and expanding into east European markets like Romania, as well as Mediterranean basin markets like Israel. The Abarth distribution network now boasts 141 showrooms, 140 official performance centres and 300 service centres in Europe. These figures do not take account of the recently established "Abarth Racing" performance tuning network, which already boasts 6 centres holding exclusive sales and assistance rights for customers purchasing Abarth's race-ready models.
ItaliaspeedTV: 80th Geneva Motor Show, Abarth Press Conference