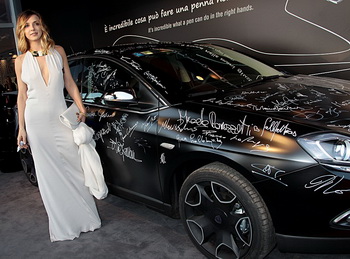 Italian actresses Myriam Catania (top) and Sabrina Impacciatore (bottom) add their signatures to a special Lancia Delta 'Hard Black' in aid of the Mandela Foundation charity during last November's International Rome Film Festival.
Lancia will be involved with the German Federal Television and Cinema Directors Association (BVR) and, for the first time, also of the Federal Casting Association, at Berlinale 2011, one of the most renown film festivals in the world.

Three important events - "Casting Night", "Director's Night" and "Set Hacking" - will be staged at the Lancia Café in Berlin, an exclusive exhibition space opened two years ago in the central Friedrichstraße (Quartier 110) which combines the features of a unique lounge bar and those of an innovative Lancia showroom.

The first event - "Casting Night" - organised by the Federal Casting Association and Lancia will be held at the Lancia venue in Berlin on the evening of 14 February. Close to 700 guests are expected, including famous German actors, representatives of all the major national television channels, editors and editors in chief of the important People magazine, in addition to many other celebrities, politicians and famous characters. Moritz Bleibtreu, Daniel Brühl, Michael Mendl, Uschi Glas, Nina Kunzendorf, Desiree Nosbusch, Hanna Herzsprung, Simone Thomalla, Götz Schubert, Michael Brandner, Peter Lohmeyer, Götz Otto, Katja Riemann, Armin Rohde and Jessica Schwarz are only some of the celebrities expected to attend.

"Director's Night" will be held on 15 February. Organised by BVR, the event will be attended by film stars, world-famed directors and producers and over 1000 guests. The opening speech will be held by German director Niki Stein, winner of the 2010 Bayerischen Fernsehpreis (Bavarian TV award) for the film "Bis nichts mehr bleibt" ("Until Nothing Remains"). Finally, on 16 February the 250 attending guests will be offered a unique peek behind the scenes: some actors will be showcasing short films they made while waiting on the set. The films will later be broadcast and awarded on the net. Creator of the "Set Hacking" event is actor Johannes Brandrup, while the judge extraordinaire will be Oscar winner Omar Sharif.

By taking part in Berlinale 2011, Lancia once again sets out to promote its more recent marketing strategy of associating the brand with cultural events, and particularly, in the sphere of international cinematography. Lancia was also involved in Berlinale 2010. However this brand strategy of embracing the 'big screen' isn't so far producing any marketing rewards: last month Lancia sold just 77 cars in Germany and that tiny figure was in fact down by more than a quarter year-on-year.