Fiat Brazil has presented an update of the Stilo Schumacher offering more 'sporty' features, which is named the 'Season 2005'.

The first version of the Stilo Schumacher, a model created to commemorate the German driver's seventh FIA Formula One World Championship title, as well as the fifth consecutive constructors crown to be won by Ferrari, was unveiled by Fiat's Brazilian arm at the Salão do Automóvel de São Paulo, the South American nation's leading automotive show, last October.

Just like the European version, which had been 'officially' shown to the public the previous month at the Paris Mondial de l'Automobile, following on from a first 'preview' during the Italian Grand Prix weekend at Monza, the Brazilian model, limited to just 500 units, came painted in 'Ferrari red' and also featured the distinctive 17-inch 'scorpion' alloy wheels as well as the signature of the Formula One World Champion on its flanks. However, unlike its European market aimed counterpart, Fiat Brazil chose to use the 5-door version as the base, and to fit a 122bhp 1.8-litre petrol engine.
The new Fiat Stilo Schumacher Season 2005 offers a number of 'sporty' improvements over the first series, and is also now available with a new body color, an eye catching yellow, known as 'Indianapolis', alongside the familiar 'Modena' red. Both the colours are in fact exclusive to these limited edition cars.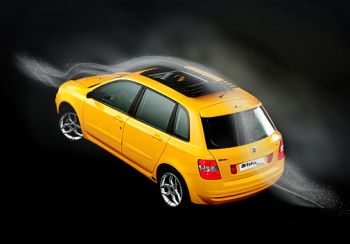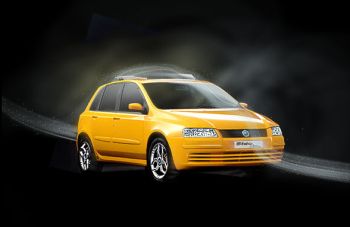 Inside the 'Season 2005' model the seats now adopt two-tone leather, while a new 'sporty' steering wheel is joined by 'racing'-style alumiunium pedals, footrest, handbrake lever grip, and door step protection plates. The door handles and the dashboard mounted air vents are painted silver to complete the effect. Standard equipment includes a 'Sky Window', Bluetooth, cruise control, CD/MP3 player and dual-zone air conditioning.

The new version retains the original car's 17-inch 'scorpion' pattern alloy wheels, with their 215/50 tyres, while power once again comes from Fiat's 1.8-litre 16v petrol engine. Max power for the MPI fuel injected unit is 122bhp at 5,600rpm, while Torque 17,4kg/m at 3,600rpm.

The Brazilian model follows closely on from Fiat Auto UK's announcement last week of a Stilo Schumacher, developed by renown tuning firm Prodrive, aimed at the British market.
by Iinuma Wesley in São Paulo