Refreshed right across the range and including a new Limited Edition 'Giardinetta' version, the revised Fiat Stilo MY2006 (Model Year 2006) has just gone on sale in Italy. The Fiat Stilo model line-up now receives a final facelift as it heads into its last year of production, with its much-anticipated successor due to arrive on the market during the early months of next year.

With a swage of detailing changes to both the interior and exterior, as well as new colours and interior trims, the C-segment Stilo gets itself a fresh dollop of vitality and a stylish new look. The range is crowned by a new 'Limited Edition' version based on the Multiwagon Uproad showcar, to be known on the Italian market as the 'Giardinetta', which exudes those same muscular, dynamic recognisably offroad looks.

On the outside the new Stilo MY2006 is instantly recognisable by its grey-coloured family 'chrome shadow' front grille, new Fiat design 16-inch, 8-spoke chunky alloy wheels, and on the higher-specification versions, colour-coded door handles. Following the well recieved market reception of several new colours introduced over the last year by Fiat, a number of new paint finishes are now available on the Stilo MY2006: Nero Cattivo, Grigio Bel Tenebroso, Azzurro Gentile, Blu Magnetico and Sabbia Amicizia.

In the pursuit of creating a more elegant style for the Stilo MY2006 the interior seat and door panel materials, "Inox" and "Castiglio", feature new patterns, colours and the highest quality weaves. The instrument console dials have distinctive white backing, while the door handles and air vents are painted grey. The Stilo GT, Racing and Giardinetta versions all feature a grey-finish centre console.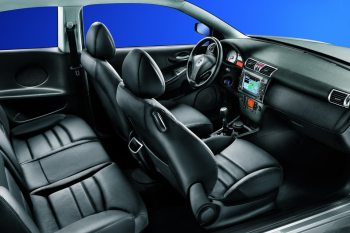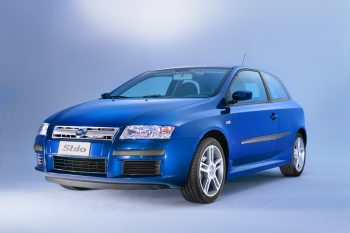 Now refreshed right across the range and including a new limited edition 'Giardinetta' version, the new Fiat Stilo MY2006 has just gone on sale in Italy.


The standard and optional equipment list has been upgraded. All versions of the Stilo Active, Dynamic and GT feature a radio with CD reader and 6 loudspeakers, while the 2.4 20v Abarth Selespeed has the Connect Nav+. Two interesting new innovations are now optional on the Stilo MY2006: the 'vivavoce' Bluetooth system which allows the driver to carry out telephone calls with a Bluetooth enabled cellular phone without distractions; and a new anti-particulate filter.

The Stilo Multiwagon "Giardinetta" is the MY2006 version of the Stilo Uproad showcar which was first shown at the Paris Motor Show in the autumn of 2004. Unlike Fiat's burgeoning four wheel drive range, the Giardinetta (this is a name chosen only for the Italian market) is front wheel drive, but it still features a family rugged 'offroad' appearance. Distinctive elements of this new production car include aluminium front and rear bumper protection plates, bulbous wheel and and sill covers, a raised ride height, 17-inch alloy wheels with chunky tyres, and long aluminium roof bars. Two exterior colours are available on this model: Sabbia Amicizia and Grigio Sofisticato; while its distinctive grey-fabric seats have black upper and lower side panels. All these features add up to creating a solid, sturdy car, one of substance, and one with a free spirit.

The new Stilo MY2006 range is available in both 3- and 5-door and Multiwagon formats with four petrol engines (1.4 16v 95 CV, 1.6 16v 105 CV, 1.8 16v 133 CV and 2.4 20v 170 CV) and two turbodiesels (1.9 Multijet 120 CV and 1.9 Multijet 150 CV). The Selespeed transmission option is available on the 2.4 20v Abarth model. Seven specification levels are available (on the Italian market): Feel, Actual, Active, Dynamic, Racing, GT and Abarth. On top of these are two limited editions versions, the new Giardinetta and the Schumacher.