INTRODUCTION

Ever since 1978, the Daily has introduced the greatest innovations seen in European light transport. In fact, each successive product generation has set new standards for light commercial vehicles: the chassis frame, direct injection turbodiesel, intercooler, natural gas engines, 17 cubic metre van with 210 cm interior height, common rail and 6-speed transmission. The Daily was first to introduce these features onto the market and in the process, set new benchmarks for the competition.

The New Daily remains unchanged in terms of the mix of technology, strength and quality which has made it so successful amongst professionals. Furthermore, the launch of its Euro 4 engines marks a complete transformation in terms of both style and content. Today once again, the Daily now offers customers uncompromising "substance" with a difference, no matter what the application: featuring a stylish new look (bearing the Giugiaro "label") which enhances its personality and prestige, a range of engines offering unbeatable power and flexibility within their class, as well as a driver's cab packed with innovation and cutting-edge technology.

The secret of the Iveco Daily's success lies in its ability to "evolve whilst remaining true to itself", consolidating the values inherent in its make-up (reliability, efficiency, versatility of use) and once more delivering concrete responses to the needs for professional transport, state-of-the-art engine technology and innovative design. Therein lies the basis of its "commercial credibility": and this is why every five minutes, somewhere in the world a customer buys a Daily.

The new model has all the hallmarks to remain as competitive as ever. In fact, the New Daily is born out of extensive research and development with professionals who speak the same language: on one hand, the demands of a customer seeking reliability, versatility and productivity; on the other, know-how and experience amassed by Iveco in the field of commercial and industrial vehicles. Thanks to a chassis frame, its adaptability to suit a wide range of applications and bodywork, not to mention powerful turbodiesel engines which are both flexible and economical, the New Daily is the preferred light commercial vehicle amongst professionals in the transport world (both goods and people transport). Offered in van, chassis cab and MPV versions, the new Iveco vehicle combines the solidity and strength of a truck with the high performance and manoeuvrability of a much lighter vehicle. As ever, the entire package is bound together in an innovative style. Today, the New Daily is once more ahead of its time and picks up on emerging trends in the world of transport, especially light transport: Giorgetto Giugiaro has given life to a fluid contour combining an aggressive front end, tidy profile and redesigned tail end.

The overall effect is embellished by a host of new features such as the radiator grill, which accentuates the style adopted across the Iveco range; the roof air vents and spoiler which incorporates a third brake light and loading area light; not to mention the new look front and rear vehicle lights. Still the reigning "champion of mobility", the New Daily retains its classic rear traction and introduces numerous innovations in the engine department (all Euro 4 compliant). In particular, the 2.3-litre engine is now equipped with a turbine with variable geometry whilst the 3.0-litre engines (available in all versions including MPV) have increased torque and power output. The 3.0 HPI engine version today offers 146 hp and 350 Nm.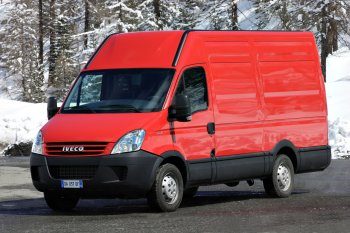 Not to be outdone, the upgraded 3.0 HPT delivers an impressive 176 hp with 400 Nm maximum torque between 1,250 and 3,000 rpm (best in class). All this makes the top-of-the-range Daily far and away the most flexible vehicle in its class.

The New Daily is also synonymous with comfort and ergonomics and the revised cab, also designed by Giugiaro, improves driver ergonomics and ease of movement across the cabin, thanks to the dash-mounted gearshift and new hand brake, which is shorter due to its lighter action. The new seats are even more comfortable and provide greater support, whilst the interior is spacious and practical to manage thanks to the increased amount of storage space. Driver and passenger comfort is further enhanced by features such as the parking sensor, loading area lighting system integrated into the third brake light and auxiliary heater with timer for programmable activation. Driving quality is something to which Daily customers have become accustomed: the vehicle is unbeatable in terms of road holding and handling, its ability to absorb uneven surfaces and its manoeuvrability; qualities which make it ideal for any kind of mission, whether involving motorways or mountains, fog or urban traffic. Such high performance relies on independent front suspension, as well as the vehicle's robust chassis and rear beam axles.

For a number of years, Iveco has been promoting a new concept of commercial vehicle, one which is ever more attentive to safety and respect for the environment. The New Daily develops its braking system one step further: thanks to its power-assisted brake disks, the 3.5-tonne version (S class) goes from 100 to 0 km/h n only 42 metres. Not only this, the New Daily can be specified with ABS/EBD and, as with the previous model, the latest generation ESP8 with integrated ASR. In addition to driver's airbag, which are standard for people carrier Combi vans, the new Iveco vehicle can also be fitted with passenger-side and window airbags. The New Daily also continues to play its part for the environment: all engines in the new range comply with Euro 4 limits and use only the Exhaust Gas Recirculation (EGR) system, which avoids the need for particulate filters to be fitted to light-duty versions. In order to comply with especially stringent norms in urban centres, all Daily vehicles are equipped with Diesel Particulate Filters (DPF). The 6.5-tonne people carrier is fitted with DPF as standard.

Added to these winning characteristics, the New Daily incorporates innovative features aimed at continually improving its level of reliability: for example, the latest generation electrical and electronics system, based on innovative CAN-BUS architecture, which compared to traditional wiring is simplified and requires fewer connections. There is also an improved diagnostics interface and new functions in keeping with latest developments within the automotive industry (from satellite navigation to hands-free Bluetooth radio with MP3 player). Inspired by its objectives of optimum reliability and working conditions for transport professionals, Iveco has left no stone unturned in its quality research: for example, the new rear door locking mechanism and suspended sliding side door.

The unbeatable competence of the Iveco sales and assistance network (over 2,000 outlets in Europe alone) remains unchanged alongside so many product innovations. The Iveco network continues to provide outstanding levels of professionalism and services, from finance to service contracts, from rapid assistance to an international and multilingual Customer Centre.

With its Daily solution, Iveco has created one of the widest and most articulate ranges available for transport professionals in the segment. The range comprises three classes (according to gross vehicle weight): L, S and C, each in basic van or chassis cab versions. Each class corresponds to a very precise type of customer and offers a further choice of five engine sizes, a selection of different wheelbases and interior heights, lengths, volume capacities, and side and rear door configurations. The true breadth of the New Daily range extends to over 2,500 possible configurations, ensuring there is a suitable model for the needs of every light commercial vehicle operator. In all, the New Daily is the confirmed top choice for professionals within the road transport sector and the natural successor to a winning model: after all, there are well over a million Daily vehicles on the roads worldwide.