Progressive engines and reliable transmissions

Driving comfort also means being able to count on high-performance yet progressive engines together with strong and reliable transmissions. For this reason Fiorino Qubo comes in two Euro 4 versions – the sparky 1.3, 75 hp Multijet and the reliable 1.4, 73 hp petrol – which stand out for driving pleasure, excellent performance, and reduced operating costs, as well as for their reliability and respect for the environment.

The new Qubo just had to have a 1.3 16v Multijet, the smallest and most advanced "Common Rail" direct injection diesel engine of the second generation produced by FPT - FIAT Powertrain Technologies - in the Polish plant in Bielsko-Biala. This version is combined with a manual, 5-speed or with a robotized 6-speed, "Dual Logic" transmission with sequential or automatic functions and an Economy button to optimise running with a view to reducing fuel consumption. The turbo diesel produces a hefty 75 hp (55 kW at 4000 rpm) of maximum power.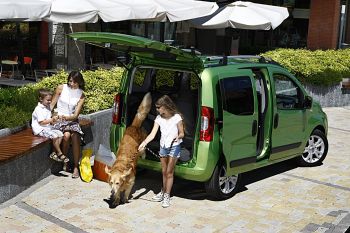 And the turbo produces maximum a torque of 19.4 kgm (190 Nm at 1750 rpm), guaranteeing excellent performance and the best consumption figures in its class: for example, maximum speed is 155 kph while, in the combined cycle it records 4.6 l/100 km (4.5 l/100 km with the robotized transmission), which means about 1000 kilometres with a fill-up of 45 litres of diesel fuel.

Furthermore, a Qubo with this engine is an eco-friendly vehicle - some versions have CO2 values of less than 120 g/km – and if equipped with the particulate filter (optional), it can reach particle emissions of 0.005 g/km (in conformity with Euro 5 ratings).

Performance of the 73 hp 1.4 8v is just as good, having been specially developed with a view to performance and consumption. The engine supplies 73 hp (54 kW) at 5200 rpm and a maximum torque of 12 kgm (118 Nm) at 2600 rpm. Then, combined with a mechanical 5-speed transmission, the engine is peppy (maximum speed is 155 km/h) but thrifty, consuming 7.0 l/100 km in the combined cycle.