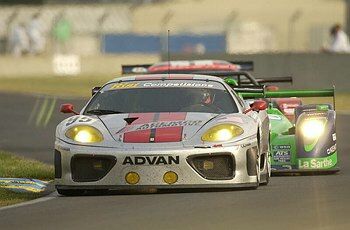 LE MANS, France, June 15, 2003 - Shane Lewis' number 95 ACEMCO Automotive Ferrari 360 GT Modena fell victim to an engine malfunction while leading the LM GT class at the 71st running of the 24 Heures Du Mans. Lewis, of Jupiter, Florida, and teammates Butch Leitzinger (State College, Pennsylvania) and Johnny Mowlem (Warfield, England) had charged from seventh on the grid to take the class lead from a string of Porsche 911s just short of the mid-point of the world's most famous sports car race when the failure occurred. Lewis came from two laps down to take the point just prior ACEMCO Motorsports' ninth pit stop of the event, a stop that included the team's fourth driver change. Mowlem took over driving duties from Lewis and was in the car when the engine expired at the Playstation Chicane on the famous Mulsanne Straight just after 2:30 am local, Le Mans time. The failure ended the ACEMCO Ferrari's day on lap 138.

"I can't believe it," commented Lewis who fought the emotions between elation of leading in his fourth Le Mans start and the devastation of falling out of the event. "The whole crew did just a terrific job. I really want to thank them for giving me such a great car to drive. Every one of the guys worked so hard to put us up-front when almost everyone outside of the team said we couldn't do it. The ACEMCO pit stops where awesome, Yokohama gave us an incredible tire; Jeff (Giangrande, ACEMCO Motorsports team owner) provided everything we needed to run well. We had everything in place to have a great finish. It was thrilling to lead Le Mans in a Ferrari and it shows how good this team is. It's hard to take right now but we'll pack it all up and head to Road Atlanta, learn from this and be stronger. I really want to thank Jeff and my co-drivers, Butch and Johnny. They did an awesome job and I can't think of two better guys to come to Le Mans with. Now that I've had my teeth in it, I have a taste for leading at Le Mans. We'll be back to finish the meal next year."

Lewis, who, along with Cass Whitehead, is ACEMCO Motorsports' regular season driver in the American Le Mans Series (ALMS), started the silver and red Ferrari taking the French Tri-Color (used in lieu of the traditional green flag) from ALMS founder Don Panoz 42nd in the field of 45, seventh in LM GT class, at 4 pm, June 14. Finishing position for the car will not be known until the race's conclusion at 4 pm, June 15.