news: sportscars
---
23rd October 2001: top GT teams to run 550 Maranello in 2002
two top Sportscar teams Dave Price Racing and BMS Scuderia Italia are looking to run the Prodrive developed Ferrari 550 Maranellos in next years GT World Championship
Dave Price Racing have already been involved with the Prodrive project, while BMS, winners of this years Sportscar Championship with the Ferrari 333SP, want to continue with Ferrari, while acknowledging that the 333SP has reached the end of its life
---
21th October 2001: FIA World GT Championship, Estoril (P), Round 10
after qualifying third, Rickard Rydell, in the Prodrive Ferrari 550, hit the back of Julian Bailey's Lister Storm early in the race, later retiring eleven laps from the finish when vibrations caused by the bump caused the front splitter to detach itself while heading for a safe third place
Oliver Gavin and Peter Kox making their debuts in the Reiter Engineering Lamborghini Diablo guided the car to an amazing fifth place. Gavin started 35th on the grid and worked his was up to 6th position before handing over at the end of his stint to Kox, who lost fourth place on the penultimate lap as his rain tyres were completely destroyed on a drying track
a steady run to third in the N-GT class saw David Terrien and Christian Pescatori take the N-GT title by 2 points after championship rival Luca Riccitelli was punted off at the start
result ( after 90 laps ):
9th ( 3rd N-GT class ) Terrien/Pescatori ( JMB Competition Ferrari F360 Modena ) 87 laps
15th ( 7th N-GT class ) Pregliasco/Lambertini ( JMB Competition Ferrari F360 Modena ) 84 laps
Ret Menu/Rydell ( Prodrive Allstars Ferrari 550 Maranello ) 79 laps
grid:
4th Menu/Rydell ( Prodrive Allstars Ferrari 550 Maranello ) 1:51.559
20th Terrien/Pescatori ( JMB Competition Ferrari F360 Modena )
35th Gavin/Kox ( Reiter Engineering Lamborghini Diablo GT )
---
16th September 2001: FIA Sportscar Championship, Nurburgring ( D ), Round 8
little known 23-year old Italian driver Marco Zadra won the 2001 FIA Sportscar Championship after the penultimate round in controversial circumstances. The BMS Scuderia Italia team run Ferrari 333SP that Zadra shared with 2001 champion Christian Pescatori, failed 19 laps from the end with gearbox problems. However Zadra reappeared for the final lap to claim 12th place after the second car driven by his father Angelo was strategically retired to allow him to gain a place and finish 5th in class. With championship rivals John Nielsen and Hiroki Katoh ( Dome-Judd ) finishing third, Zadra claimed the title with a race to spare
Zadra and Pescatori had qualified the Ferrari in fifth place with the Ascari of Lupberger/Collins claiming pole, after a steady race Pescatori, sitting in second place behind eventual dominant winners Jan Lammers and Val Hillebrand in the Dome-Judd,was forced to pit after the car started to smoke on lap 64. A few laps later Zadra, who had taken the car back out was forced to retire to the pits. Then, as the rain poured, a series of retirements saw him gain sixth place in class ( later fifth when the Ascari was disqualified ) and the championship title
Results: FIA Sportscar Championship Rd8, 90 laps ( 254.79 miles ) 16.09.01
5th Enzo Calderari (CH) / Lilian Bryner (CH) / Angelo Zadra (I) BMS Scuderia Italia Ferrari 333SP 85 laps 4th in class SR1 ( qualified: 8th )
6th Roberto Tonetti (I) / Massimo Saccomanno (I) Audisio & Benvenuto Lucchini-Alfa Romeo 99 83 laps 2nd in class SR2 ( qualified: 15th )
12th Christian Pescatori (I) / Marco Zadra (I) BMS Scuderia Italia Ferrari 333SP 72 laps 5th in class SR1 ( qualified: 5th )
Ret. Giovanni Lavaggi (I) / Bob Berridge (USA) GLV Racing Ferrari-Judd 333SP 7 laps ( qualified 10th )
Championship positions after 8 rounds:
1st M Zadra 11opts ( champion ), 8th Pescatori 60pts, 9th= Bryner, Calderari, A Zadri 50pts
next round: Kyalami (ZA) 25th November 2001 ( final round )
---
16th September 2001: Ferrari win Sandown 500 GT race
Ferrari win their first Australian endurance race for many years at the Sandown 500 GT race
John Bowe and Tom Waring driving the Ferrari F360 Challenge crossed the line three seconds ahead of the rapidly closing Porsche 911 GT3 of Neal Bates and Steve Webb. Peter Fitzgerald and Geoff Morgan in another Porsche finished third two laps adrift, while John Teulan and Paul Morris came fourth in another Ferrari
early pacesetting was made by Paul Stokell and Steven Johnson's Lamborgini Diablo, however their two minute lead was lost as they suffered front suspension failure
winner Tony Waring summed up his race "to drive a Ferrari with John Bowe is fantastic, never mind even winning"
Result Sandown 500 (AUS) 16.09.01 ( after 161 laps ):
1st Tom Waring/John Bowe ( Ferrari 360 Challenge ) 3hr39m05.27sec
4th John Teulan/Paul Morris ( Ferrari 360 Challlenge ) 156 lap

---
15th September: Maserati to enter Sportscar racing?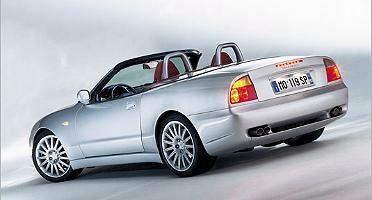 Ferrari President, Luca de Montezemolo, announced that Maresati ( part of his overall resposibility with Ferrari ) would run a one make series in 2003, with a car based on the new 3200 GT Spyder, just officially released at the Frankfurt Motor Show

"In 2003 we will organise a challenge, a championship for our clients with cars very close to our actual road car" said Montezemolo, adding, "we will choose, after looking at many situations, a presence in competition, not only for clients".

speculation has it that Maserati will enter international sportscar racing with an open topped car in 2004, the year the new regulations come into force

more info on the new 3200 GT Spyder

---
12th September 2001: Prodrive developed Ferrari 550 Maranello attracting interest
Initially developed without Ferrari's imput for FIA GT Racing, the Prodrive Ferrari 550 Maranello has received belated factory assistance and interest in customer versions for next year have been expressed already after the new car's promising debut season.

---
return to sportscar index