The prestigious end-of-year parade at the Bologna Motorshow brought the curtain down on the 2004 Trofeo Vodafone Maserati Europa season and whetted the appetite for 2005.

Eight drivers disputed the Motorshow event at the wheel of the new 2005-speification Trofeo GranSport, a vehicle which was making its official racing debut. The new car, which will be used in next year's Trofeo Europa championship, derives from the road-going Gransport, that has been on sale in the dealerships since September.

Both versions of this car are on display on the Maserati stand at the Bologna fair, together with the awesome road-specification MC12 sportscar.

The new Trofeo Gransport proved to be extremely promising, so much so that Lapo Elkann could not resist trying it out on the Motorshow track. He took advantage of a break in the race programme, and his commitments at the Fiat stand, to take the 425bhp V8-engined racer a drive.

For the competition, the crews were made up of Trofeo drivers and VIP guests, and both took turns in the driving seat challenging each other, in the usual elimination format of the Bologna show.

The overall winners, after the times had been totted up, were the English model, Jodie Kidd, and Fabio Babini in the Pirelli VIP car. Babini competes in the FIA GT championship while Kidd, in only her third race at the wheel of the Trofeo, took everyone by surprise by the progress she has made race on race.

Behind this pair came the two drivers at the wheel of the Pakelo-liveried GranSport, Andrea DeMegni and the Italian television entertainer Daniele Bossari. DeMegni topped the special classification for drivers in sponsor's cars.

In the duel for third spot, the duo of Massimo Torre and Umberto Scandalo, prevailed. The two youngsters are the best of the crop of ACI/CSAI 'Supercorso' drivers in the "Speed" and "Rally" sections.

The pair adapted well to the new 425bhp of the Gransport, and beat off Fabrizio Frizzi and Andrea Palma, despite this line-up including the continental champion, although in fairness they were not helped by the rain.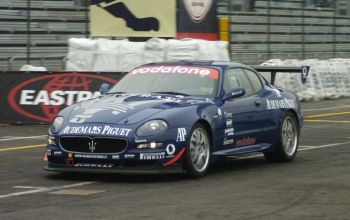 The new 2005-specification Maserati Trofeo GranSport made its first competitive public track appearance yesterday in Bologna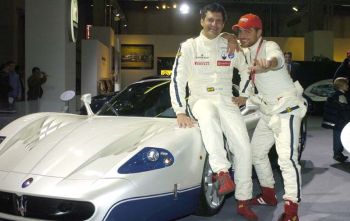 Italian 'Top of the Pops' presenter Daniele Bossari, and Fabrizio Frizzi, pose with the road-going Maserati MC12 in Bologna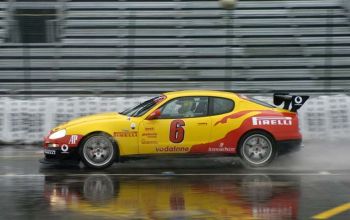 English supermodel Jodie Kidd, in only her third race at the wheel of a Maserati Trofeo, won the Bologna 'knock-out' tournament, alongside FIA GT series driver Fabio Babini, in the Pirelli VIP car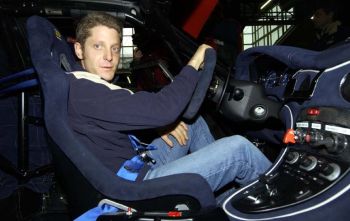 Fiat's marketing boss Lapo Elkann was unable to resist trying out the new 425bhp V8 Maserati Trofeo GranSport for himself in Bologna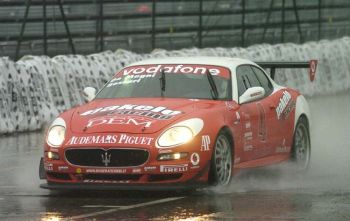 Andrea DeMegni, sharing the Pakelo VIP Maserati Trofeo GranSport with TV presenter Daniele Bossari, won the special category for the sponsor's cars during the Bologna knock-out format tournament