Fiat Powertrain Technologies (FPT) has unveiled its first new engine since the company was formed two months ago: a Brazilian market bound 'flexible fuel' engine based on the 1.4-litre FIRE unit.
FPT was formed at the end of March 2005 when Fiat and GM divorced their Powertrain joint venture entity, returning the assets, both physical and intellectual, to their respective owners.

The newly formed company now operates in twelve countries with twenty six plants and sixteen research and development centers, combining the resources, employees and activities of Fiat Auto Powertrain, Iveco Powertrain, Magneti Marelli Powertrain (including Motor Sport), Iveco Motoren Forschung and the Powertrain research activities of the Fiat Research Center and Elasis. With twenty three thousand employees, eleven thousand of whom are drawn from Fiat Auto, innovative new technologies, especially in the area of diesel engines, and a with current annual output of more than four million engines and gearboxes, FPT is expected to swiftly establish itself as a leading industry player.
The new 1.4-litre FIRE-based 'flexfuel' engine was initially being jointly developed by Fiat and GM in Brazil and destined for Fiat's entry-level Palio and Siena models, as well as GM's locally-assembled Corsa variant. However, since the winding up of the Fiat-GM alliance, the American carmaker is believed to have shelved its plans to use this new unit.

In an effort to give Brazilian motorists greater convenience, flexible fuel systems present the opportunity to use either alcohol or petrol, or a mixture to any ratio, and is specific to the domestic market. Fiat introduced a GM-sourced 1.8-litre 'flexfuel' engine last March when they brought to the market the latest generation of Palio and Siena 'World Car' models. Unlike the GM units which had their flexfuel system developed by Delphi, Fiat chose Magnetti Marelli to develop their own version.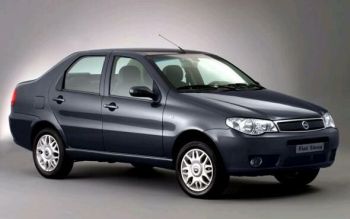 Fiat Brazil last year introduced a 1.8 GM-sourced 'flex fuel' engine in the latest generation of Palio and Siena (above)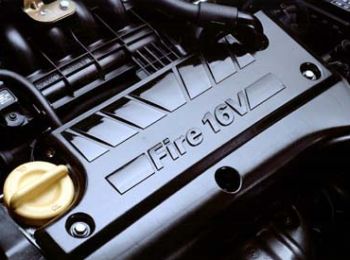 Fiat Powertrain Technologies has unveiled its new 1.4-litre 8V 'flexi-fuel engine, which is based on the 1.4-litre 16v FIRE unit (above) introduced in mid-2003 on the third series Punto

Over the last year flexible fuel engines have really shot to prominence, with some 22 percent of car sales in Brazil in 2004 offering engines which run on a combination of alcohol, petrol and natural gas. This year, the major regional carmakers estimate, flexible fuels will rise to half of all sales. As well as Fiat and GM, the other major local manufacturer, VW, who introduced the first engine of this type to the market, is investing heavily to widen its range of flexible fuel models.
Alcohol has been around as an alternative to petrol on the Brazilian market since the early 1970s. The oil global crisis severely hit the country's economy, prompting the nation's military rulers of the time to subsidise a huge sugar cane cultivation and alcohol refining programme, in an effort to reduce Brazil's dependence on imported oil. Falling oil prices and a shortage of ethanol saw the popularity of these cars fade during the 1990s. However with the arrival of flexible fuel cars, a nationwide network of ethanol distributing stations still in place, coupled to a recent sharp rise in oil prices, and the tables have turned once more. Brazilians motorists, for so long held ransom to the price and availability fluctuations of either source of fuel, have thus been quick embrace flexible fuel cars.

by Edd Ellison