Bizzarrini - VGM Motors Srl will present an updated version of their GTS sports car towards the end of November or December this year. The car, which was first presented at Geneva earlier in March this year, has now received the new name 'GTS 4.1 V', a reference to the new 4.1 litre V8 engine which replaces the 4.4 litre Alpina tuned BMW unit originally considered for the project.
The new 4.1 litre engine is altogether more in line with the Bizzarrini tradition, and is based around the 580 bhp 4.0 litre Renault designed race engine used in the GP2 monoplace series. Naturally, Bizzarrini have modified the engine for reliable road and track use, enlarging the cubic capacity to 4100cc, and lowering the maximum power output marginally to a respectable 550 bhp. What really sets the engine apart is its high reving nature, with the maximum power output achieved at an astounding 10,000 rpm. The Bizzarrini is the only street car to have such a performing engine. The highly efficient race engine has also undergone changes to meet the Euro 4 emissions requirement. Along with these modifications, the engine will be inscribed with "Bizzarrini" lettering.
The new engine choice completely transforms the car to a true evolution of the Bizzarrini models from the past, "providing a perfect mix between state of the art technology with the best Italian style, wisely dosed to let you feel the pleasure of driving a very exclusive and advanced car, without being dominated by her." In order to lay all of this raw power down, the Bizzarrini GTS 4.1 V makes use of a unique set of extra wide tyres, purpose made for Bizzarrini by Pirelli. The high performance PZero Rosso tyres are in the format 275/30 ZR20 for the front, whilst the rear BBS wheels are shod with 335-385/30 ZR20 tyres. Performance is brisk, with the 0-100 km/h sprint reached in less than 3.8 seconds, and a top speed of over 360 km/h.

Visually, the GTS 4.1 V is clearly a Bizzarrini, its lines inspired by the original Iso Grifo A3C and Bizzarrini GT models. In pleasant contrast to the potent race engine, the interior of the car is all about comfort, padded out with high quality leather with items finished in polished metal. In the centre console, a row of chrome finished metal flick switches and a proper starter button remind the driver with the heritage behind the car.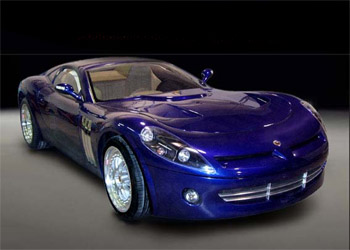 The new 4.1 litre engine is altogether more in line with the Bizzarrini tradition, and is based around the new 580 bhp 4.0 litre Renault designed race engine used in the GP2 series
Visually, the GTS 4.1 V is clearly a traditional Bizzarrini, its strong lines inspired by the original Iso Grifo A3C and Bizzarrini GT, legendary sportscar models from the sixties

More details about this revived Italian legend are expected to surface soon, when the car will be officially introduced and ready for road and track testing at the end of the year. The price of the car will be in the region of 550,000 euros to 600,000 euros + taxes.

Technical specifications - Bizzarrini gts 4.1 v
Engine
Model: Bizzarrini 90° V8
4 overhead camshafts - 4 valves per cylinder
Bore: 92.7 mm
Stroke: 75.2 mm
Capacity: 4,100 cc, aspirated
Emmisions: Euro 4
Max Power: 550 HP - 401 KW at 10,000 rpm
Max Torque: 470 Nm at 7,500 rpm

Gearbox
Type: 6-speed + reverse manual central gearstick

Dimensions
Length: 4,670 mm
Width: 2,003 mm
Height: 1,230 mm
Wheelbase: 2,852 mm
Rims: BBS: front 10x20"- back 13-14x20"
Tyres: Pirelli PZero Rosso
front: 275/30 ZR20 - back: 335-385/30 ZR20

Performance
Max Speed: more than 360 Km/h
Acceleration: 0 to 100 Km/h in less than 3.8 seconds

by Paddy Granger