In addition to its official involvement in the World Touring Car Championship, Alfa Romeo also organises a single-brand championship known as the European Alfa Challenge for the Alfa 147 GTA Cup specifically for Alfa Romeo's racing customers, that is now in its third edition.

The calendar of the European Alfa Challenge 2005 includes 6 events running alongside the World Touring Car Championship, which will be run on the most prestigious European race tracks: the first event will be held in Monza on April 10, followed by Magny-Cours (France) on May 1, Imola (Italy) on May 29, Spa-Francorchamps (Belgium) on July 30, Oschersleben (Germany) on August 28 and Valencia (Spain) on October 2.

During each event the drivers will first tackle free practice sessons before a pair of qualifying sessions establish the starting line-up for the two races. The twenty fastest cars in each race will score points, for the following categories: Overall, Under 25, Twin class, Rookie, Team and Ladies, while there will also be lavish prizes for individual events and for the final placings.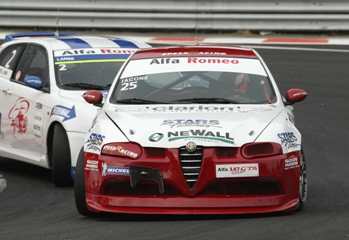 The 2004 edition of the European Alfa Challenge was won overall by young Italian pilot Simone Iacone (above)
This year the European Alfa Challenge enters its third full season, taking in six rounds on prestigious European tracks

Prize money for each event will total Euro 11,850 (2,500 for first place, 2,000 for the runner-up, 1,750 for third place, right down to 250 for tenth place), and the overall winner at the end of the year will take home an Alfa Romeo 156, in Super Touring 2000 "ready to race" configuration, to enable the driver to continue with his racing career at a higher competitive level.

As you would expect from an international championship, the competitors in the European Alfa Challenge come from numerous European countries, including Italy, Spain, Ireland, Holland, Portugal, Czech Republic, and Poland, maintaining the cosmopolitan nature of the past edition, which was won by young Simone Iacone (ahead of Maurizio Campani and the Finn Mikko Heino), who also took the Under 25 title.
Alfa 147 GTA Cup: Technical Specification