ONE MODEL WITH TWO SOULS

From today, the New DoblÚ is better looking, more functional and more packed with features. Now with revised styling and the most diverse engine range in its segment (offering petrol, diesel and dual fuel petrol/methane), the new model confirms itself as an original vehicle with two souls: car on one hand, light commercial vehicle on the other. A few days ago, the latter was awarded the prestigious international title of the Van of the Year 2006 at the Amsterdam motor show.

Both versions share a new design that gives the model greater freshness and style, plus slightly increased dimensions: it is now 425 centimetres in length, 172 in width and 181 in height. The New DoblÚ Cargo offers a fresh design in line with the most up-to-date aesthetic canons. Its style is spare but able to convey a sensation of sturdiness and protective solidity. A design that emphasises function without ever giving up its distinctive shape that weds elegance and pronounced personality, as borne out by the imposing yet well-balanced front end that features up-to-date dual barrel headlights and a large central 'V' motif that drops from the bonnet to the bumpers. Other new features include the bumpers and tail-lights (with two-tone clear glass) and attractive side strips that are now broader and more protective. Inside, the model displays linear and practical styling featuring new colours, fabrics and seats, dashboard and door panel design.

The engine range also includes new products: in particular, the new Multijet turbodiesel units are the most powerful in segments P (New DoblÚ) and 1 B (New DoblÚ Cargo). The New DoblÚ can be equipped with three turbodiesel engines (85 bhp 1.3 16v Multijet and 105 and 120 bhp 1.9 8v Multijet) while the Cargo version can be fitted with the 75 bhp 1.3 16v Multijet and 105 bhp 1.9 8v Multijet engines. In particular, the 85 bhp 1.3 and the 120 bhp 1.9, both equipped with a particulate trap (DPV), the lifetime system that removes fine powder and does not require the use of additives for regeneration. After the launch, the 85 bhp 1.3 16v Multijet and the 120 bhp 1.9 8v Multijet will also be available on the New DoblÚ Cargo. Both versions can also be fitted with a 77 bhp 1.4 Fire 8v and 1.6 Natural Power (petrol and methane).
On both the car and van versions, the distinctive features that made it such a success in its respective sectors have naturally been retained: interior space, load compartment volume and driving satisfaction. Not to mention the outstanding quality of life on board. The oceans of glass, for example, give the interior of the new model the appearance of an airy environment that immediately conveys a gratifying sensation of comfort. Other strengths include accessibility and interior ergonomics that are due to the generously-sized sliding side doors and the optimum seat ground clearance (which make it extremely easy and natural to get in and out of the vehicle) and also the large amount of space available for passengers and goods. The New DoblÚ also has an ace up its sleeve when it comes to on-board comfort, as is borne out by the long list of options that can be used to customise your vehicle: radio (with tape player or CD) a sophisticated CONNECT infotelematic system plus numerous original items from the accessory range.

The New DoblÚ is also a byword for safety: preventive, active and passive. Full control under all road conditions is assured by ease of driving and category-topping roadholding. As far as passive safety is concerned, it offers two front airbags and two sidebags while active safety is assured by an ABS as standard complete with EBD (depending on specifications and markets).

The new model offers a broad range of finance products and service packages customised for families and businesses, individuals and companies. We will now go on to discuss the differences between the New DoblÚ and the New DoblÚ Cargo while all the attributes shared by both versions are covered in a single chapter: brand-new design, extensive engine range, safety features and also customised service and finance packages.

New DoblÚ

A fun-packed car able to meet very different needs due to its strong personality and attributes of practicality and versatility unique for its category. The New DoblÚ is designed for families and ideal for taking children to school, driving to work and doing the shopping. An enjoyable vehicle, the right companion for free time and travelling with friends. This is a car that you can use to do anything that comes to mind, just as you would expect of a multipurpose vehicle because it is as manageable and comfortable as a station wagon and as roomy as an MPV. In fact, it offers the same versatility as an MPV at an advantageous price but with more compact external dimensions.

The New DoblÚ also sets out to reinforce its presence in the segment by furthering the attributes that proved so successful for the previous model: ingenious, roomy, distinctive and economical. First and foremost, ingenuity lies at the heart of the New DoblÚ. In other words the quality that allows us to pack all the roominess of an MPV into a length of just 4.25 metres without giving anything up in terms of comfort. This is borne out by the oceans of glass and the generous volume that accentuates the airy nature of the interior. Just as in an MPV, the seat position is raised and versatility is outstanding (split rear seat, storage compartments, shelf under the cab roof) and practicality (multipurpose dashboard with all controls easily accessible). Not to mention the fact that this is the only vehicle in its segment to offer a gear lever in a raised position in the middle of the dashboard.

The Family version of the New DoblÚ can also comfortably accommodate up to six passengers due to a two-seater rear bench seat that can be folded down and easily removed. Once removed, the load compartment can be used to the full. The architecture of the New DoblÚ is also ingenious: it allows great ease of access to the passenger compartment and luggage compartment. Credit for this goes to a height of 180 cm, practical sliding side doors and a generous load compartment (1190 x 1220 mm) with a tailgate that provides shelter during loading and unloading operations in the event of rain.

The second winning feature of the New DoblÚ is its extraordinary roominess. The vehicle ensures maximum on-board comfort due to the large amount of space surrounding the passengers: just as in an MPV, the interior height and width allow you to move around easily and offer a widespread sensation of well-being.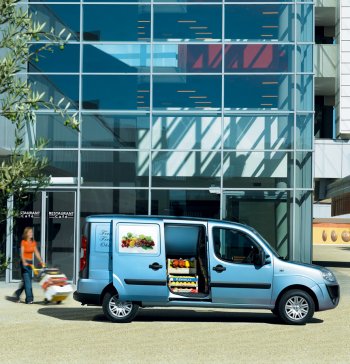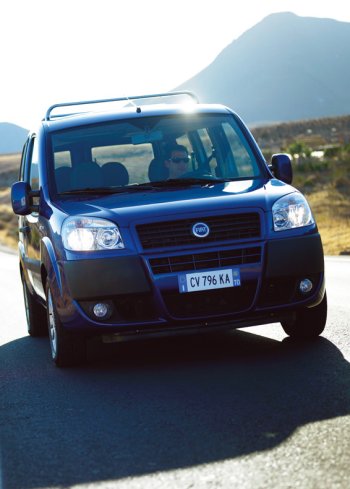 Not to mention the numerous factors that contribute to the model's versatility: from a shelf under the roof to various storage compartments distributed in every corner of the passenger compartment to a folding rigid parcel rack that can be used as a support surface.

The same amount of attention devoted to front passengers has also been extended to the rear where passengers can use one or two sliding side doors (according to the version and markets) to gain access to the passenger compartment and plenty of leg room so that everyone can sit in comfort (comfort is increased by positioning the seat at a height that ensures good front visibility). The space has also been designed for practicality. The new model can accommodate five people in comfort and simultaneously offer a very roomy luggage compartment: 750 litres to the level of the parcel rack that can be extended to 3,000 litres by folding down the back seat. The New DoblÚ also features distinctive styling and economy of use, its low fuel consumption and running costs, for example, make it a truly economical vehicle. Most of the credit for this goes to the new Multijet diesel engines (all Euro 4) that achieve further targets in combustion noise control, emission reduction and performance increase because their control units are able to manage more injections.

New DoblÚ Cargo

On 13 October, during the European Road Transport Show 2005 in Amsterdam, the New DoblÚ Cargo was voted Van of the Year 2006. The prestigious title, awarded by an international jury, rewards the numerous significant new features on this Fiat light commercial vehicle: revised style, new Multijet diesel engines, increased payload and brand new Long Wheelbase versions.

Heir to a winning model (more than 310.000 units have been sold since 2001), the New DoblÚ Cargo could not have had a better debut and is confirmed as the ideal vehicle for those who use their vehicle mainly for work: small businessmen, tradesmen, maintenance staff, travelling salesmen, representatives, service companies, express couriers. Such customers are particularly demanding and spend many hours of the day on board their vehicles: in town traffic with frequent stops and starts to load and unload goods and also fast intercity trips. They are the ideal customers of the New DoblÚ Cargo, a vehicle that stands out in its category for its load capacity, high productivity and category topping payload. The model also ensures outstanding cab comfort, an excellent level of internal economics plus low fuel consumption and low running costs to above all its Multijet engines. Last, but not least, the New DoblÚ Cargo inherits all the attributes of the previous model: ease of driving, roadholding and safety (preventive, active and passive).

In addition to its new styling, the New DoblÚ Cargo features an extensive range of engines, all to Euro 4 standards: the lively 105 bhp 1.9 Multijet and the 75 bhp 1.3 16v Multijet, the smallest and most advanced of the second-generation Common Rail direct injection diesel engine. These innovative power units are complemented on the New DoblÚ Cargo by a brand new petrol engine (the 77 bhp 1.4 Fire 8 valve equipped with new high swirl combustion chamber associated with continuous variable valve timing controlled by the control unit); and confirms the 1.6 Natural Power version (dual fuel petrol and methane) with cylinders located outside under the floor, a solution that does not detract from the load compartment. After the launch, a further two Multijet engines will be available with variable geometry turbocharger already present on the New DoblÚ: the 85 bhp 1.3 16v Multijet and the 120 bhp 1.9 8v Multijet, both equipped with a particulate trap (DPF).

Another important addition to the New DoblÚ Cargo range is the Long Wheelbase Van versions, known commercially as 'MAXI' versions. This is the best demonstration of the model's versatility and its extraordinary flexibility for conversion by external bodyshops and conversion firms. Compared to the Short Wheelbase van, the new Maxi version offers 38 cm more total length and internal load compartment length. It should be emphasised that the MAXI versions have been obtained by lengthening the vehicle wheelbase and not by simply extending the rear overhang. This solution is certainly more demanding from an engineering viewpoint but offers major benefits to the customer: it ensures outstanding load distribution over the axles, greatest ability and thus improved dynamic performance in addition to a more balanced external style.

Available with 75 bhp 1.3 Multijet, 105 bhp 1.9 Multijet and 77 bhp 1.4 power units, the new versions allow the model to gain a place at the top of its category for load compartment lengths (2060 mm), volume (4.0 m3) and payload (850 kg with the driver), ideal solutions when you need to carry long, bulky items. The Cargo's other typical measures are also excellent: width of 120 cm between wheelarches, load compartment height of 130 cm and ground clearance of 53 centimetres.

We also have important news about the load-carrying capacity of the New DoblÚ Cargo Short Wheelbase: the payload (including the driver) has been increased from 625 to 730 kg on standard versions and from 805 to 850 kg on higher payload versions. This product feature is important for those who work with their vehicles and has been achieved on standard versions through the adoption of 15" wheels (185/65 R15) combined with an optimum suspension and braking system. Higher payload versions are fitted with 14" wheels with a higher load index that allows the payload to be increased by 45 kilograms.

All in all, the New DoblÚ Cargo is the ideal workmate for particularly demanding customers who spend many hours of the day on board: in town traffic with frequent stops and starts to load and unload goods and also fast intercity trips. They expect the New DoblÚ Cargo to offer them roominess, economic running costs plus ease of loading and driving combined with convenience and comfort. The needs of such customers have been met by a very diverse range created by combining different body solutions, 4 specifications, 4 engines, 12 exterior colours and a wide choice of options and accessories.