INTRODUCTION

The Maserati story is one of consistent sporting pedigree. The Trident's use of performance-oriented technology began with its first car, the Tipo 26, a stunningly successful racer.

Creative engineering, both in its racing and road-going cars, has been part of the marque since it opened its doors 90 years ago.

The results have helped systematically sweep aside Maserati's competitors.

Two shining examples of this creative engineering are the transaxle system used during the 1957 World Championship which made Fangio's car almost unbeatable, and the incredibly light, compact yet muscular dry sump engine with cylinder heads equipped with long inlet tracts that gives the Trident's current models such exceptional power and torque.

But Maserati's consistency has also extended to its cars' unique yet understated styling, the luxurious comfort of sophisticated, quality materials, and the discreet colours chosen for cars that can be used every day, cars that are as well loved by women as men.

Last but not least, Maserati has always boasted great consistency in its models. Its four-door cars have all been known as Quattroporte, positive proof that exceptional cars can even make the most everyday names their own.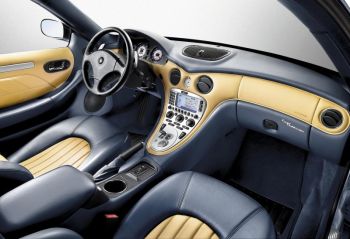 Then there are the two-door cars: the Coupé models, which have often been four-seaters, and, of course, the Spyder models.

Eight different variants of these have been designed in the marque's history. Each one of those eight has made its mark on their own particular era, thanks to its huge originality and personality.

There are three Maserati two-door models in the current range which, offer clients an excellent choice. The Spyder and the Coupé are both available in Cambiocorsa or manual six-speed gearbox GT versions, while the more extreme GranSport comes only with the Cambiocorsa.

The technical and aesthetic solutions that characterise the GranSport have also inspired a wide range of innovations in the Coupé and Spyder models. Here we unveil the current range of Maserati two-doors: flawlessly engineered, authentic high performance thoroughbred sports cars that turn choice into a passion rather than a chore.

THE CONCEPT - Technological Excellence: Maserati's common denominator

There is no doubt whatsoever that what makes these wonderful cars so exceptional is their technical content.

The light, compact V8 engine, transaxle architecture, Cambiocorsa gearbox, Skyhook suspension system, MSP, and traction control and braking by CAN (Controlled Area Network) line are the main features of Trident models inspired by the very best Italian tradition.