More than 1000 bespoke customisations

The new Delta, designed for demanding customers who love to stand out in a crowd, combines stylistic elegance with fine materials and attention to detail in addition to the specific features of innovation and sportiness that have historically distinguished Lancia cars throughout a century of existence. The model's exclusivity comes from this very blend of colours, fabrics and materials. suffice it to say that customers may choose between more than 1,000 alternative customisations. An extraordinary range built up by crossing 3 specifications (Argento, Oro and Platino), 4 different seat trims (cloth, Alcantara/leather, Poltrona Frau leather and Sportivo in leather/Alcantara), 3 interior colours (black, blue and two tone beige/black), 4 different alloy wheels (16', 17' and 18'), 12 body colours and 12 two-tone combinations.

In detail, the first specification (Argento) offers a wealth of standard equipment in the field of safety (6 airbags, fog light and the Absolute Handling System) and also comfort, as evidenced by: a manual climate control system radio system with CD and MP3 file player (with steering wheel controls) front arm rest with cooler compartment, sliding and reclining rear seat and, last but not least, electric door mirrors.

The second specification (Oro) offers all the above plus 16" alloy rims, leather and Alcantara seat trim, leather steering wheel and gear knob, chrome mouldings on the side windows and rear armrest with controls. The line-up concludes with the top-of-the-range specification (Platino) extends the long list of features on the Oro version to include a Granluce sun-roof, 17" alloy rims, two-tone paint and a dual zone climate control system.

Whatever your choice and level of customisation, the Lancia Delta is always appealing and original, with the world-renowned Italian flair for design. The model revives Lancia tradition by working with contrasts, emphasising the importance of detail and craftsmanship, offering top performance interiors: all this plus the maximum customization of the different specifications. This is why each single version of the new vehicle is just like a bespoke suit.

Exclusive financial solutions

Fiat Group Automobiles Financial Services, a captive finance company set up as a joint venture in partnership with Crédit Agricole, has chosen to support the sale of the Lancia Delta with financial products that are unlike traditional finance packages. The packages on offer in the different markets share one common denominator: they are designed to benefit the customer, first and foremost through a 'Delta' shift in service achieved by incorporating exclusive services guaranteed by the Fiat Group Automobiles 'Parts&Services' department in the finance product.

The finance options also add substance to the 'premium' approach exemplified by the Lancia Delta by incorporating a Maintenance Pack and Extended Warranty in the finance, paired in some markets with VIP Service. This range of finance options responds to growing demand for purchase packages that are increasingly linked to the use made of the car. Customers who buy their 'Delta' by taking out a finance package enjoy the benefit of reducing the costs normally sustained during a car's first year of use to zero.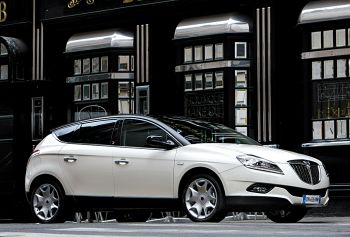 With the Maintenance Pack, all ordinary maintenance expenses are covered by the service included in the finance detail for the duration of the term with an price surcharge that is a bargain by any standards. VIP Service offers customers a 24 hour mobile workshop to guarantee fully roadside assistance, even if you run out of fuel or fill up with the wrong fuel or get a puncture or flat battery. When a service is due, a car collection service will pick up your car from home and keep you mobile with a tax service (bonus up to 50€).
In the first markets where the Delta is to be launched, the new finance product from Fiat Group Automobiles Financial Services differs from conventional packages. More specifically, in Italy, Sava offers an advantageous bonus for both private and trade customers. Private customers can choose 'Lancia Più', an instalment plan with a term of up to three years, combined with a Maintenance Pack exclusive to the Delta and a three-year extended warranty. With this purchase plan, customers can benefit from highly competitive maintenance and warranty services with a special price that is exclusive to customers who choose to take out finance to buy their Delta. Trade customers can opt for 'Lancialease', a leasing structure with the focus on tax breaks that are essential for those who prefer not to own their car, in addition to a special price on purchase conditions for the Maintenance Pack and Extended Warranty.

In France, a competitive edge over classic finance packages is guaranteed by two different service packages, Light and Full, to complement the LOA Balloon product with final instalment and variable duration from three to four years. The Light service includes VIP service in addition to an extended warranty. The Full service includes everything included in the Light package plus the option of a Maintenance Pack.

Spanish customers can choose a product called Formula that includes instalment payments with variable duration up to three years with VIP services and Maintenance Pack with the guarantee of an advantageous price. The Lancia Bank product, to be introduced in Germany from September, is a five-year leasing product with low instalments to guarantee a price that is accessible to all potential customers of the new Lancia. The finance package can also be enhanced by VIP Service, Maintenance Pack and an Extended Warranty for up to five years. On all other markets, namely Austria, Switzerland, Portugal, Holland, Denmark and Poland, the finance packages will focus on a leasing structure with variable duration and rates to meet the many and varied needs of potential European buyers.

It is quite clear that the philosophy of the delta, the quintessential symbol of differentiation and striving for ongoing improvement, has also inspired the concept behind the finance packages developed in the various markets where FGA Financial Services operates, with the aim of achieving superlative customer satisfaction through a delta shift in service and pricing.