Engines built for style and temperament

All the power units are produced by FPT – Fiat Powertrain Technologies, the Fiat Group sector that is responsible for all the activities necessary for innovation, research, design and production of engines and gearboxes for every type of application: From cars to industrial vehicles; boats to agricultural vehicles. With approximately 20,000 employees, 15 plants and 10 research centres in seven different countries, this sector is one of the most significant enterprises in the power unit field anywhere in the world. Within FPT – Fiat Powertrain Technologies, approximately 3000 highly specialized engineers are engaged in the development and engineering of innovative technologies. More than 40 patents filed each year confirm the quality and seriousness of this undertaking, making FPT – Fiat Powertrain Technologies a great centre of technological excellence and continual innovation.

Innovative, environmentally-friendly engines

120 bhp 1.6 Multijet

The Lancia Delta is fitted with the new 1.6 Multijet, 16 valve engine, or latest generation turbo diesel engine with Multijet, multi valve technology that confirms the technological excellence of the Fiat group in the field of diesel engine design and development.

The lively 1.6 l engine, available in a 120 bhp version, complements the range of power unit produced by FPT - Fiat Powertrain Technologies that includes 1.3, 1.9 and 2.4 litre capacities. In particular, the new engine ideally combines the winning attributes of Multijet turbodiesel engines with tax breaks and other advantages deriving from the downsizing design philosophy. This engine is therefore the ideal solution for those who seek an effective l compromise between respect for the environment and low running costs without relinquishing power and flexibility for authentic driving satisfaction.

In detail, the 1.6 Multijet improves on performance, comfort, emissions – it is Euro 5 Ready – and running costs compared to the tried and tested 1.9 Multijet 120 bhp unit – it is Euro 5 Ready – while also offering considerable benefits: For the same power output, the engine offers nearly 25% more torque (300 Nm at 1500 rpm) and 8% less fuel consumption (measured over a Nedc cycle). All this with considerably improved driving satisfaction, due above all to respectable torque values are low speeds. These aims have been achieved through a comprehensive optimisation of combustion that exploits the potential of the engine's new injectors to the full.

The 1.6 Multijet offers exceptional torque delivery in absolute terms, which is all the more impressive when one considers the cylinder capacity: a torque of 300 Nm makes this engine a performance leader amongst power units with capacities less than or equal to 1.8 litres If within consider specific torque (i.e. divided by cylinder capacity) the 1.6 is the highest performing engine in its category up to power outputs of 200 bhp, with the sole exception of supersport power units. And more. If we take into account that the maximum torque is delivered at just 1500 rpm, we are able to immediately appreciate the extent to which the 1.6 Multijet represents a revolution compared to present-day diesel engines: No other the engine, however recent, can offer such a high torque delivery at such a low RPM. All things considered, the new 1.6 Multijet offers exhilarating driving satisfaction that is difficult to match. This achievement is also borne out by the acceleration values (from 0 to 100 km/h in just 10.7 seconds) and the top speed (194 km/h).

Combining the new injection system with new-generation variable geometry turbo engines also complete an absolutely outstanding technological picture. In the same way, the 120 bhp 1.6 incorporates the most advanced exhaust gas treatment technologies, namely a Close Coupled Diesel Particulate Filter and an integral EGR (Exhaust Gas Recirculation) system that improves control of temperature and gas flow, simultaneously guaranteeing lower emissions and reduce fuel consumption. This set of solutions ensures the power unit is Euro5-ready well ahead of the date on which the regulation enters into force: This is the best example of the great commitments made throughout the Fiat group to ensure environmentally-friendly mobility.

The 120 bhp 1.6 Multijet engineers combined with a six-speed Manual gearbox that, ensures lower RPM particularly at highway on motorway speeds, with the twofold advantage of less noise in the passenger compartment and a reduction in true fuel consumption.. A six-speed robotised gear box will also shortly be available that responds to the growing need for automatically controlled gearboxes for increased driving comfort particularly over an urban cycle while also guaranteeing a further improvement in fuel consumption compared to the manual gear box.

A Lancia Delta with the new 1.6 Multijet engine or does not need its first service until 35,000 km, with a reduction of 25% of the costs of ordinary maintenance (calculated for the distances of 90.000 km or 100.000 km, that are most common for long-term hire contracts ).

120 and 150 bhp 1.4 turbojet

The Lancia Delta offers its customers new 1.4 litre turbocharged Turbo Jet petrol engines that are distinguished by their performance, alacrity of throttle response, low fuel consumption, simple construction, sturdiness and reliability.
The new 1.4 16v turbo is available as two alternatives: the first is more sporty with 110 kW (150 bhp) of maximum power achieved at 5500 rpm while the second is more of a touring car, developing 88 kW (120 bhp) at 5000 rpm. Both offer a maximum torque of 206 Nm (the 110 kW at 2250 rpm and the 90 kW at 1750 rpm). Driving flexibility is therefore high, with reduced use of the gearbox for a satisfying, relaxed drive, though all you have to do to achieve a more beefy response is to press you foot on the throttle. This is aided by the low inertia of the turbocharger that makes it possible to obtain maximum performance from a throttle command, without the annoying lag typical of this type of engine. All this sportiness also comes with very frugal fuel consumption.

The engine is also very reliable, guaranteed by the hundreds of thousands of kilometres covered by the prototypes during the development stage, combined with thousands of hours on static and dynamic test rigs. The scheduled maintenance interval is 30,000 km, without any need for an intermediate service. The oil/water heat exchanger guarantees these results The oil filter is environmentally friendly.

A computerised engine control system manages all functions by means of sophisticated mathematical algorithms. The throttle control is drive-by-wire without any mechanical connection so that the driver can obtain the desired response from the engine, i.e. smooth or sporting, always with the greatest energy efficiency

It should also be remembered that the 1.4 Turbo Jet family applies the downsizing philosophy: the adoption of a new-generation turbocharger, combined with a smaller capacity engine, allows us to achieve performance levels that are comparable to or even better than higher-capacity power units, but with lower fuel consumption and emissions. And more: The presence of the turbo significantly increases the maximum torque, making is available at a lower RPM, but the results of offering greater flexibility and an unrivalled response compared to conventional aspirated engines. All this comes with an essential construction simplicity that benefits the strength and reliability.

165 bhp 2.0 Multijet (Euro 5)

The new 2.0 165 bhp MultiJet constitutes a natural evolution of the 1.9 Multijet from the viewpoint of performance (with an increasing torque and power) and also of emissions (compliance with the limits imposed by the Euro 5 directive due to enter into force in one year). In detail, the increase in cylinder capacity was achieved by increasing the bore from 82 mm to 83 mm. The solution, combined with a new variable geometry turbo, means that this engine will take up a position at the top of the market. All this comes with very frugal fuel consumption: over a combined cycle the car uses just 5.3 l/100 km.

The compression ratio has also dropped from 17,5:1 to 16,5:1 (in this way it's been possible to obtain a consistent decrease in Nox levels) while, compared to the 1.9 Multijet, the new power unit uses a new type of low voltage spark plug that allows starts-ups with minimum pre-heating times.
Last but not least, compliance with Euro 5 is guaranteed by the use of a close-coupled DPF (CCDPF) and an advanced exhaust gas recirculation system (EGR) with all subcomponents packed into one small element (EGR module).

190 bhp 1.9 Twin Turbo MultiJet (Euro 5)

This new power unit, derived from the 1.9 Multijet, offers significant new technical and performance features. The first distinctive feature of the 1.9 Twin Turbo MultiJet is its adoption of two turbochargers: One compact, low inertia unit to ensure a prompt and vigorous response from lower speeds, and one larger one to provide a very high power output. The solution allows record-breaking performance, as evidenced by a maximum power of 190 bhp and a maximum torque of 400 Nm at 2000 rpm. It should be noted that the high torque delivery (approximately 100 bhp/litre) is a value so far reserved for out-and-out sporty petrol engines. An even more interesting statistic is the availability of no less than 300 Nm of torque at just 1250 rpm: this translates into an extremely ready response to any demand from the customer and allows a truly gratifying drive in all situations.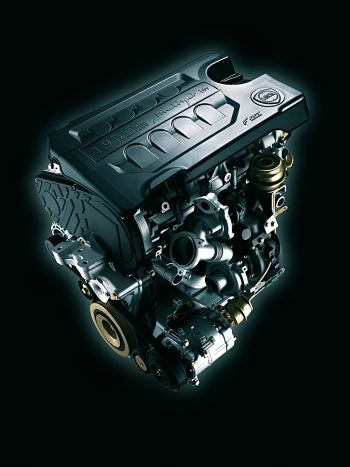 This extraordinary performance comes courtesy of a twin turbine system - hence the name Twin Turbo - that allows a powerful turbine (designed for high speeds) to be combined with a smaller turbine that allows an immediate by the response and delivery of torque without annoying and detrimental turbo lag Due to continuous control of both turbines, the 1.9 Twin Turbo Multijet is therefore able to deliver a very high performance and at the same time give customers the perception that the engine is always in traction and completely free of turbo lag

The operating strategies of both turbines are given below:
- below 1800 exhaust gases operate only the small turbine that ensures a prompt response and sufficient power for low rpm levels. The larger turbine turns at its minimum operating speed and does not hinder the passage of gases
- Between 1800 and 3000 rpm, based on the operating conditions and the drivers demands, the large turbine begins to work, compressing the air that then passes through the small turbine that guarantees an appropriate turbocharging pressure and a rapid response
- Above 3000 rpm, the smaller turbine is
excluded because the larger turbine is in optimum working conditions and is able to express all its power: In this case the air is compressed only by this turbine and maximum performance is achieved

200 bhp 1.8 Twin Turbo Jet (Euro 5)

The Lancia Delta range will be completed by a powerful 200 bhp 1.8 Di Turbo Jet engine combined with an automatic 6-speed transmission. To guarantee high power, considerable flexibility and sparkling delivery, the new power unit introduces direct injection of petrol and turbocharging by means of a turbo charger and twin variable valve timing on the exhaust and intake. The combination of these different technological solutions offers the customer considerable advantages, for example direct injection makes it possible to achieve lower fuel consumption in relation to the performance delivered by the power unit. The turbocharging also allows rapid pick-are due to a particularly favourable torque curve. The adoption of a twin variable valve timing system makes it possible to recirculate gases internally, making it possible to achieve Euro 5 emission limits.

It should be emphasized that the combination with an automatic six-speed transmission further enhances the Lancia Delta's qualities of flexibility and fast pick-up making the car a very smooth drive in accordance with customers' tastes and making it possible to adapt to both a comfortable and a sporty driving mode.

Slick, reliable gearboxes

It will come as no surprise to learn that a model as innovative as the Lancia Delta also comes with state-of-the-art gearboxes. The gearbox, after all, is crucial in determining driving satisfaction and comfort. The new vehicle adopts three versions (manual, robotised and automatic), all with six-speeds.

The detailed gearbox-emption matches are shown below:
- M32: manual, 6-speed for the 120 bhp and 150 bhp 1.4 T- Jet units
- C530: manual, 6-speed for the 1.6 Multijet 16v engine
- M32: Robotised, 6-speed for the 1.6 Multijet 16v engine (available shortly)

The M32 and C530 gearboxes share a dual cable external mechanism that ensures slick manoeuvres and noiselessness without transmitting mechanical vibrations through the linkage. The details: The new-generation external linkage is technologically advanced due to the extensive use of high-performance technopolymers used to guarantee the various qualities of strength, weight and self-lubricating capability. Bench testing under extreme weather conditions also guided the development of materials, couplings and processes to ensure product toughness and reliability. The new linkage was also designed to ensure system and performance characteristics of maximum comfort and manoeuvrability. To achieve greater comfort through maximum mechanical filtering action, a new distribution pattern was adopted for a inertia mass distribution that is strongly shifted toward the gearbox.

The quality and reliability of these components is also guaranteed by the great care taken at the assembly stage, when each component is pre-tested and electronic measurements are carried out on the parameters that define efficiency, flexibility and clearance.

M32, six-speed gearbox for the 120 bhp and 150 bhp 1.4 T- Jet units

Increased acoustic comfort, lower shift effort even when cold and greater gear engagement precision. These are the benefits offered to the motorist by the M32 gearbox (transverse configuration with two shafts in a cascade and differential) that underwent improvements to the following parts before fitting to the Lancia Delta: gears, synchronisers, lubrication, inner gear linkage and clutch control.

Available with six speeds for the 1.4 petrol family, the device adopts a gear linkage that features a selection travel limiter to safeguard more effectively against involuntary engagement of reverse and increase fifth and sixth gear engagement precision.

The gearbox offers the following noteworthy technical features: the gear casing and clutch casing have been optimised in terms of lightness and noise absorption though FEM (Finite Element Method) computing techniques. The first and second gears, i.e. those most commonly used by motorists, come with dual cone synchronisers that require 40% lower engagement effort than a conventional single-cone type. The internal gear control system is on four selection planes with a central positioned and runs on bearings. Lubrication is dynamic, with oil flows channelled through holes in the casings. The advantages include: lower wear and higher efficiency during torque transmission and low temperature manoeuvrability.

M32, robotised 6-speed gearbox for the 120 bhp 1.6 Multijet unit

A six-speed robotised gearbox – known as a 'SELECTRONIC' will also shortly be available that responds to the growing need for automatically controlled gearboxes for increased driving comfort particularly over an urban cycle while also guaranteeing a further improvement in fuel consumption compared to the manual gearbox.

C530 6-speed gearbox for the 120 bhp 1.6 Multijet unit

The 1.6 Multijet engineers combined with a C530 gearbox (6-speed manual gearbox) that, ensures lower RPM particularly at highway on motorway speeds, with the twofold advantage of less noise in the passenger compartment and a reduction in true fuel consumption.. In detail, the C530 gear box is remarkable for its configuration with two shafts in a cascade formation with a differential and for its slick silent shifting. Baulk-ring Borg-Warner type synchronisers are also fitted to all forward speeds and reverse is also synchronised. On the first and second speed, the synchroniser is also triple cone. On the third, fourth, fifth and sixth speed, the synchroniser is single cone. The gear linkage also features a syringe to has on D passenger compartment lever knob two inhibits involuntary engagement of reverse and the dealing kitsch is operated by a metallic double Bowden cable system with anti-noise devices. The clutch control is also hydraulic to reduce operating efforts, while lubrication is carried out dynamically, to ensure less wear and improved torque transmission performance and manoeuvrability even at low temperatures.

Two new gear boxes in the coming months

To coincide with the introduction of new Lancia Delta engines, the following gearboxes will be available after the launch:
-F40: Manual, 6-speed for the 190 bhp 1.9 Twin Turbo Multijet (Euro 5) and 165 bhp 2.0 Multijet (Euro 5)
- Aisin: 6-speed, sequential, automatic for the 200 bhp Di Turbo Jet (Euro 5)

This particular gearbox offers the distinctive feature of being a compact, light gear box that has been designed with particular attention to reducing fuel consumption: On the one hand, the use of low friction oil has made it possible to increase efficiency while on the other hand the sixth speed has been calculated to ensure it is particularly effective for motorway driving.

Sophisticated management software makes it possible to identify the various road conditions and adapt handling by means of the following functions braking assist, radio recognition, cornering, desire for a sporty drive or comfort. Driving satisfaction has also been further emphasized by the option of choosing 'Winter' 'Norm' and Sport' in automatic mode in addition to Manual mode (TIP).