---
---
1st March 2002: Ferrari close to unveiling F60 prototype
Ferrari are close to releasing a range topping succesor to the F50. To be fitted with a 6-litre V12 producing in excess of 600 bhp; double wishbone suspension allround, a carbon fibre chassis structure, six ( or possibly seven ) speed sequential F1-derived gearbox with steering wheel paddles. Most likely to appear in Coupe format initially with a Spider version to follow.

see the Ferrari F60 prototype caught testing around Maranello
---
26th February 2002: first official photos & details of new Fiat/Lancia MPV's released
First photos & technical details of the new generation MPVs released. The Fiat Ulysse replaces the existing model introduced in 1994, while the Lancia Phedra, based on the same floorpan & mechanicals is aimed at the upmarket segment of the MPV market with its high comfort standard & equipment levels. Both come with choices of 2.0 & 3.0 V6 engines & common rail diesels. Safety has been enchanced while both feature a number of technological innovations including the CONNECT system. Both models will make their debut at the forthcoming Geneva Motor Show and are products of the continuing Fiat/Lancia joint venture with Peugeot/Citroen.
Fiat Ulysse
for full details, photographs & technical specification of the Fiat Ulysse
Lancia Phedra
for full details, photographs & technical specification of the Lancia Phedra
---
22nd February 2002: Fiat Avio wins contract to supply engines for new Italian navy aircraft carrier
The Government programmes business department of FiatAvio Ė Fiat Groupís aerospace division Ė has won contract worth 40 million Euros with Fincantieriís military construction department in Italy.
The agreement covers the supply, installation and maintenance of four LM2300 engines for the new Andrea Doria aircraft carrier, the biggest vessel used by the Italian Navy at 235m long and 36m wide.
The engines will give the aircraft carrier 90Kw of power. The first engines will be delivered in 2003 and the Andrea Doria will enter into service before the end of 2007.
FiatAvio support staff will look after the engines during this time. Each engine has a General Electric/FiatAvio turbine and FiatAvio control unit and auxiliary systems.
---
20th February 2002: Fiat Auto and GM Europe to develope common vehicle components
Fiat Auto SpA and General Motors Europe are to set up a joint project centre for developing specific common components and systems to engineer respective future small vehicle entries. The joint development effort is focussed on components and technology that will not impact the brand specificity of the respective future vehicles.
It will allow the companies to realise significant efficiencies.
The output of this joint effort will eventually be used by the individual Fiat Auto and Opel engineering centres as a starting basis to engineer distinctive vehicles unique to each brand. For this up front common component development effort, a dedicated joint project centre is currently being established in Turin, Italy.
The centre will be headed by Ulrich Schmalohr, currently Opelís Chief Engineer for small cars, while Giorgio Cornacchia of Fiat Auto will assume responsibility as Chief Engineer in the new joint development team.
In total, around 100 engineers and other personnel coming from both companies will work at the site.
This is another step of the Fiat and General Motors, strategic industrial alliance originally formed in March 2000, which was aimed at achieving significant synergies in various areas such as purchasing, powertrain and financial services, but has already gone much further than originally anticipated. As part of this ongoing joint effort, other co-operative activities have been developing rapidly, such as the establishment of a project centre at Saab in Gothenburg, Sweden, for developing common components and systems for future premium cars.
---
19th February 2002: Fiat Auto organizational restructuring announced
Fiat Auto announce that the business will undergo restructuring and be divided into four companies: Fiat/Lancia/Light Commercials, Alfa Romeo, International Developement and Services. The divisions will see major internal restructuring and substantial job losses are expected.
The main interest involves the dissolution of Alfa/Lancia which have operated as single company since Fiat bought Alfa Romeo in 1986. Lancia has been absorbed into Fiat while Alfa Romeo stands along. Rumour speculates that this could either be to allow the eventual sale of Alfa Romeo to General Motors or that it could pave the way for Fiat & Lancia to be sold to GM while a Ferrari/Maserati/Alfa Romeo grouping is formed.
read the complete press release
---
18th February 2002: Fiat and Peugeot Citroen extend light commercial vehicle joint venture
Fiat Auto and Peugeot Citroen announce the extension of their joint light commercial vehicle venture until 2017. The venture has been on going since 1978 and has seen 3.5 million vehicles produced at the two factories involved in the program.
read the complete press release
---
14th February 2002: Ferrari unveil revised 550 Maranello, the 575M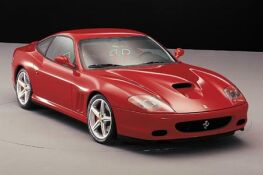 The 575M, is the mid-life facelift of the F550 Maranello which made its debut in 1996. The engine is described by the new numerical code, 575, as this is an abbreviated indication of its capacity, increased from 5500 to 5750 cc, resulting in an increase in both power and torque. The letter M, an abbreviation of "modified," underlines the fact that changes have been wrought to all areas of the modelís performance. Key amongst these, apart from the engine is the introduction of an F1 type gearbox, first time on a 12 cylinder Ferrari road car.

for full details and technical specification of the Ferrari 575M
---
6th February 2002: rumoured new Alfas
It is reported that the Bertone-designed Alfa 147 Sprint, a coupe based on the 147 saloon, is going ahead and will be released in mid-2003. Well placed insiders at Alfa Romeo say it is now "certain" to reach production, most probably being built by Bertone. It is also rumoured that the next Spider/GTV will see the light in 2005, while an offroad 4x4 vehicle is in the pipleline for 2004 and a 166 based coupe the year after. The large off road vehicle will fall into the "Sports Utility" category which is a growing sector at present, competing with recent offerings from BMW, Porsche and Volvo while the large 166-based coupe will be Alfa Romeo's first foray into this sector since the mid-1970's Montreal.

further detail
---
3rd February 2002: unofficial photos of new Lancia Phedra
The Phedra, replacement for the Zeta, breaks cover. It is a continuation of the Italian/French joint venture and a Fiat badged version is expected shortly.

---
28th January 2002: facelifted Alfa Romeo 156 range launched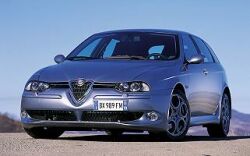 The facelifted 156 has finally been released, alongside the final details of the new GTA version. Externally the normal version has hardly changed. The GTA has received a more aggressive look with wider wheel arches, new front and rear bumpers and other details. The most significant change is the adoption of a new direct injection 2-litre engine known as the JTS (or Jet Thrust Stoichiometric) with an improved power output of 165bhp @ 6,400rpm. The addition of the injector has resulted in the loss of one spark-plug, Twin-Spark engines remaining only in 1.6 and 1.8-litre form. The 2.4 JTD also gains 10bhp to take it up to 150bhp.
The most noticeable difference for customers is the redesigned dashboard, the main changes being a new material and the addition of a multi-function display for the computer and navigation system. Other changes include the addition of VDC and MSR (electronic stability and braking aids), window airbags, dual-zone climate control system and an Air Quality Sensor.
for full details and technical specifications of all models in the new 156 range, including the GTA versions
---
18th January 2002: revised Fiat Ducato van unveiled

| | |
| --- | --- |
| | Fiat unveil a revised Ducato van: immediately distinguishable by its restyled front end, including bumpers and headlamps. It also boasts a new cabin including new facia, seats, instruments and steering wheel. The Ducato now has passenger side air bag as well as a stiffened chassis and rear disc brakes on performance versions. The Ducato now with a six engine range includes optional extras such as a optical overtaking scanning sensor, TV camera at rear for manoevering and corner parking sensors, cruise control and CONNECT, the Fiat infotelematic system. |
---
5th January 2002: impressions of the next generation Lancia Y
| | | |
| --- | --- | --- |
| | | Artist's impressions of the new Lancia Y, due for release at the end of next year. These images are based on the current Lancia "family" styling. |
---
news archive: 2001: next 8 articles:

---
---