news
07.03.2003 PAGANI OFFER ROADSTER VERSION OF ZONDA C12S IN GENEVA
---
Pagani, manufacturer of the Zonda C12 S, unveiled a attractive new model, the Zonda Roadster, in the Geneva earlier this week. To be produced in a limited edition of 40 completely made-to-measure cars, the all-carbon fibre Zonda Roadster features a unique removable composite roof as well as a redesigned engine cover. A single bright yellow Roaster was joined on the Pagani stand by a metallic grey closed top Zonda C12 S 7.3.

The Italian marque claim the new carbon fibre central chassis structure reaches the highest structural rigidity level available in the segment, 18.000 Nm/mm in torsional rigidity, 9.000 Nm/mm in flexional rigidity, for a dry weight of 1280 Kg, while the roll bar, elliptical in section, is built out of carbon and chrome-molybdene alloy.

The 7.3-litre Mercedes Benz AMG engine borrowed from the C12 S offers its 555HP and 750Nm power through the ABS/Traction Control safety systems already used in the Zonda S. The forged aluminium wheels are shod with 255/35/19 and 345/35/19 front and rear tyres respecitively and have been specially developed for the Zonda by Michelin.
---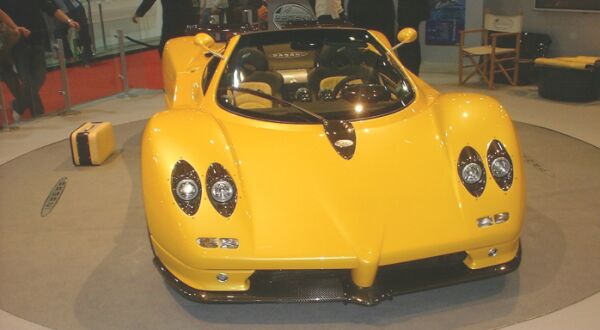 ---
---
---
---
---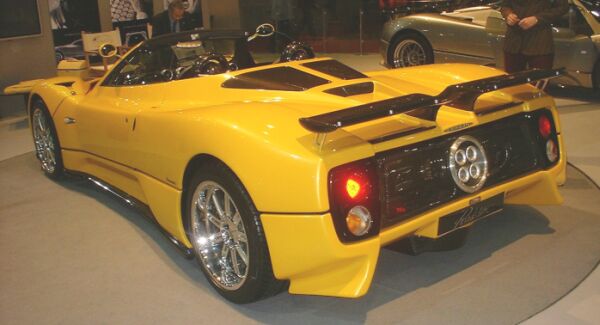 ---
---
---
> PAGANI ZONDA C12 S
Alongside the brand new Zonda Roadster was displayed the closed top Pagani Zonda Roadster C12 S 7.3. Powered by an AMG-tuned Mercedes-Benz 7.3-litre V12 producing 555bhp, the Zonda C12 S 7.3 was introduced in Geneva last year.
---
---
---
---