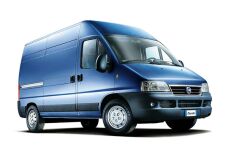 Giancarlo Boschetti and Jean-Martin Folz, Chief Executive Officer of Fiat Auto and Chairman of PSA Peugeot Citroën respectively, have signed an agreement which extends their joint development and manufacturing of new LCV's until 2017. Fiat and PSA began LCV cooperation in 1978 and this agreement details future product concepts and industrialization plan for two complete LCV's range, and also establishes economic and industrial objectives.

Two new products, whose launch is scheduled in 2006, will be manufactured at Sevel plant in Val di Sangro (South of Italy), and at Sevel facility in Valenciennes (France) respectively. In the former the replacements of current Fiat Ducato, Peugeot Boxer, and Citroen Jumper will be manufactured, while the latter will host the production of current Fiat Scudo, Peugeot Expert, Citroen Jumpy.

The two companies plan to invest a total of around 1.7 billion euro of which more than 1 billion will be allocated to the project which will be launched in the Italian plant in Val di Sangro, whose annual production level is planned to be some 260,000 units. At the Valenciennes facility, around 130,000 units/year are forecasted to be produced.