INTRODUCTION

The New Fiat Ducato is due to go on sale from June. It will be the heir to a model that has reaped international acclaim and sales success for twenty five years: the 1.7 million or more vehicles sold throughout the world since 1981 tell their own story. It is now the New Ducato's turn to take up the baton and show that it is still at the top of its game. The new Fiat light commercial vehicle offers a distinctive cutting-edge look; it ensures top level comfort and performance; it offers an even greater wealth of telematic and safety equipment - and it ensures low running costs. Not to mention the fact that load compartment access, productivity and payload have all been improved. Altogether, the New Fiat Ducato has been 'designed by business' since it effectively meets all trade transport and leisure needs.

Clever, practical style

The New Ducato, designed by the Fiat Style Centre, is distinctive for its original shape and well-balanced volumes. The new commercial vehicle's design, inspired by the piercing, aerodynamic lines of high-speed trains, immediately conjures up an impression of dynamism, strength and distinctive personality. And more. The New Ducato's design is clever as well because, though function is treated as a priority (as is natural for a light commercial vehicle), its looks have not been overlooked in the least. For example, the bumper is divided into three parts in order to ensure lower repair/replacement costs in the event of an accident and thus lower insurance costs in certain countries. The windscreen pillar rake also offers one of the best drag coefficients in its category (0.31) while sharp, squared-off lines contribute to a more linear load compartment with greater load volume.

Inside, the vehicle offers linear, elegant styling featuring new colours, fabrics and seat, dashboard and door panel designs according to the version. The passenger compartment also boasts a well-lit interior and excellent visibility, achieved by oceans of glass that optimise working conditions by ensuring the greatest comfort. And more: the new dashboard is designed to ensure excellent practicality and stylish shapes, all within easy reach of the hand or eyes, to make driving easier and reduce the number of distractions to the driver. Altogether, the New Ducato offers a modular, uniform and essential passenger compartment that prioritises practicality and well being and creates a sensation of great safety.

Higher load capacity and reduced running costs

Light commercial vehicle customers have always focused their attention on the practical and the rational: such as load capacity and running costs. The new Ducato meets these needs through an increase in size (greater volume) and also in load capacity (GVW and payload): versions are now available with GVWs up to 4 tonnes and a payload of up to 2 tonnes. Plus vans with effective volumes up to 17 m3 and interior length in excess of 4 metres. Not to mention the fact that the New Ducato is built to ensure that goods loading and unloading operations can be carried out with greater ease: this is partly due to the reduced load platform ground clearance, which has been cut from the previous figure of 56 centimetres to 53 cm.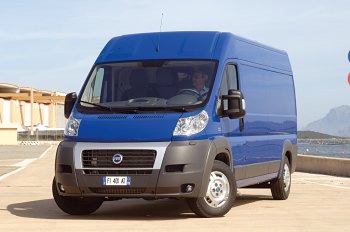 The new Fiat light commercial vehicle is also outstanding for its reduced running costs: achievements include a significant reduction in fuel consumption (up to 16% less than the current Ducato); an increase in service intervals (up to 45,000 km) and a significant reduction in repair costs.

Flexible and powerful engines

Customers who use the New Ducato as a working tool will prioritise reliability, low fuel consumption and reduced running costs but also driving flexibility and great torque available from low speeds for a responsive, satisfying drive even in town traffic. For this reason, the new model differs from the previous version in offering three state-of-the-art Common Rail direct injection 16 valve turbo diesel engines (multipoint injection): 100 bhp, 2.2 Multijet, 120 and 130 bhp 2.3 Multijet (the latter is used only for the Camping Car sector) and a 157 bhp 3.0 Multijet unit. All the engines are gentle on the environment (they meet Euro 4 requirements) and are combined with new 5 or 6 speed gearboxes. They offer greater power, improved flexibility and, above all, a higher torque (from 250 to 400 Nm) at low rpm: for customers this means lively take-off and pick-up, great driving satisfaction, optimum comfort but above all reduced fuel consumption.

Maximum safety

Safe driving: this, in a nutshell, is the concept followed by designers throughout the development of the New Fiat Ducato. The aim was to ensure maximum practicality and quality as far as preventive, active and passive safety are concerned. The improvements carried out set the new model at the peak of its category. Examples include a body with differential crumple zones, new braking systems with 4 disc brakes, the adoption of ABS with EBD and a driver's airbag throughout the entire range. According to the market and the specific version, ASR and ESP, curtain bags, sidebags and front passenger airbags are available as standard or optional equipment in addition to devices designed for protection against vehicle and load theft.

Driving comfort and onboard wellbeing

The new model confirms that the greatest attention has been paid to factors linked with ergonomics and also acoustic, climatic and vibrational comfort. Onboard wellbeing is of paramount importance to the user of a commercial vehicle who spends long hours at the wheel under often demanding conditions. For this reason, the passenger compartment has been designed as a welcoming, well-lit, comfortable and noiseless mobile office with a car-type driving position for ideal mental and physical conditions on the road. Plenty of space is also available (drawers, compartments and shelves) for possessions (PC, road maps and mobile phones). Onboard comfort is also enhanced by self-levelling suspension systems and infotelematic equipment including the sophisticated Blue&Me, an innovative Windows Mobile based system created as a result of a joint venture between Fiat Auto and Microsoft, which allows you to make/receive phone calls and listen to music while driving in a simple, safe manner. Through the use of Bluetooth® technology, it also allows you to communicate from the vehicle with the outside world through your own personal devices such as mobile phones and hand-held computers. The New Ducato may also be fitted with a TV camera for rear visibility and parking sensors that help you to manoeuvre into tight spaces, plus cruise control.

The most versatile range in its segment

The New Ducato maintains the tried and tested mechanical layout of its predecessors (front wheel drive and transverse engines) and offers a very diverse range including:
• Goods transport versions, people carrying versions and bases for conversions and bodybuilders
• 2 mechanical structures: 15" and 16" wheels and tyres
• Gross Vehicle Weights from 3 to 4 tonnes
• Payloads from 1000 to 2000 kg
• 3 wheelbases, 4 lengths and 3 heights for Van versions
• 7 load compartment volumes from 8 to 17 m3
• 4 wheelbases and 5 lengths for the chassis range
• 3 engines and 4 power levels
• 12 exterior colours and 120 special shades