news: touring cars
---
---
---
10th June 2002: Full grids for growing diesel-powered Alfa 147 Cup
| | | |
| --- | --- | --- |
| | | The German Alfa Romeo importer is running an Alfa 147 Cup this year, for 147s powered by the 1.9JTD diesel unit. This series, with all the cars prepared by respected German tuner, Holzer Motorsport, is proving popular and has supported a number of major races so far this year. |
---
2nd June 2002: FIA European Touring Car Championship, Rounds 7 & 8, Jarama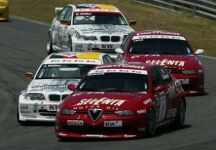 Rounds 7 & 8 of the FIA European Touring Car Championship at Jarama, Spain track saw Fabrizio Giovanardi and Nicola Larini utterly dominate the event, claiming a win and a second place each to extend the Alfa drivers championship lead over the rest of the field.

Nicola Larini won the second race from Fabrizio Giovanardi, the superior power of the Alfas crushing the BMWs, and early race leader Paolo Ruberti in the AGS Alfa 156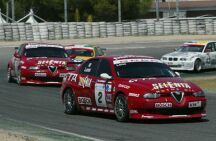 Giovanardi, starting from pole position easily won the opening race, edging out team mate Nicola Larini in the other Nordauto car. Paolo Ruberti in the privately entered Alfa 156 came home fifth to score two points.
---
1st June 2002: Alfa front row lock out at Jarama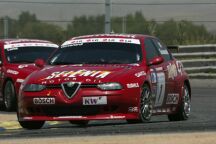 Qualifying for round 7 of the European Touring Car Championship at the saw the Nordauto drivers Nicola Larini and Fabrizio Giovanardi evently matched, with Championship leader Giovanardi eventually edging pole position and the two Alfa drivers finishing the session half a second clear of the BMWs of Dirk and Jorg Muller.
---
19th May 2002: FIA European Touring Car Championship, Rounds 5 & 6, Brno
Rounds 5 & 6 of the FIA European Touring Car Championship at the Czech Brno track saw Fabrizio Giovanardi sweep up two more wins to extend his championship lead, but he was pressed all the way by the rapidly improving BMWs and Volvos.
Giovanardi rounded off a clean sweep at Brno, winning the second race ahead of Dirk Muller again, with team mate Larini third once again bringing his understeering car home third.
Fabrizio Giovanardi won a frantic opening race with Dirk Muller's BMW second ahead of Nicola Larini and Luis Villamil picking up his first point of the season in the Bigazzi Alfa 156 in sixth place
---
16th May 2002: British Touring Car Championship, Rounds 3 & 4, Thruxton
Gary Ayles Motorsport arrived at Thruxton for the bank holiday touring car race with a third production car class Alfa 156 for Gavin Pyper to drive alongside regulars Alan Blencowe and Graham Saunders. The Sprint race saw only Graham Saunders make it to the flag, 7th in class and 22nd overall. The feature race however saw Alan Blencowe make an excellent start, jumping up to second in class behind James Kaye's Honda Civic, a position he would hold to the finish as well as claiming 13th overall. Two places in the production class back and 15th overall came Graham Saunders, while Gavin Pyper retired his Alfa 156 again.
---
5th May 2002: FIA European Touring Car Championship, Rounds 3 & 4, Silverstone
Rounds 3 & 4 of the FIA European Touring Car Championship saw the Alfa's sweep up the top positions again, but only after stiffer competition from Rickard Rydell's Volvo and the BMWs of Jorg and Dirk Muller were disposed of.
Honours were reverse in a frantic second race, with the poorly starting Alfa's eventually passing early leader Dirk Muller's BMW and Rykard Rydell's very competitive Volvo to cross the line with Larini following team mate Giovanardi home.
Nicola Larini took a rather fortunate win in the opening race, seizing his opporunity on the last lap after race leader Fabrizio Giovanardi made a suprising mistake, Larini leapfrogging from third to snatch the win.
---
4th May 2002: Alfa front row at Silvertone for ETC race
Qualifying for rounds 3 and 4 of the European Touring Car Championship at a cold and wet Silverstone, saw Fabrizio Giovanardi edge out team mate Nicola Larini to claim his second consecutive pole position. The long, fast straights suited the powerful Alfa's which were the class of the field, but Rickard Rydell's improving Volvo S60 was a threatening third on the grid.
---
28th April 2002: Tom Ferrier's ETC campaign to be backed by Alfa Romeo UK
Tin Top rising star, Tom Ferrier, is to have his 2002 FIA European Touring Car campaign backed by Alfa Romeo UK. His DART Racing run Alfa Romeo 156GTA will receive works assistance and the car will carry large union jack insignia. After running uncompetitive Alfa's in last years British Touring Car Championship, he made a promising step up to the ETC for the opening round last weekend, after an excellent qualification session his races ended in early retirements.

Tom, at 20 years old, the youngest driver in this years ETCC will become only the second Alfa Romeo works driver to compete at Silverstone in 50 years when the touring cars hit the circuit next weekend.
---
20th April 2002: Alfa's dominate opening European Touring Car Championship race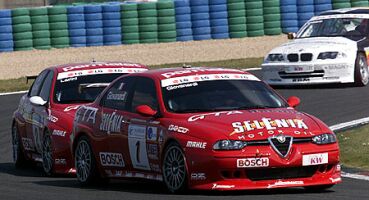 The first round of this years European Touring Car Championship saw Alfa Romeo resume where they had left off, with reigning champion Fabrizio Giovanardi winning both races from team mate Nicola Larini. Alfa Romeo have been joined this year in the expanding ETC by works teams from BMW and Volvo but the new 156GTA, designed to the new regulations for 2002 was never threatened. Bigazzi, AGS and DART Racing are all running 156's, with Luis Villamil's 7th place in race one being the best of the privateer runners.
---
10th April 2002: European Touring Car Championship contenders pose together
| | |
| --- | --- |
| | The main contenders for this years European Touring Car Championship have posed together for official photographs. Along with the new Nordauto-built 2002 spec Alfa Romeo 156 GTA and the Prodrive Volvo S60, the series debuting BMW 320i was also present. |
---
9th April 2002: British touring car hot shot Tom Ferrier to run in European Touring Cars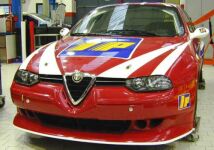 British rising touring car star Tom Ferrier is to compete in this years European Touring Car Championship at the wheel of a 2002-specification DART-Racing run Alfa 156 GTA. DART Racing is an offshoot of JAS Engineering. Last year, running semi-works Honda's on a fraction of the works Alfa's budget in the ETC, JAS with Gabriele Tarquini driving, ran the Alfas down to the last race before Fabrizio Giovanardi clinched the title.

In 2001 Tom Ferrier drove a JSM Alfa 147 in the British Touring Car Championship. Saddled with an uncompetitive car, Ferrier put in a series of good performances and consistently outperformed his more illustrious team mate, Tim Harvey.
---
8th April 2002: more Alfa's to appear in the BTCC
GR Motorsport now expect to debut their Alfa 147 at Thruxton's rounds 4 and 5 in early May with highly rated Gordon Sheddon driving. The former Fiesta racer competed in only one BTCC race last year, making a debut win in the production class.
Meanwhile Gary Ayles Motorsport are negotiating to run last years team leader, Gavin Pyper, in a third Alfa 156 alongside Graham Saunders and Alan Blencoe, probably from Thruxton onwards.

---
7th April 2002: Alfa reveal technical specification of new Alfa 156 GTA ETC contender
| | |
| --- | --- |
| | Alfa have revealed the technical specification of the new 2002 Alfa Romeo 156 GTA European Touring Car contender. It will be powered by a 2.0-litre 4-cyl engine producing 270bhp, with sequential gearshift, and incorporating a major new aerodynamic package. |
---
3rd April 2002: Nordauto Alfa Romeo 156 GTA runs out in 2002 colours
---
1st April 2002: British Touring Car Championship, Round 1
GA Racing turn up to the opening round of the championship with two Production Class Alfa Romeo 156's for Graham Saunders and Alan Blencoe. In qualifying for the first race Graham Saunders was edged out of the production car pole by Mark Fullalove's Peugeot 306 by a tenth of a second lining up second and fifteenth overall with a time of 1:39.197, Blencoe's time of 1:39.391 saw him line up next to him. In qualifying for the main race Blencoe set 7th fastest production time and lined up 20th on the grid, one place ahead of Saunders.
The race was less successfull for the team, both cars retired early on in the Sprint race, however Graham Saunders brought his car how 3rd in class ( 11th overall ) in the feature race, while Alan Blencoe failed to finish again.
---
21st March 2002: GR Motorsport aiming to run Alfa 147 in BTCC
GR Motorsport are aiming to be on the grid at Brands Hatch for the first round of the British Touring Car Championship on 1st April with an Alfa Romeo 147. Former Fiesta racer, Gordon Sheddon, has been linked with the drive.
---
18th March 2002: Dutch Pearle Challenge moves over to Alfa 147 for 2002 series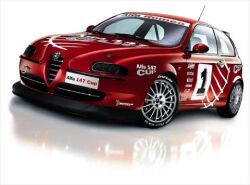 The Pearle Alfa Romeo 156 Challenge, organised by Fiat Auto Holland, has after three successful years with the 156 model moved over to the 147 for this years series. The Alfa 147 used is a purpose built race car, developed by Alfa Romeo competitions department, N-Technology. It features the 2.0-litre 4-cyl 200 bhp engine, a six-speed sequential gearbox, 17in alloy wheels, major use of lightweight materials including adjustable spoilers. Drivers competing this season will include current champion Boy Zentvelt, former Eurosport commentator Allard Kalliff and former Superbike star Cees Doorakkers.
---
4th March 2002: factory Alfa Romeo team testing continues
Alfa Romeo's preparations for the 2002 European Touring Car Championship continue with an extended test at the Italian Vallelunga circuit where gearbox and suspension developements were tested.

---
28th February 2002: Eric Cayrolle to drive second Bigazzi Alfa Romeo
French driver Eric Cayrolle will join Luis Villamil in the European Touring Car Team, Bigazzi, as driver of the teams second Alfa Romeo 156.
---
22nd February 2002: F1-style championship point scoring to be introduced
A points scoring system as used in Formula 1 and World Rallying is to be introduced in the ETC this year for both drivers and manufacturers championships. Under the new system 10 points will be awarded for a win, 6 points for second place, 4 points for third, 3 points for fourth, 2 points for 5th and finally 1 point for sixth.
It is also announced that the Super Production Cup ( for FIA GpN machinery ) which ran as a seperate race series last year will be amalgamated with the main race in 2002. Upgrade kits will be allowed to bring the cars closer to the ETC cars.
Two 50 km races will again be held at each meeting, with a thirty minute break between races. Instead of the reversed grid for race 2 used in 2001, only the first six in race 1 will be reversed for race 2, the remaining runners will start the second race in the positions they finished the first.
The manufacturers have now agreed on the technical rules for 2002. After BMW dug their heels in over the use of sequential gearboxes, the other manufacturers have ceeded on this point.
---
22nd January 2002: Bigazzi team to join ETC with their Alfa Romeo 156's
Italian touring car team Scuderia Bigazzi announce that they will be running a full ETC program. The Alfa Romeo 156's that they ran in the production car series last year will be reused and upgraded to 2002 specification using the factory supplied update kits. Bigazzi hope to retain both of last years drivers also, Luis Villamil will lead the team while it is expected that Tomas Massina will drive the second car, subject to sponsorship arrangements being finalised.
---
Pearle Alfa 147 Challenge high resolution images
---
Archive:
2001
read about the 2001 European Touring Car Championship in which a season long battle between the Alfa Romeo pilots Fabrizio Giovanardi and Nicola Lanini and Honda's Gabrielle Tarquini was resolved at the last race in Giovanardi's favour, while Nordauto took team honours. Also see the Alfa Romeo 147's campaigned in the British Touring Car Championship by JSM Motorsport.
---
---