PANDA ALESSI, AN EXAMPLE OF ITALIAN STYLE

This new Panda version, derived from a concept car that made its debut at the 2004 Paris Motor Show, is now a production model that was created through a joint venture between two brands that are world-renowned for their contribution to the development of Italian industrial design. Fiat and Alessi have created a highly personal formal language that makes their product easily distinguishable amongst the herd of mass-produced products. In this sense, the Panda Alessi is a specific example of how the look of an automotive product can be reworked by a company from outside the sector, drawing on the perennial values of Italian design: innovation, style and personality. The new Fiat Panda version shows how the stylistic interaction between two important sectors of industry can produce surprising results of great impact, when the design work is carried out with total respect for product identity.

The innovative, unmistakable Panda Alessi retains the great personality of the standard model but adds a number of new styling and colour details on the front grille, the door mouldings and the wheelarch trims. The hub caps and rear aerial have also been redesigned. In detail, the Panda Alessi is identifiable by its original hub caps that feature an exclusive design with Alessiís distinctive little man figure, roof bars and white side strips plus a choice of three body colours: Narciso orange, Tagliente green and Cattivo black.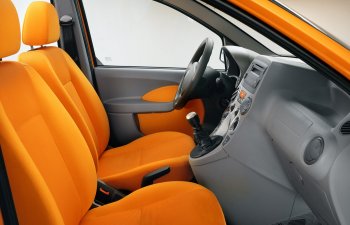 The restyling operation inside the car is more evident: the instrument gauge graphics and the seat fabric and colour (available in orange or green) have also been modified. The fully redesigned tunnel console incorporates an original, round storage compartment (ideal as a CD holder) and a silicone mobile phone holder. The climate control system surround and the gearbox shield are also metallic coloured. Alessi, one of the most famous Italian design brands, has skilfully highlighted the versatility of the car without changing its identity.

The new Alessi version is available with the reliable 1242 cc power unit that is a paragon of thriftiness when it comes to fuel consumption without detracting from performance Ė and offers the following standard equipment: ABS, Dualdrive electric power steering, central locking, double front airbag, foglights and rear head-restraints. And more: climate control system, radio CD, electric door mirrors, height-adjustable driverís seat, rear seat split 50/50, remote control and active handle on the tailgate.

The Panda Alessi is also the first version in the range to offer as standard a Bluetooth handsfree system that ensures the greatest driving safety under all conditions. The system allows customers with Bluetooth mobile phones to use their phones even when in their jacket pockets or handbags. This system automatically lowers the volume of the radio (if turned on) and allows you to hear the person you are speaking to through the stereo speakers: a great safety benefit as well.