Panda Rally for tomorrow's champions

After the resounding success of the first edition, the Fiat Panda Rally Cup 2006 is sticking to the appealing formula that was particularly popular with young drivers. In 2005, the first three places in the final rankings were taken by under-25 drivers who fought over the title to the bitter end. After the 10 races, the winner of the first Fiat Panda Rally Cup was Gianni Barbati from Emilia Romagna with five wins, followed by Diego Fornaciari from Tuscany (3 wins) and Ivan Paire from Piedmont (1 first place).

The Fiat Panda Rally Cup 2006 includes 10 races with the major new attraction that the final race will be held abroad. Cars allowed to race in the Championship include the Group A Kit version of the Fiat Panda 1.2, prepared and managed by Supergara, which will allocate cars to the drivers by means of a ballot before the technical racing trials. This solution was tested last season and ensured that the performance of each team entered was absolutely identical. The motto 'may the best man win' could have been invented for the Fiat Panda Rally Cup.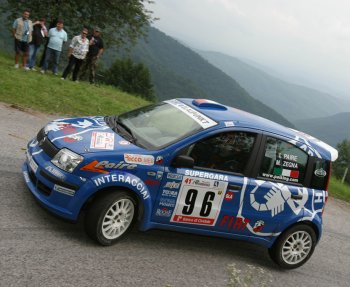 When this agile car is prepared to Group A Kit specifications, it can deliver a mighty power output of 130 bhp at 7800 rpm. This can be exploited to the full by six speeds with frontal engagement, a wide track (60 mm broader), special attitude setting and braking system with four disc brakes (ventilated at the front with diameter of 284 mm and 240 mm at the rear). The performance may have been increased, but the safety factor has not been forgotten and the car can count on the efficacy of a sturdy body reinforced by a roll bar cage.

As an incentive for young people to begin their racing career in the Fiat Panda Rally Cup, a prize money pot of 365,500 Euros has been set aside, plus a Fiat Panda Abarth Kit Car for the overall winner, two Fiat Panda 4x4 Multijet cars for the overall runner-up and the first Under 25, and two Fiat Panda Multijet cars for the third placed overall and the second Under 25. Special women driver and Team rankings complete the Overall and Under 25 rankings.