PANDA 100 HP

The Fiat Panda continues to amaze by introducing a truly sporty version. Its very name, 'Panda 100 HP', tells you this is not just an exterior face-lift. The new car is fitted with a brand new 1.4 16v power unit that develops a power output of 100 bhp at 6000 rpm and a maximum torque of 131 Nm at 4250 rpm. When equipped with this engine, the Panda 100 HP reaches a top speed of 185 km/h accelerates from 0 to 100 km/h in just 9.5 seconds and consumes 6.5 l/100 km over a combined cycle.

This performance, attractive by any standards, will satisfy young customers who continually seek performance but at the same time wish to stand out from the crowd. On the outside, the Panda 100 HP therefore reveals itself to be a car with a true sporty vocation with chrome spoiler and exhaust pipes, special bumpers with a sporty grille and new 15" alloys.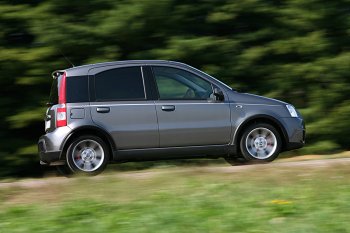 The same aggressive stamp is also evident in the passenger compartment, where customers will appreciate a leather steering wheel, new sporty interiors and a black facia with chrome details. The new Panda 100 HP complements the long list of equipment on the Emotion version, from which it is derived, with a foglight, rear disc brakes, special suspension, 195/45-15" tyres, leather steering wheel, 6-speed manual gearbox, split seats and special exterior add-on kit. Customers can use a Sport key on the facia to select the steering setting and accelerator response to enjoy the sporty drive to the full.

The Panda 100 HP colour range is also made up of five colours: red, black, white, blue and grey (the last two are new). A special 'Pandemonio' pack available at the launch will also accentuate the sportiness of the new version with chrome side stickers (red if the body is white), red brake callipers, door mirrors and 15" alloys with silver treatment, sporty pedals and special interior mats.