Power units with better performance

The New Lancia Ypsilon's attractive, personality-packed looks conceal a diverse range of outstanding high-tech power units that offer generous performance. This includes three petrol engines (60 bhp 1.2 8v, 77 bhp 1.4 8v and 95 bhp 1.4 16v) and two Multijet turbodiesel engines: 75 bhp and 90 bhp 1.3 16v. Each with different qualities, all utilised to the full due to their pairing with 6 speed manual gearboxes (a 1.3 Multijet and a 1.4 unit with 5 speed DFN robotised sequential gearbox) that are remarkable for their generosity and lively temperament and also for their high performance and sophisticated technology. All engines share common traits of great reliability and respect for the environment.

75 and 90 bhp 1.3 Multijet 16v

The New Ypsilon would not be complete without the 1.3 16v Multijet, the smallest, most advanced of the second-generation Common Rail direct injection diesels, now with an extra benefit: a new version with variable geometry turbocharger now makes its first appearance in the Ypsilon range. With the turbocharger, the 1.3 16v Multijet delivers no less than 90 bhp (66 kW at 4000 rpm) of maximum power and a torque of 200 Nm (20.4 kgm at 1750 rpm). And more. The New Ypsilon equipped with the 90 bhp 1.3 Multijet engine ensures excellent performance: the car's top speed is 175 km/h and it takes just 11 seconds to accelerate from 0 to 100 Km/h. Fuel consumption figures are amongst the best in the segment: 5.4 l/100 km over an urban cycle, 3.9 l/100 km over an extraurban cycle and 4.5 l/100 km over mixed routes.

Apart from its different turbocharging system (the 75 bhp 1.3 Multijet is turbocharged by a fixed geometry turbocharger), the new power unit features further changes. The combustion system has been changed to increase the permeability of the intake and exhaust ducts, reducing combustion chamber swirl and altering the geometry and compression ratio from 18:1 to 17.6:1. The emission control system includes an electrically operated EGR valve managed directly by the engine control system, an exchanger to cool recirculated exhaust gases (EGR) and a close coupled catalytic converter. This allows guaranteed compliance with STAGE 4 EEC emission limits.

The 1.3 Multijet also ensures excellent performance with a power output of 75 bhp (55 kW at 4000 rpm) and a torque of 190 Nm (19.4 kgm at 1750 rpm). Thus equipped, the New Ypsilon reaches a top speed of 167 km/h, accelerates from 0 to 100 km/h in 14.5 seconds and returns one of the best fuel consumptions in its segment: 5.4 l/100 km over an urban cycle, 3.9 l/100 km over an extraurban cycle and 4.5 l/100 km over mixed routes.

So much for the differences between the 75 and 95 bhp versions. The structure of the power unit is common to both. The unit is a 1248 cc 4 cylinder in line power unit with a bore of just 69.6 mm and a 'long' 82 mm stroke. The four valves per cylinder are driven directly by a twin overhead camshaft. And more. The 1.3 Multijet 16v is a true masterpiece of miniaturised technology: when clad with all its accessories it weighs just 130 kg. Its size is small (it is less than 50 centimetres in length and 65 cm high) and its component layout has been designed to take up as little room as possible.

The power unit is designed in accordance with criteria of maximum rationalism, efficiency and reliability. It offers outstanding performance and practically comes with a lifetime guarantee. It was made to last 250,000 km without any maintenance to its mechanical parts. The oil change intervals have been increased from 20 to 30,000 km (the 1.3 Multijet 16v uses low viscosity oil. It is therefore thrifty with fuel and also respectful of the environment). This compact, technologically sophisticated power unit also reveals very green credentials since it is able to meet Euro 4 emission limits even without a particulate trap (offered as an option for some Markets).

The 1.3 Multijet 16v (75 or 90 bhp) therefore represents a true technological leap that translates into a reduction in fuel consumption and emissions for the customer. Not to mention the lower noise levels (due to the multipoint injections); improved comfort (fewer alternating masses for less vibration); smooth, satisfying drive (due to outstandingly gradual torque delivery guaranteed in turn by more effective control of combustion); the flexibility and prompt responses of a diesel that is more and more like a petrol engine due to its broader rpm range (e.g. the fuel cut-off can no longer be felt over 4000 rpm) – and green attributes that allow the main benefits of diesel technology (fuel economy) to be improved as far as the environment is concerned by minimising the main defect (particulate emissions).

77 and 95 bhp 1.4 16v Fire

The new engine offers a cylinder capacity of 1368 cc and a 4 cylinder in line configuration with bore of 72 mm and stroke of 84 mm. The two valves per cylinder (four in the case of the 90 bhp version) are driven directly by the overhead camshaft.
The power unit was developed with particular attention to performance and fuel consumption, an area where the New Ypsilon excels in its category. This is due to the fact that the volumetric efficiency has been optimised throughout the service range due to painstaking fluid dynamic development studies on the entire intake and timing system. Two power levels are available: the first develops a power output of 57 kW (77 bhp) at 6000 rpm with a maximum torque of 113 Nm (11.7 kgm) at 3000 rpm. A New Ypsilon equipped with this engine can reach a top speed of 167 km/h and accelerate from 0 to 100 km/h in 13.5 seconds. The fuel consumption figures are amongst the best in the segment: 7.2 l/100 km over an urban cycle, 4.6 l/100 km for an extra-urban cycle and 5.5 l/100 km over mixed routes.

The New Ypsilon can also be fitted with another 1.4 Fire unit that develops 70 kW (95 bhp) at 5800 rpm and a maximum torque of 128 Nm (13.0 kgm) at 4500 rpm. The performance figures are outstanding: the new car can reach a top speed of 175 km/h and accelerate from 0 to 100 km/h in 10.9 seconds. This is therefore a feisty yet frugal engine due to the adoption of a drive by wire electronic throttle valve control system and, above all, the application of a new high swirl combustion chamber that is associated with variable valve timing managed by the control unit.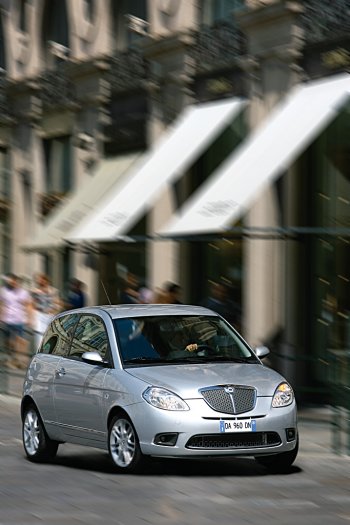 This innovative system allows a significant proportion of the exhaust gases (approximately 25 percent) to be recirculated to the combustion chamber, thus significantly reducing fuel consumption and exhaust emissions when driving under partial load. This engine has also benefited from certain improvements that help keep fuel consumption down. For example, the engine timing system components have been made lighter and the valve springs are low load to reduce friction.

Another specific feature of the new 1.4 Fire is the increase in compression ratio and the high torque values at low speeds, qualities that have allowed fuel consumption to be kept low. This aim is also achieved through the tuning of the leading edge engine control system that succeeds in cutting fuel consumption as far as possible while retaining handling, performance and low emissions requirements. The 1.4 Fire power unit already meets Euro 4 legislative demands due to a catalytic converter located in the engine compartment (and welded to the exhaust emission manifold flange using a new method) that reaches high temperatures within a shorter time span and thus reduces emissions even during the power unit heating stage. To minimise the environmental effect, the new engine is also equipped with a returnless fuel system that eliminates fuel recirculation within the tank and thus reduces vapour formation.

60 bhp 1.2 8v

The tried and tested 1242 cc Fire power unit makes its arrival on the New Ypsilon after undergoing a whole series of refinements to make it a paragon of fuel consumption thrift without affecting performance. Specifically, the torque delivery curve has been altered to ensure an even more satisfying drive and good performance with better fuel economy. The 60 bhp 1.2 8v power unit of course also benefits from all the improvements described for the Fire 1.4 16v as far as mechanicals, on-board electronics, exhaust system and fuel system are concerned. This engine also benefits from an electronic throttle driven by the engine control unit, a mechanism previously reserved for higher segment models. This device is wire-driven, i.e. operated without any mechanical connections between accelerator and throttle. It leaves the electronic control unit the task of delivering torque in accordance with the driver's varying requirements.

'Dolce Far Niente' gearbox

The engines available with the New Ypsilon are combined with 6 speed manual gearboxes plus one electronically controlled manual gearbox with automatic 5-speed function. In particular, this gearbox offers superlative comfort in automatic mode once you have tasted the thrills of a sporty, dynamic drive with the manual setting. This is the reason it is called 'Dolce Far Niente', or literally 'sweet idleness'. The DFN system features an innovative transmission. On this, a hydraulic servo device automates the clutch controls and gearlever to retain all the attributes of a dry clutch and manual gearbox (weight, strength and reliability, low power consumption). This sophisticated device improves the performance of the manual mechanical transmission components while increasing driving safety via a control system that stops the driver making mistakes and prevents incorrect transmission manoeuvres.

Two operating modes are available: semiautomatic and automatic. The former offers advanced control strategies to ensure peak performance. Speeds are engaged by means of a lever on the tunnel. Because no clutch pedal is present, the device is controlled simply by moving the lever: forward to change up (towards the + symbol), back to change down (toward the – symbol). A simple push is sufficient to ensure the transmission makes a fast, accurate gear change.

In detail, the DFN transmission operates in semiautomatic mode as follows. Electrical signals reach the control unit via the CAN (Controller Area Network) and may be grouped in two main subsets. One set of data comes from the gearbox area and identifies the position of shift, selection and clutch, hydraulic kit service pressure and also clutch speed of rotation. The other set consists of all the signals received from other Lancia Ypsilon systems (e.g. engine and brake system) that help define the gear change in a precise, repeatable manner.

The DFN system uses these two sets of information to manage a comfortable or sports drive in manual or automatic mode and using different operating strategies. It does this by mapping pedal position (interpreted as performance demands as the values increase) and engine rpm. Once the New Ypsilon has been started, pressure on the brake pedal confirms to the system that the driver is present in the driver's seat. First gear or reverse may then be engaged (the second may be engaged to set off if the ground is slippery). To ensure safety and prevent undesired gear changes, the system engages neutral when the engine is still running and the door has been opened. The device also prevents errors that could damage the engine or gearbox by indicating emergency situations or manoeuvres that are not allowed by means of visual and acoustic alarms. When in automatic mode, the DFN system offers two operating modes: Normal and Economy. Normal mode offers outstanding driving comfort to assure scintillating gearshifts under all conditions. Economy mode is used when you wish to reduce fuel consumption while still maintaining top level handling and driving comfort.

With both options, the system stretches to a higher ratio once the rpm level has been reached, when the engine delivers maximum torque or power. In automatic mode, the system recognises the road gradient (by means of a software algorithm) and modifies the gear shift point to ensure the best possible compromise between the driver's needs, ground conditions and vehicle situation (speed and engine rpm) at all times. Another specific feature of the DFN is its ability to assess vehicle deceleration and adjust downshifts. In semiautomatic mode, for example, the system allows downshifts, particularly when the driver demands a lower gear to take a corner at speed during a sporty drive. In automatic mode, the system anticipates the downshift to ensure the driver can always call on the most appropriate speed to maintain the required comfort level or fuel saving. All in all, the DFN system is the best possible compromise for people who love the satisfaction and fun of a manual drive but sometimes like to abandon themselves to the convenience of an automatic transmission.