Four Ypsilons for four customers

It is no exaggeration to claim that anyone can find a New Ypsilon that ideally suits their requirements and tastes. Suffice it to say that the pocket flagship can come in more than 700 custom versions, obtained by combining 15 body shades, 4 specifications (Argento, Oro Bianco, Oro Giallo and Platino), 9 new 'b-colore' liveries, 8 interior trims and 6 different alloys (including those available from the Accessory range). Whatever your choice and level of customisation, the New Ypsilon is always appealing and original, with the world-renowned Italian flair for design.

In detail, the New Ypsilon Argento is aimed mainly at the young driver, giving them an opportunity to buy into an accessible dream. The new version features an extensive range of bright single and 'b-colore' livery with powerful contrasts, plus a painted grille and satinised exterior panels. The passenger compartment is also a cool, pleasant place with 'b-colore' hi-tech fabrics plus customisable eco-leather inserts. Features include body-coloured door mirrors, wiring for a car radio and, as options, a manual air conditioner and two packages designed for specific target users (Argento Plus and Tech).

The second specification, Oro Bianco, is ideal for men who go for sportiness with style. Such customers will appreciate one and 'b-colore' liveries in cool shades, a grille with a chrome frame, chrome exterior panels and chrome moulding on the sides. The same sporty feel is evident inside, with the use of hi-tech Airtex fabric.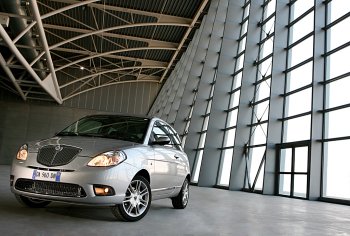 The New Ypsilon Oro Bianco specification can be equipped with all available engines, but the top power levels really show its attributes to the full: the 90 bhp 1.3 16v Multijet and the 95 bhp 1.4 16v Multijet.

The New Ypsilon Oro Giallo, a real benchmark for women, offers a high level of customisation that confirms and reinforces the image of a mini with style. Beginning with an exterior that features one and 'b-colore' liveries in warm shades and also a few chrome details: exterior panels, side mouldings and the grille frame. The interior also features a fashion fabric known as Centorighe while the engine range includes a 77 bhp 1.4 8v unit and a 75 bhp 1.3 Multijet 16v unit, both category leaders for their power/fuel consumption ratio.

Another product particularly appreciated by customers is the sophisticated DFN gearbox that offers the greatest comfort in automatic mode, once you have experienced all the satisfaction of a sporty, dynamic drive in manual. The Oro Bianco and Oro Giallo specifications also offer: radio CD, manual climate control system and the optional Oro Plus and Tech packages.

The New Ypsilon Platino reinforces its pocket flagship positioning by appealing to a more mature segment of customers. This vocation is evident in elegant, sophisticated one and 'b-colore' shade on shade liveries, new 15" alloys and some chrome details (exterior panels, mouldings on the side and grille), interiors trimmed in Starlight leather/Alcantara and a range of equipment that is bound to appeal by any standards, including a radio CD with Hi-Fi, leather trimmed steering wheel and gear knob and, as options, Platino Plus Pack, Bose® Hi-Fi Pack and Granluce Sunroof plus all four new engines.